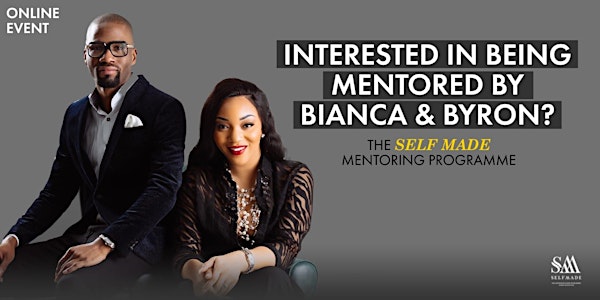 Interested in being mentored by Self Made Entrepreneurs Byron & Bianca?
Find out more about the Self Made Business Mentoring Programme
About this event
• Do you lack the motivation, knowledge or finance to start or grow your business?
• Do you have a business or idea that needs to be taken to the next level?
• Are you looking for a business mentor?
• Do you want to grow your business or start your idea?
• Do you need to be made accountable?
• Do you want to improve your business knowledge?
• Do you require more customers?
• Are you committed to invest in your personal development?
• Do you have many business ideas?
• Do you need to raise capital for your business?
If you answered YES to one or more of these questions then we look forward to talking to you about the Self Made Mentoring programme
With the growth of our Self Made Mentoring Community, more and more people are asking the question; is this right for me and what is it all about?
In short, if you are in business or thinking about getting into business then there is no doubt the Self Made Mentoring programme will suit you.
However, we encourage you to join us to have an informal discussion and to ask any questions you have about the programme.
Join us to find out more.
Connect with Byron on Linkedin HERE
Connect with Bianca on Linkedin HERE
Check out testimonials from our SELF MADE family HERE
Click HERE for our other events info.
Order Self Made Book: The definitive guide to business startup success Click HERE
*Mentoring prices start from £199PM depending on the package you choose.
We look forward to speaking with you.
Byron & Bianca