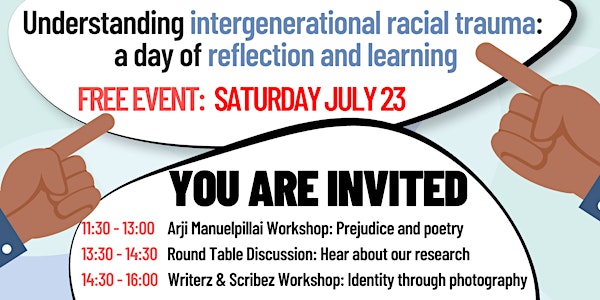 Intergenerational racial trauma: a day of reflection and learning
Location
Science Gallery London
Great Maze Pond
London
SE1 9GU
United Kingdom
Attend workshops, meet researchers, and be involved in projects exploring links between experiences of racism and mental health.
About this event
Research questions, findings, artistic responses, and quotes from families will be displayed in the gallery space, with invitations for you to contribute to our collection of knowledge.
To join us, please sign up to attend one or more of the following sessions. Capacity during the workshops is limited, so please book ahead to save your space. Walk-ins will be welcome on the day subject to numbers already in the room.
(1) 11:30 - 13:00
Arji Manuelpillai Workshop: Prejudice and poetry
Arji Manuelpillai is a published poet, performer and facilitator. His new book deals with radicalisation and prejudice. In this workshop you will look closely at poets writing about racism. How do they approach this subject matter? As a group you will learn how to write your own poem drawing on your own lived experience of prejudice while celebrating the joy of connecting with others.
(2) 13:30 - 14:30
Round Table Discussion: Hear about our research
Meet our team of researchers as we share our research experiences and outputs, answer your questions, and hear your thoughts and feedback in a round-table discussion. Capacity for this session is greater than for the workshops - so everyone is welcome to stay for this part!
(3) 14:30 - 16:00
Writerz & Scribez Workshop: Identity through photography
Writerz & Scribez are committed to providing high-quality creative experiences that push art into places where it is not usually found, engaging with those who are typically excluded from or underrepresented in traditional art institutions. In this workshop you will reflect on scientific research findings through a creative lens, while using smartphone photography to explore perceptions of your identity and those around you.
Frequently Asked Questions
Do I have to book?
Please book for every session you want to attend, so that we have an idea of numbers and can save you a space. Walk-ins will be welcome on the day depending on capacity in the room. If you haven't booked then we can't guarantee your space.
Do I have to come for everything?
You can come for as much or as little as you like. If you're coming for one of the workshops then we ask that you arrive on time. Entry during the workshop sessions will be only for those taking part in the workshop.
Where is the event?
Science Gallery London. Road address: Great Maze Pond, London, SE1 9GU. The event is a very short walk from London Bridge Station. There will be signposting to the room when you arrive at the building.
Should I bring anything?
All equipment for the workshops will be provided, so you don't have to bring anything to take part.
Is there an age minimum?
All ages are welcome, but please note that there will be no supervision for children and young people, so we ask that under 16s come with an adult. Please also note the sensitive and potentially upsetting topics that we will discuss on the day, relating to experiences of racism and mental health.
Where can I get lunch?
There is a cafe at the Science Gallery where you can buy food and drinks, and plenty of other places around London Bridge, including Borough Market which is open until 5pm.
Are measures being taken to prevent the spread of COVID-19?
The windows will be open in the venue room to increase airflow, and masks will be available and welcomed for those who choose to wear them.
Email us with any other questions: yasmin.ahmadzadeh@kcl.ac.uk