About this Event
After listening to feedback we have put together three workshops designed to give you confidence and conviction with Colour and Design in your home. We dispel the myth that Interior Design is intimidating by breaking it down into simple steps to work with your personal taste.
Choose which workshops suit the most or attend the Trio.
Don't loose the 'you' in home design.
This inspiring and practical workshop helps you to create a beautiful home, one scheme at a time. Perfect for those who want to refresh their home or for those who are planning or currently involved in a major project.
Jane guides you through the interior design details that make a home, timeless and unique. Discover your interior style and play around with room layouts for different areas of your home, taking into consideration such elements as scale, proportion, shape and rhythm.
 Plan room schemes built in layers with different textures, and patterns, using paint, fabric, floor and wall coverings, lighting and accessories to create the mood and feeling you want.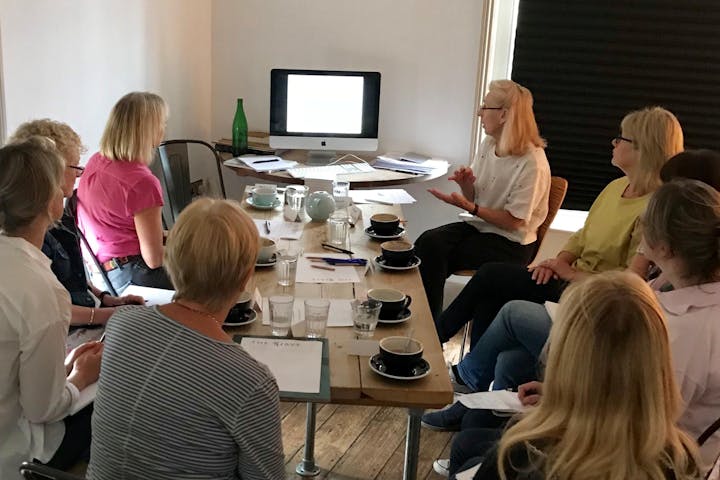 What to expect on the day? 
 Morning
Tea and Coffee
What is a design process?
Illustrations using resources with images
Starting Points, drawing inspiration for your scheme
Room layout essentials 
Lunch
Afternoon
Colour and Light
Texture and Pattern
Discussion, Q&A
A summary of essential tips and Ideas with tea and cake
 Take away:  notes, links, cuttings and paint samples along with a goodie bag.
 Bring with you pictures of your favorite things. (Colours/artwork/favorite tshirt/print)
Workshop FAQ's? 
Places are limited to eight to ensure you have individual guidance.
Workshop runs from 10am to 3.15pm.
Welcome for a hot drink from 9.30 ready for a prompt start.
A light lunch is provided
The Workshop is being held upstairs in Woodfire, High Street, Stockbridge, SO206EX A few doors down from the shop.
A discount of 10% is offered when booking the trio
A discount of 5% if offered when booking 2 Workshops
For this discounted booking and to join our Workshops mailing list please email Abbey info@thekave.co.uk
T's & C's
Workshops are non refundable within 30 days of event
Full refunds will be given if we cancel the event
You may not transfer between Workshops within 30 days of event
Contact us
The Kave, 2 Beau Monde Cottages,  High Street, Stockbridge. SO206HF
 info@thekave.co.uk
01264 810717