Event Information
Location

London

London, United Kingdom
Description

A unique programme introducing you to London's most innovative design firms and uncovering the latest approaches to spatial design. You'll gain inspiration for your work,and get expert opinions on your current projects.
You'll spend seven days in London, living in a house at the creative heart of the city. As well as meeting famous designers, photographers, creative directors and CEOs, you'll also be getting to know the other 15 participants on the course. They'll come from many different countries ­– and like you, they will be looking to absorb as much as possible of what London has to offer.
Speakers include:
19 Greek Street : Marc Peridis, founder of 19greekstreet will talk about how to run a design studio taking on no more than two projects at one time and focus fully on each and every dab of colour, pencil stroke and intuitive decision. His clients include Vivienne Westwood, Marc Jacobs, the members' club Library, Sketch and Saint Martins Lofts.
Chiara Onida : Chiara is a London based designer, born in Turin, Italy, who is now creative director of Murano glass brand Salviati. In addition to their handcrafted glass products, Chiara will give us an overview of their interior projects offering customisation of spaces, aimed at creating unique environments through the use of high end materials.
Tangerine : Monica Sogn, senior designer who leads Tangerine's colour, material and finish team for both interior and product client projects. She will give a talk about their award winning project Snoozebox, a portable hotel room. This sophisticated hotel room is contained in a mobile container measuring just 3.6m x 2m x 2m.
Jagdish Sihra : Former Design Manager at British Airways, who was responsible for the strategy and implementation of multitude of design solutions, from small-scale products to large scale projects such as complete aircraft cabin refurbishment and BA lounges.
Structure of the programme
Monday: interior and experience design
Tuesday: the state of the art of retail design
Wednesday: smart living, the future of residential design
Thursday: the future of the workplace
Friday: interior design for cultural and community spaces
The programme of the course is divided into five workshop days plus the weekend. The workshop days are divided into five parts:

Boosting breakfast: t​he first activity of the day includes informal activities over breakfast to activate brain and body to receive the creative stimuli of the day. During the boosting breakfasts you will interact with other participants, share your ideas, experiences and expectation for the day and meet local professionals to get to know more about the backstage of the creative industry.

Morning session: it is the first session of the day, it will take the form of a lecture plus hands on activity to validate the learnings or a full workshop.

Lunch break: w​e will have a break between the morning and afternoon session and we will give you suggestions on the most interesting places to have lunch and enjoy the surroundings of the day programme locations.

Afternoon session: i​t is the second session of the day, it will be the continuation of the morning session or we will move to the second partner of the day for a new subject.

Debrief and the city: a​fter a long day of absorbing new ways of working, idea brainstorming and creative exercises we will debrief the content of the day to better organise them in our minds. This activity will be short and engaging and it will take place straight after the afternoon session or in locations that we can then visit as cultural and social activities such as museums, galleries, event spaces or bars.

The weekend: t​he weekend will be dedicated to cultural and social activities, meeting some of the lecturers again and emerging designers in informal settings or planning longer visits of the London Design Festival events, including talks, exhibitions, workshops and launch parties.
Who is this programme for?
The experiential mode of the course allows student or professionals at any stage of their career to benefit from the content proposed and its multidisciplinary programme does not limit the access to design professionals. In particular this course is addressed at people that:
Want to understand in practical terms how a project workflow works within design agencies.

Want to learn from expert professionals how design theory and methods turn into real strategy to tackle real case scenarios.

Are keen to increase their understanding of the international design industry in a multicultural context like London during the London Design Festival.

Want to evaluate opportunities, risks and peculiarities of different interior design fields. 

Want to expand their interior design practice by familiarising themselves with user­centric approaches.
This course will:
Help you broaden your knowledge of interior design

Show you the latest trends in the industry

Introduce you to the most influential British designers

Give you inspiration for future projects

Show you how to be competitive on the international arena

Teach you new tools, techniques and skills for your professional development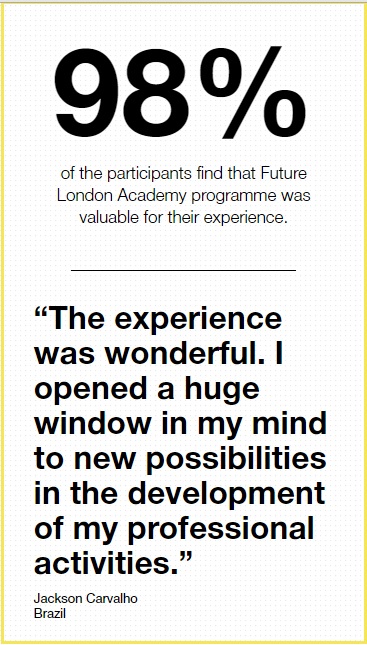 Date and Time

Location

London

London, United Kingdom