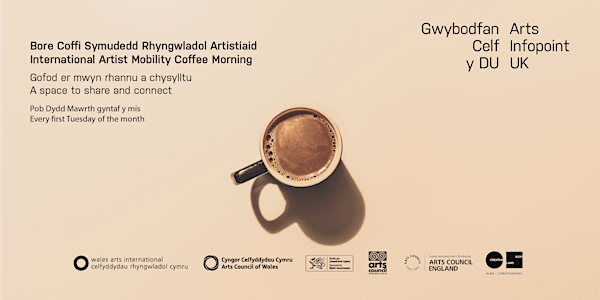 International Artist Mobility Coffee Morning: A space to share and connect
Join Arts Infopoint UK and internationally experienced producers and artists to share and connect at an informal coffee morning event.
About this event
Scroll down for English
Bore Coffi Symudedd Rhyngwladol Artistiaid: Gofod i rannu a chysylltu
Ydych chi'n gweithio yn rhyngwladol yn y sector celfyddydol a chreadigol, ac yn teimlo'n ddieithr? Fe allwn ni helpu!
Gall boreau coffi ar-lein misol Gwybodfan Celf y DU greu cysylltiad rhyngoch chi, artistiaid eraill a sefydliadau creadigol yn y DU, ac yn gyfle i rannu'r heriau, y cynlluniau a'r uchelgeisiau sy'n rhan o weithio ar draws ffiniau. Mae'r boreau coffi ar agor i bob ffurf o gelfyddyd, a bydd pob sesiwn yn cynnwys cyfraniadau gan y partneriaid a'r rhwydweithiau rydyn ni'n gweithio gyda nhw, er mwyn cael darlun cliriach a'r wybodaeth ddiweddaraf am symudedd rhyngwladol.
Bydd agenda'r sesiwn wedi'i seilio ar yr hyn fydd gennych chi i'w gynnig: boed yn waith gweinyddol ar gyfer arddangosfeydd neu gynyrchiadau; yn fater o ddeall y datblygiadau cwarantin diweddaraf; yn helpu artistiaid i groesi ffiniau o dan y rheolau mewnfudo newydd; neu'n syml yn awydd i gysylltu â phobl eraill sy'n wynebu heriau tebyg. Ein nod yw creu rhwydwaith anffurfiol, cefnogol o bobl sy'n gweithio yn rhyngwladol.
Mi fydd sgrindeitlo awtomatig ar gael yn y sesiwn. Bydd cyfle i restri gofynion hygyrchedd wrth gofrestru am sesiwn.
Datganiad Preifatrwydd Gwybodfan Celf y DU
Working internationally in the arts and creative sector, and feeling disconnected? We can help!
Open to all artforms, Arts Infopoint UK's new monthly online coffee mornings can connect you with other UK-based artists and creative organisations to share cross border working challenges, plans and ambitions.  Each session will feature contributions from guest speakers to share current insights and key updates around international mobility.
The session agenda will be created by what you and the guest speaker bring to the day: whether it be administration for exhibitions or productions; working out what the latest quarantine developments are; supporting artists to come across borders with new immigration rules; or simply joining to connect with others facing similar challenges. Our aim is to create an informal, supportive network of internationally focused peers.
Automatic closed captions will be available. You can list any access requirements during registration.