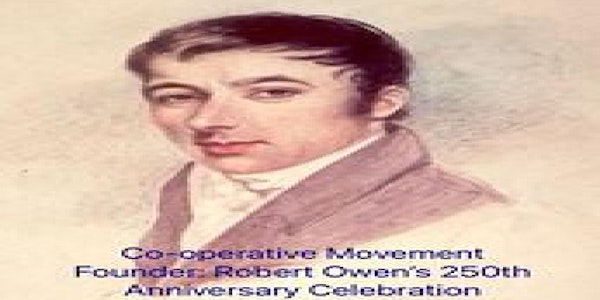 International Co-operators Day - Owen's Legacy and Co-operative Learning
Robert Owen's Legacy, Welsh Co-operative Movement History and Co-operative Learning What lessons can we learn from around the world?
About this event
International Co-operators Day
Robert Owen's Legacy, Welsh Co-operative Movement History and Co-operative Learning
Llafur and Co-ops & Mutuals Wales Event
What lessons can we learn from around the world?
Saturday 3rd July 2021 9.28-11.45 (Note new start / End times)
9.28 Introduction - Ian Rees Llafur Chair and Mick Antoniw MS
9.30 - 10.30 'Does Robert Owen's Legacy still resonate in the 21st century?'
➢ Lecture by Prof Chris Williams, University College, Cork - co-author of 'Robert Owen and his Legacy'
➢ Q & A and audience participation
➢ Final thoughts from Prof Chris Williams
Chair: Mick Antoniw, MS Labour-Co-op, Pontypridd
10.30 – 10.35 Comfort break
10.35 - 11.45 'Ways to Mark Robert Owen's Anniversary'
Robert Owen & the History of the Co-op Movement in Wales
➢ Liz McIvor, Co-operative Heritage Trust Manager, Rochdale Pioneers Museum and The National Co-operative Archive;
➢ Sian Williams, Head of Special Collections and Librarian, South Wales Miners' Library, Swansea University
Co-operative Learning & Methodologies in Schools
➢ Sara Vicari, Aroundtheworld.coop, (Rome) telling inspiring co-operative stories of collective action through qualitative & participatory research allowing the main characters to define how to realise their video.
Three short presentations followed by panel Q&A and audience participation
Chair: Jeremy Miles, MS Labour-Co-op, Neath
Brief biographical notes here:➢ Chris Williams is Professor of History and Head of the College of Arts, Celtic Studies and Social Sciences at University College Cork, having previously taught at the universities of Cardiff, Swansea and Glamorgan. With the late Noel Thompson he edited the volume Robert Owen and his Legacy (University of Wales Press, 2011) to which he contributed an essay on 'Robert Owen and Wales'. His essay 'Robert Owen: Socialist Visionary', was published in Llafur: The Journal of Welsh People's History, in 2010.
➢ Mick Anoniw is the Welsh Labour and Co-operative Party Member of Senedd for Pontypridd. In May 2021 he was re-appointed as Counsel General and additionally, Minister for the Constitution in the Welsh Government. Mick has previously chaired the Senedd's cross-party group on Co-operatives and Mutuals and served as Chair of the Senedd's Constitutional and Legal Affairs Committe and the Standards of Conduct Committee. A founder member of the Bevan Foundation and the Wales Anti Apartheid Movement, Mick is also a member of the GMB, Unison and MU trades unions.➢ Liz McIvor, manages the Co-operative Heritage Trust, the independent charity (CIO) originally formed in 2007 for public benefit through access to archive and material collections as well as to safeguard the heritage assets of the UK movement for future generations. Liz's background is in museums management and Industrial / Social History in England and Wales. She has previously worked for Local Authority Museum Services, National Museums (Maritime), Historic Royal Palaces and the National Trust. Her specialist interest is in industrial transport and logistics.➢ Siân Williams is Head of Special Collections & Librarian for the South Wales Miners' Library at Swansea University. She is responsible for the development and promotion of the Richard Burton Archives, South Wales Miners' Library, Rare Books, History of Computing Collection and Art Collection at Swansea University. In her work she has led and contributed to numerous community-based exhibitions and collaborative projects with community organisations, libraries, archives and museums. In 2008, with the support of the Robert Owen Network, she curated an exhibition 'Robert Owen: Legacies That Last' to mark the 150th anniversary of the death of Robert Owen. Siân is a Vice President and Secretary of Llafur: the Welsh People's History Society, a Trustee of the Paul Robeson Wales Trust and a Trustee of the DOVE Workshop in Banwen.➢ Sara Vicari, PhD, is a socio-economic researcher, qualitative and participatory methods expert, passionate about co-operatives and their role in sustainable human development. She has built her expertise working with primary cooperatives, apex organizations, international institutions and academia. In 2019, together with Andrea Mancori, videomaker, they founded aroundtheworld.coop, and in partnership with the International Cooperative Alliance, they travelled across the five continents documenting and telling stories of innovative co-operatives. All the videos are available here: https://www.youtube.com/channel/UCcKPCevcxi1rcZYics0u6-g Since 2019 Sara has also been a Postdoc Research fellow at the Department of Economics of Roma Tre University in Rome, Italy. Among her passions, Sara loves writing. "Tana Libera Tutte!" is her first novel that is about sisterhood, empathy and collective action (in Italian - edited by Doithuman). ➢ Jeremy Miles has been the Welsh Labour and Co-operative Party MS for Neath since 2016. Having previously served as the Counsel General and Brexit Minister in the previous Welsh Labour Government, he was promoted to Minister for Education and the Welsh Language following the Senedd election in May. Prior to his election, Jeremy held senior legal posts in media sector businesses before setting up his own consultancy working with international clients in the broadcast and digital sectors. His political interests include economic and community development, skills, co-ops and mutuals.
Diwrnod Rhyngwladol y Cydweithredwyr
Cymynrodd Robert Owen, y Mudiad Cydweithredol yng Nghymru a Dysgu Cydweithredol(Digwyddiad Cymdeithasau Llafur, Cydweithredol a Chydfuddiannol Cymru)
Pa wersi gallwn ni eu dysgu ar gyfer y 21ain Ganrif o Rannau Eraill y Byd?
Dydd Sadwrn 3ydd Gorffennaf 2021
09.28 - 10.30 'A ydy cyfraniad Robert Owen yn dal i atseinio yn yr 21ain ganrif?'
➢ Darlith gan Yr Athro Chris Williams, Coleg y Brifysgol, Cork - cydawdur 'Robert Owen and his Legacy'
➢ Hawl i Holi, gyda'r gynulleidfa yn cymryd rhan
➢ Pwyntiau i gloi gan Yr Athro Chris Williams
Cadeirydd: Mick Antoniw, Y Blaid Lafur/Co-op, Pontypridd
10.30 – 10.35 Gwibdaith 3D o amgylch Amgueddfa Robert Owen
10.35 - 11.45 'Ffyrdd i Nodi Pen-blwydd Robert Owen'Robert Owen a hanes y Mudiad Cydweithredol yng Nghymru
➢ Liz McIvor, Rheolwraig Ymddiriedolaeth Treftadaeth Cydweithrediad, Amgueddfa Arloeswyr Rochdale a'r Archif Genedlaethol Gydweithredol;
➢ Sian Williams, Pennaeth Casgliadau Arbennig a Llyfrgellydd, Llyfrgell y Glowyr De Cymru, Prifysgol AbertaweTrefneg er mwyn Dysgu'n Gydweithredol mewn Ysgolion
➢ Sara Vicari, Aroundtheworld.coop, (Rhufain) yn sôn am straeon cydweithredol ysbrydoledig o weithio ar y cyd trwy ymchwil ansoddol & chyfranogol sydd yn galluogi'r brif gymeriadau i ddiffinio sut i greu eu fideo. Tri chyflwyniad byr, i'w dilyn gan Hawl i Holi'r panel a mewnbwn y gynulleidfa
Cadeirydd: Jeremy Miles, Y Blaid Lafur/Co-op, Castell-nedd