International Cooperation and Regional Clusters: Innovation in Water Effici...
Description
REGISTRATION FOR TICKETS WILL CLOSE ON MAY 10TH
---
This event will engage attendees in international dialogue through networking, and will also discuss the role of regional clusters in promoting water efficiency and innovation across Europe. We will showcase the achievements of the WE@EU consortium over our three year project, with the unvieling of the Joint Action Plan (JAP).
The day will have set themes around the role of clusters and innovation.First, participants will hear about the achievements by each of the consortium clusters. Afterwards a panel discussion on the benefits of regional clusters will then take place with policy makers and government representatives. This promises to be an engaging session. An open forum with members of the WE@EU consortium will close the event; discussing project continuation and next steps, allowing attendees to engage with key international figures from the consortium.
The event is a great opportunity to bring together individuals and organisations, so to encourage collaboration and networking we will list all attendees email addresses in the delegate pack. If you would like your email not to be published, please contact us.
We look forward to seeing you there!
Session Descriptions
1. Key note: Clusters as tools for improving European competitiveness
Our opening session will explore the importance of clusters in creating innovation and support for SME's.
2. Clusters Showcase
Participants will hear five success stories from the WE@EU partnership and the differences the project made to each region.
3. Panel Discussion
A selection of policymakers from across Europe will discuss how to promote regional action to achieve innovation in water through clusters. The session will be chaired by the ERRIN Water Working Group.
4. Open forum
This session will provide participants with the opportunity to speak with WE@EU board members and key international experts from the consortium discussing the theme of cluster continuation policy. The forum will take questions from the floor, promoting active discussion on the issues raised in the session.
5. ERRIN Session
The ERRIN Water Working Group will be hosting the final session of the conference, an open space breakout session for to explore potential partnership opportunities and activities.
Conference Agenda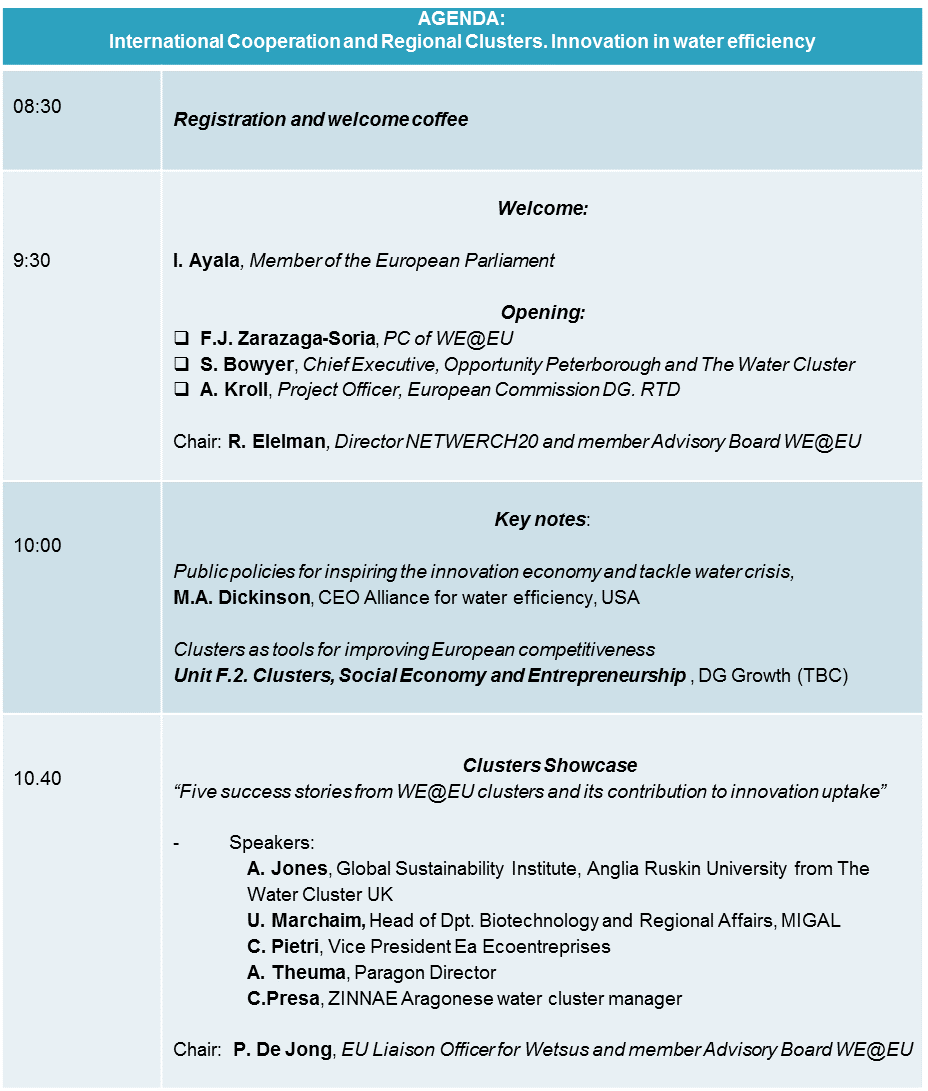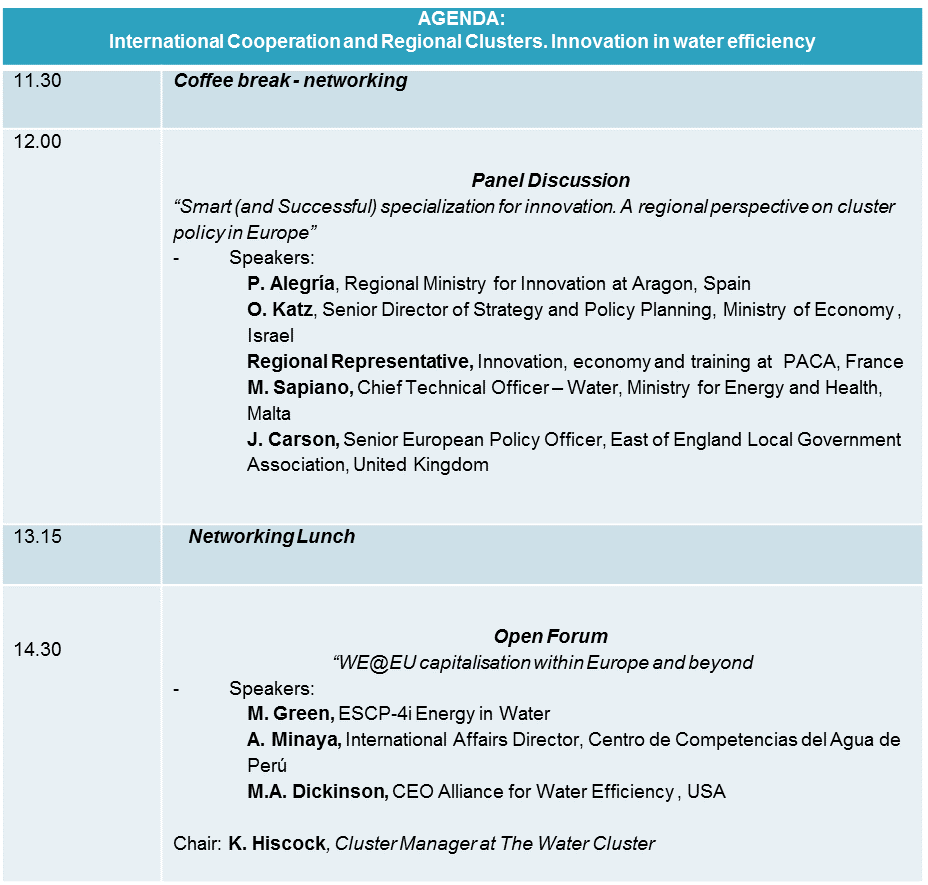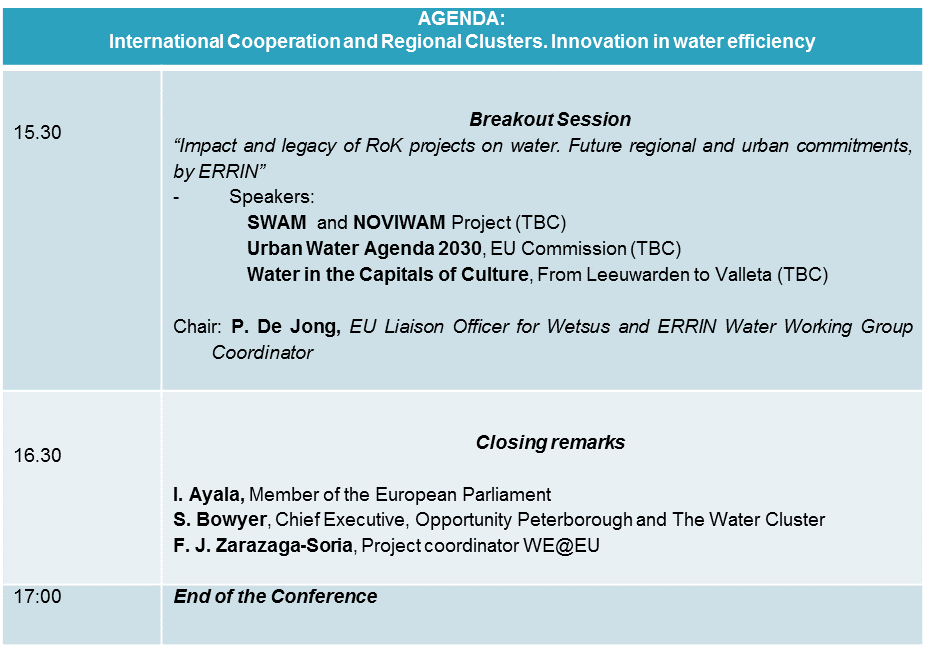 Organiser of International Cooperation and Regional Clusters: Innovation in Water Efficiency
WE@EU was conceived to coordinate European innovation in the urban-applied water efficiency solutions through trans-national cooperation by a consortium formed by research driven clusters.
The five regions that make up the project , UK, France, Spain, Malta and Israel, face similar issues that affect water availability, and believed that cooperation sectorially will develop collective strengths in countering the various water challenges.