Description
We are running to raise funds for 'Sisu Not Silence' campaign which was created by one of the most extraordinary people we know, Emilia Lahti. 28. February is the International Day Of Sisu. Sisu is a Finnish word which means stoic determination, grit, bravery, resilience and hardiness, and 'Sisu Not Silence' is a movement to unlock human potential and celebrate overcomers of interpersonal violence.
Interpersonal violence is one of the most pervasive yet under-recognized human rights issues in the world. It affects hundreds of millions of individuals across the globe each year from every social class, income group, race and culture. The consequences of abuse reach far beyond the physical and mental bruises inflicted on the victims, as the systemic effects cascade across generations. Exposure to violence is linked to long-term health problems such as anxiety, post-traumatic stress and depression.
We can and must break this cycle, while seeking to reinforce empowering narratives that focus on recasting survivors as amazing, bold, badass women and men with bright futures ahead of them.
What better cause for Driven Woman to support! We are all badass women and can all improve our situation, overcome hardship and build better futures for ourselves and for people around us.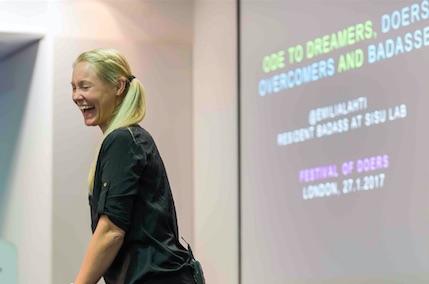 Join us on this 5k run on the Thames. All proceeds go to 'Sisu Not Silence'.
Starting point: London City Hall
Time: get there by 6:45 pm, we will start running at 7 pm to Tower Bridge direction.

If you can't make it to the run, but would like to contribute, please support Emilia's campaign at http://bit.ly/2jyWv33