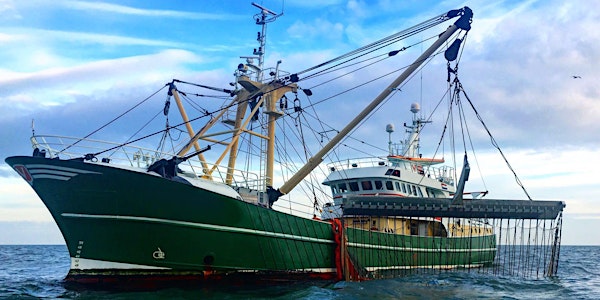 International Dialogue Meeting Pulse Fishing 2018
Event Information
Location
Amsterdam Art Center
Donauweg 23
1043 AJ Amsterdam
Netherlands
Description
Dear stakeholder regarding pulse fishing,
We would like to invite you for the International Dialogue Meeting on Pulse Fishing taking place on Tuesday 19th of June 2018 in the Netherlands.
We work on a transition to a more sustainable Beam trawling by engaging in the Pulse Fishing method. Creating transparancy and an open dialogue with stakeholders involved is of utmost importance in this engagement. The previous International Dialogue Meetings were organised on 2 july 2015 and 20 january 2017, and we plan an annual International Dialogue Meeting to continue and strenghten this dialogue.
On 19 june 2018 we would like to share and dissertate the state of play and knowledge with international stakeholders within the industry, NGO's, knowledge institutions and the government. The main approach of the event is to present and discuss the ICES advice, which will be expected by the end of May, and to discuss the previous and ongoing stakeholder process – with the input given by, amongst others, the surveys and previous International Dialogue Meetings.
For interested stakeholders we offer a trip on a pulse vessel the evening before, on monday evening 18 june 16.30 until 21.30. Please select the specific ticket if you are interested for this.Transport from Amsterdam Sloterdijk to IJmuiden (the harbour) will be arranged, leaving Amsterdam Sloterdijk station at 16.00.

The programme can be found below. The venue of the event will be Amsterdam Art Centre, close to the train station Sloterdijk, a 10 minutes train ride from Schiphol Airport. If you have any questions in advance, please contact pulsefisheries@minez.nl.
Because the amount of participators is limited by the venue, we can only allow a maximum of two representatives per stakeholder institution / organisation.
Best regards, on behalf of the Dutch steering committee on pulse fishing,
Dutch Ministry of Agriculture, Nature and Food Quality
------------------------------------------------------------------------------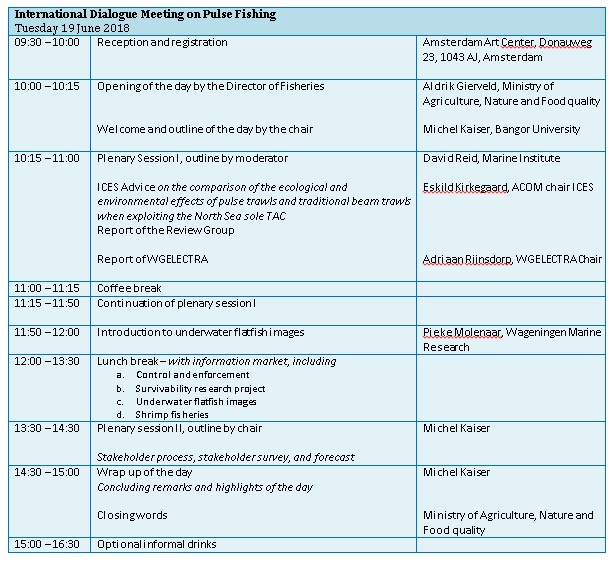 Date and time
Location
Amsterdam Art Center
Donauweg 23
1043 AJ Amsterdam
Netherlands