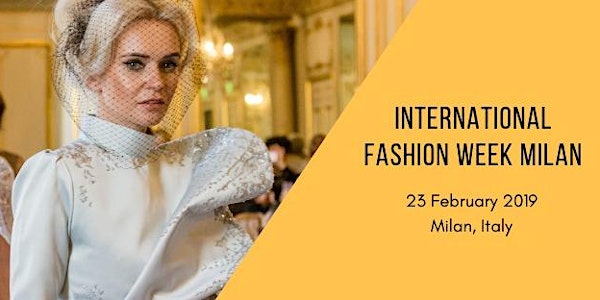 International Fashion Week Milan
Event Information
Location
Meliá Milano
19 Via Masaccio
20149 Milano
Italy
Description
After completing 7 grand successful seasons of International Fashion Week Dubai and the successful launch of International Fashion week Paris on 29th Sept 2018. The Opulence Events LLC Dubai has announced that it will organize the fashion shows in the top fashion cities of the world in 2019, Milan, Paris, Dubai, London and New-York. Milan- Italy will be their first overseas destination for IFW 2019, International Fashion Week Milan will be organized by The Opulence Events LLC, Dubai, and produced by Cheryle Dias on 23rd Feb 2019 during the Milan Fashion Week at the Luxorious Melia Milano Hotel.
Founder and MD of International Fashion Week Dubai, Paris, Milan, London and New York and MD of the Opulence Events LLC Dubai Ms. Cheryle Dias mentions that Milan is one of the top fashion hubs of the world and we are proud to launch our brand International Fashion Week Milan in this beautiful and cosmopolitan city of Milan on 23rd Feb 2019. IFWM will feature top International designers from all over the world as well as emerging designers under one platform to show case their talents and add marketing value to their products, It will be huge and one of the biggest fashion event of Milan, we aim to bring fashion and business at one platform. We are offering the biggest opportunity for our designers to participate and receive wider exposure and branding to local and international Markets. We are looking for support from all sectors to make this event very successful.
The fashion week will feature Fashion Shows and Showrooms, Over 15 established and emerging International and Local Designers will be participating and designers will showcase their latest collections, multiple exhibitors will be branding their products at the exhibition, over twenty media partners, bloggers and influencers will be part of the great event. Top models from various nationalities will catwalk designer looks on the runway.
Fashion Brands, Fashion and accessory designers are welcome to participate at the Fashion show and all brands are welcome to participate at the Exhibition.
IFW by The Opulence Events LLC Dubai sustainability and credibility in the International and Local market is very strong and since 2015, the event is captured by huge international and local media which has a huge marketing value which is equal to the PR value of 1.5 billion USD.
Bookings for Fashion Show, Exhibition, sponsorship, visitors entry, models participation or any other enquiries - email- info@opulenceeventmanagement.com. or inbox on https://www.facebook.com/internationalfashionweekmilan/
Date and time
Location
Meliá Milano
19 Via Masaccio
20149 Milano
Italy
Refund policy