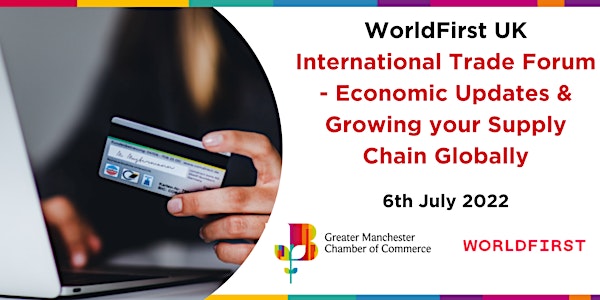 International Forum - Economic Updates & Growing your Supply Chain Globally
Location
Greater Manchester Chamber of Commerce
Elliot House
151 Deansgate
Manchester
M3 3WD
United Kingdom
This international trade event will provide you with an overview of the current economic situation and how this is impacting supply chains.
About this event
Greater Manchester Chamber of Commerce and WorldFirst are bringing you this to discuss supply chains, the economy and how this has been impacted by the current national and international events.
The event will also discuss how to help your business save on costs and how to grow through global e-commerce opportunities.
Agenda*
09:00 - 09:30am - Registration and Networking
09:30 -09:35am - Welcome by Greater Manchester Chamber of Commerce- Amy Swindells
09:35 -09:40am- Welcome by WorldFirst
09:40-10:00am- WorldFirst: Half year Economic & Market Review; The current events impact to the supplier chain and cost
10:00-10:10 Q&A
10:10-10:30- WorldFirst: Growth and global opportunities through e- commerce (The key digital components to make your company footprint free and success in long run)
10:30-10:40 Q&A
10:40 -11:00am -Networking
From 11:00am to 13:00pm - we have 20 minutes one-to-one meetings available. If you want to have this one-to-one meeting, please chose your desired spot in the registration form (limited slots)
*This agenda may be subject to change without prior notice
Who are WorldFirst?
WorldFirst is an international payments business helping you move money around the world. Since 2017, WorldFirst have provided customers trading internationally with dedicated solutions to help their businesses thrive. Designed with importers, exporters, and online sellers in mind, WorldFirst enables you to receive international funds via free local currency accounts, manage currency risk, and make same-currency and cross-currency payments quickly and easily in over 60 currencies, giving you more control than ever before.  Find out more about world First, please click here
Who is this event suitable for?
Experienced and non-experienced Exporters and Importers as well as companies who work with international clients. We want all companies who are trading internationally or are planning to explore international opportunities.
If you are looking to expand your business abroad, this is the perfect event for you!
Registration and cost?
This event is free to attend but registration is required.
Cancellation Terms and Conditions
Due to high demand, if you are unable to attend, please cancel at least 5 working days before the event. Your cancellation must be in writing and sent to exportbritain@gmchamber.co.uk. Failure to cancel via email will result in an administrative fee of £10+VAT for members and £15+VAT standard rate being invoiced.
For any additional questions, please email exportbritain@gmchamber.co.uk or call 0161 393 4314.