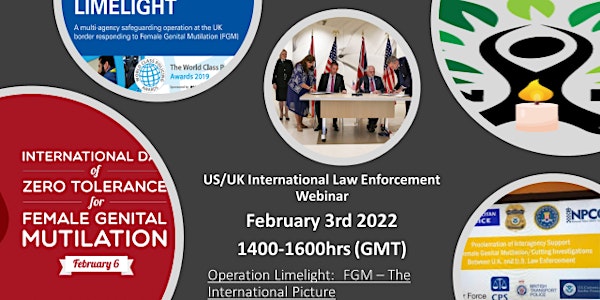 International Law Enforcement Live Webinar - Day of Zero Tolerance for FGM
International Safeguarding webinar by the Metropolitan Police in collaboration with Border Force and US Homeland Security.
About this event
On 3rd February 2022 , to coincide with FGM Zero Tolerance Day on 6th February, the Metropolitan Police, are hosting an international UK/US webinar. This seeks to build on the signing of US/UK FGM Protocol and ongoing work in relation to Operation Limelight.
The webinar will have speakers from all the agencies in relation to their work in identifying and bring to justice perpetrators of FGM. It will end with a call to action.
We would be delighted invite law enforcement and professionals working with survivors of FGM to join the session and encourage you to sign up early.
We will be covering:
• What is FGM and Operation Limelight?
• Female Genital Mutilation – a survivors story
• The US / UK Proclamation of Interagency support of FGM investigations
• FGM cutters
• What next? - A call to action
Thank you for supporting this important day of action.
For more information please contact CPICMailbox-.HonourBeliefandSexCandVPartnershipTeam@met.police.uk