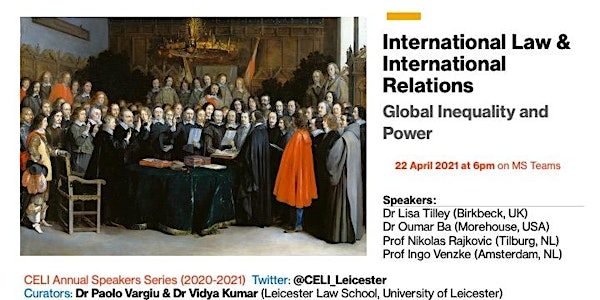 International Law & International Relations: Power and Global Inequality
International Law & International Relations: Power and Global Inequality
About this event
International Law & International Relations: Power and Global Inequality is the fifth instalment of the "International Law Outside the Box", the Annual Speaker Series of Leicester Law School's Centre for European Law and Internationalisation. The seminar features a brilliant panel of experts: Dr Lisa Tilley, Lecturer (Birkbeck, University of London. UK); Dr Oumar Ba, Assistant Professor of Political Science (Morehouse College, USA) Prof. Nikolas Rajkovic, Professor and Chair of International Law (University of Tilburg, NL) and Prof. Ingo Venzke, Professor of International Law and Social Justice (University of Amsterdam, NL).
The panel will offer a wide ranging conversation about how International Law scholars and International Relations (IR)/Politics scholars understand global inequality and power with a view to excavating how different "international" disciplines deal with global inequality questions. Similarities and differences, myths and misconceptions, and critiques of these disciplines will be explored. Topics canvased will include visions of an international legal order proposed by African1980s and1990s, extraction in the disciplines of IR and international political economy (IPE), International Law role in the creation of the conditions of global social injustice; cartography, contingency, and interdisciplinarity.
To access the seminar click here at the time of the event.
For further information please email the curators, Dr Vidya Kumar and Dr Paolo Vargiu.
If you wish to receive email alerts of further CELI events, please email "SUBSCRIBE" to celi@le.ac.uk
Further information on how we process the data can be found in our Privacy Notice.
You can withdraw your consent at any time by communicating with us by post, email [email "UNSUBSCRIBE"] or telephone:
Centre for European Law and Internationalisation (CELI)
Leicester Law School
Fielding Johnson Building
University of Leicester
LEICESTER
LE1 7RH
E-mail: celi@le.ac.uk
Tel.: +44 (0)116 252 2363.
About the CELI Peace Talks:
What is the role of public international law and public international lawyers in contemporary society and across the globe? Is international law "fit for purpose" to address the contemporary challenges to its capacities, authority, ambit, relevance and vision in the 21st century? To many of the worlds' inhabitants, human and non-human, it seems as if "the "world is on fire" – whether the cause of this impression be inter alia the pandemic, climate change, war, persecution, poverty, fascism, displacement or occupation. In light of the ubiquity of oppression and suffering on the planet, do traditional positivist or black-letter approaches to international law need to be revisited, rethought or refashioned, and if so, to what extent, and to what end(s)?
This Annual Speakers Series hosted by Centre of European Law and Internationalisation (CELI) at Leicester Law School (UK) explores answers to these pressing questions by thinking about international law "outside the box". Throughout 2020-2021, we will hold a series of panels of leading scholars and practitioners offering "Outside the Box" thinking about international law. The "Outside The Box" theme will offer innovative ways to rethink and reimagine international law in light of contemporary challenges, including re-examining the actors, practices, sources, institutions, purposes, effectiveness and enforcement of international law.
Each panel is carefully curated and open to questions from the audience, moderated by the co-organisers or other international lawyers from Leicester Law School. By offering non- orthodox readings and understandings of international legal subjects, issues and approaches based on their experience and scholarship, our speakers will lead the audience outside the often hidden boxes in the field and practice of international law.
The series has held four panels on the following aspects of global inequality:
1) literature and literary approaches to international law-making and the legal imagination;
2) racism, postcolonialism, and the inherent whiteness of mainstream international law;
3) food, the right to sustenance and the distribution of resources;
4) assassination, necropoltics and role of violence in the development and maintenance of international law.
5) international relations its interplay with international law.