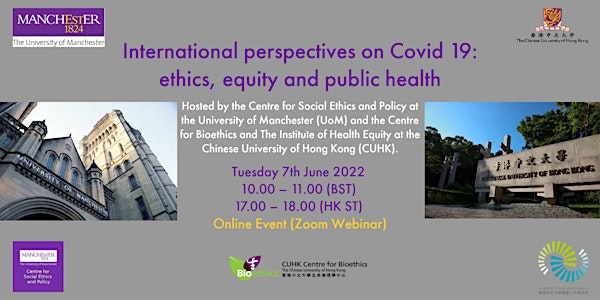 International perspectives on Covid 19: ethics, equity and public health
Hosted by the Centre for Social Ethics and Policy (UoM), Centre for Bioethics and The Institute of Health Equity (CUHK)
About this event
As the global community moves from the Covid-19 pandemic towards learning to live with Covid-19, it is imperative that the ethical dimensions of international public health responses are explored. These have been consistently side-lined by policy makers, leading to policies that have increased health inequalities and further marginalised sections of the population in many jurisdictions. Covid presents particular challenges: it is a global pandemic, it has proved hard to eradicate and presents significant long-term health problems in the form of long-Covid.
This webinar hosted by The University of Manchester (the Centre for Social Ethics and Policy (CSEP)) and the Chinese University of Hong Kong (the Centre for Bioethics (CBioE) and the Institute of Health Equity (IHE)), will discuss these challenges.
The focus will be on the ethics of endemic-response policies and how we can combat health inequity as an international community. We will consider the merits of different approaches. For example, Hong Kong and Mainland China have aimed for the 'dynamic zero-Covid' strategy, whereas England and Singapore are pursuing 'live with Covid' public health policy. Both policies have pros and cons and we will investigate the ethical arguments for the respective policies.
Talks
Professor Soren Holm (UoM) – Understanding the early English COVID-19 response – Uncertainty, epidemiological factors, and (a lack of) policy options.
Dr Sarah Devaney (UoM) – Incorporating Endemic Ethics into Law: Post-Covid Principles-Based Approaches.
Dr Roger Chung (CUHK) – COVID-19-related health inequalities in Hong Kong during the relatively low incidence period
Professor Hon-Lam Li (CUHK) – The Relevance of Moral Theories to Pandemic Policy Choice.
This session will be chaired by Dr Lucy Frith