International Reggae Day 2019 JulyOne @ Brent
Description
Join us for the second of our 2-day IRD (International Reggae Day) London hub events at @ Brent, (click here for more info and to book for our June 30 IRD event @ Goldsmiths, University Of London.
Please note that the programme starts 5.00-5.45pm
with the unveiling of The Reggae Tree plaque in front of the Hawkeye record shop at 2 Craven Park Rd, Harlesden, London NW10 4AB. This event is led by local politicians, artists, community leaders, and reggae fans. There will be a few goodies for those in attendance.
This is followed 6.00-10.00pm
by the evening's conference at nearby Tavistock Hall, which is a minute's walk at 25 High Street, Harlesden, London NW10 4NE (buses 18, 187, 220, 226, 260, 266; Willesden Junction tube/overground) consisting of
6.00-6.30pm
Refreshments and Brent Reggae Video Playlist
6.30-10.00pm
Videos, prizes,?talks with music veterans, discussions on 'Reggae's Influence ?On British R&B/Soul' and 'Reggae And Mental Health & Wellbeing' , Brent Black Music ?History quiz, Veterans Talk II On A Brent?Tip + Foundation Reggae Record Companies + Talking Retailing + BBM/BMC Longevity Awards. Special?guests include Popsie, Teddy Osei of Osibisa, Joey Jay, Winston Francis, Noel McKoy, Bluey of Incognito, Mark Anthony, and Brent Youth Ambassador Bryce Morodore + performances by lovers singer Melo D, gospel singer Patreecia and foundation reggae artists Trevor Dixon and Prince Jahkey.
+ Includes awards to Popsie, Hawkeye, Aswad, Steel Pulse, Incognito and Osibisa for 40+ years in the music industry!
+ `Stalls, including plus introducing The Brent Factor project.
After 10pm-3am
IRD 2019 Official After-Party @ Roots & Dub Mondays at Vybz Bar, I Craven Park Road, Harlesden, NW10 8SE (2 minutes walk across from Tavistock Hall) with Joey Jay, Rasta Queen and Jaylarno on the decks. £Free before 11pm, £5 after.

For stall enquires: Colin Brown ceebee@reggaefraternityuk.com

Full programme booklet will be made available to those who book and posted on www.IRDUK.co.uk.
Check out: www.IRDUK.co.uk for more info, IRD licence, etc. To contact IRD UK co-ordinator: bbmbmc@gmail.com.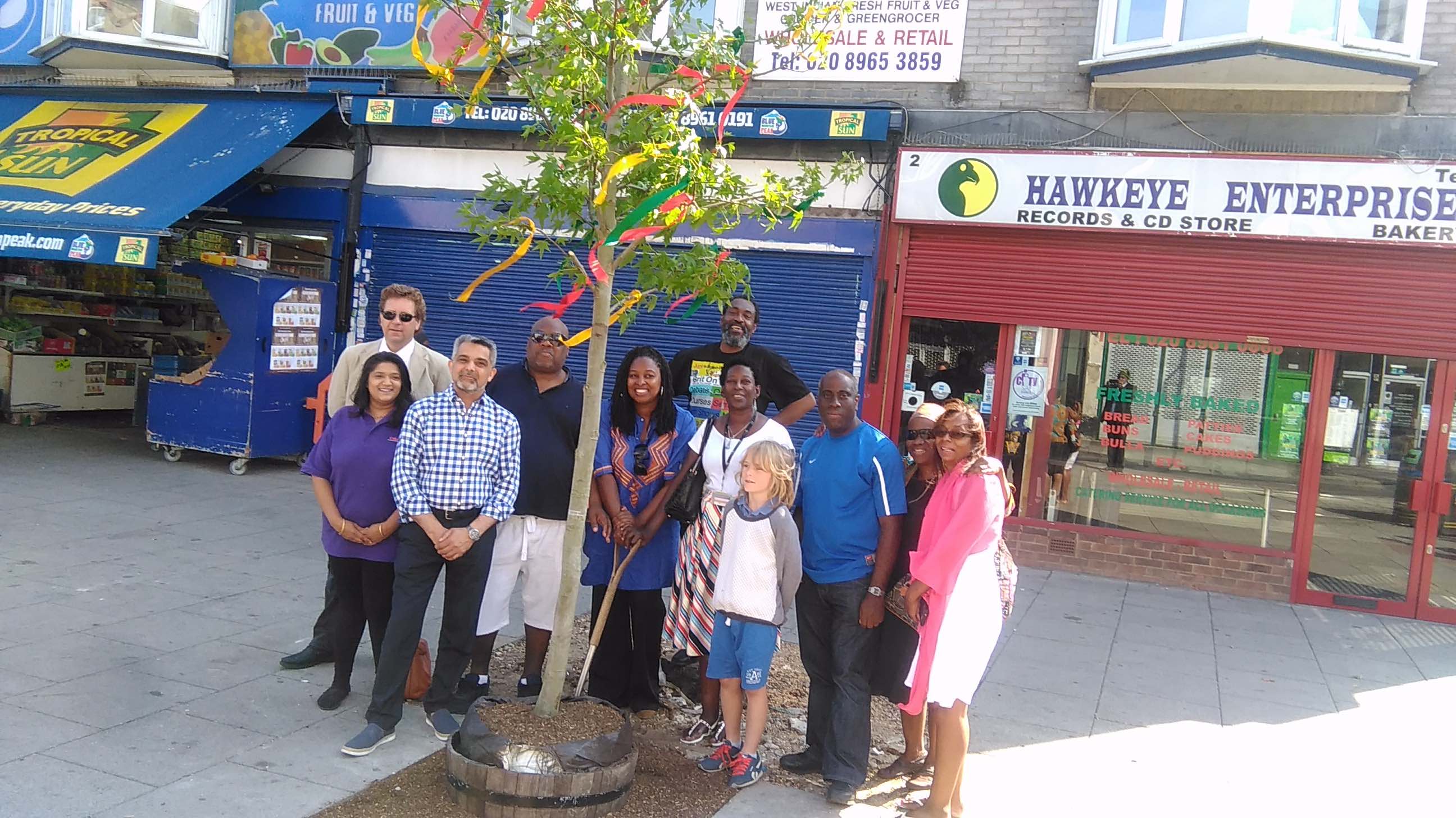 The Reggae Tree officially planted on IRD2018 by local MP, Councillors and representatives of the community
This is a free & family-friendly event, which takes place in Harlesden, Brent - the heart of reggae in Britain.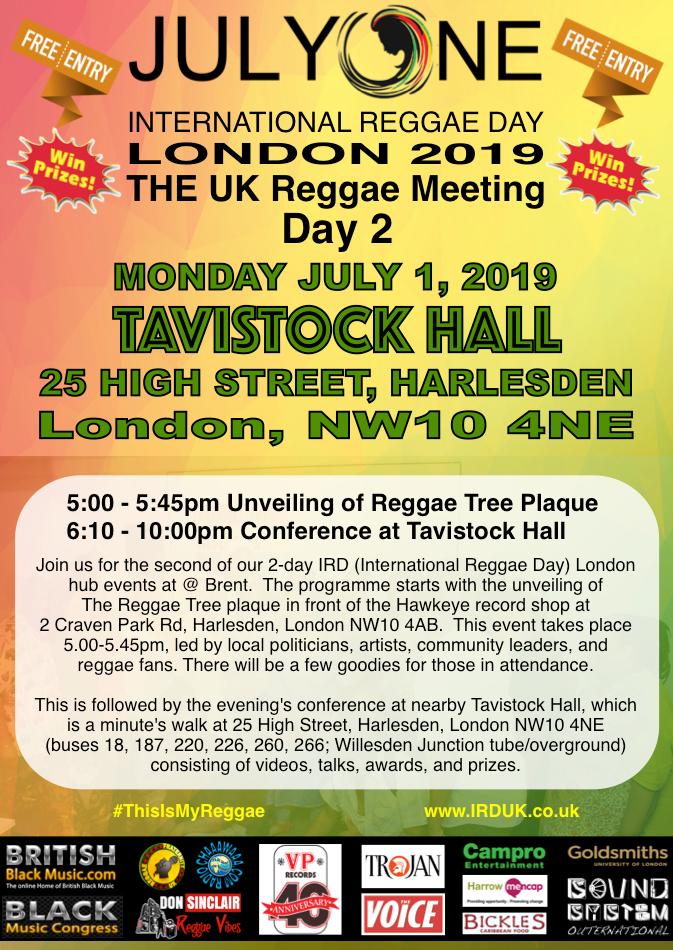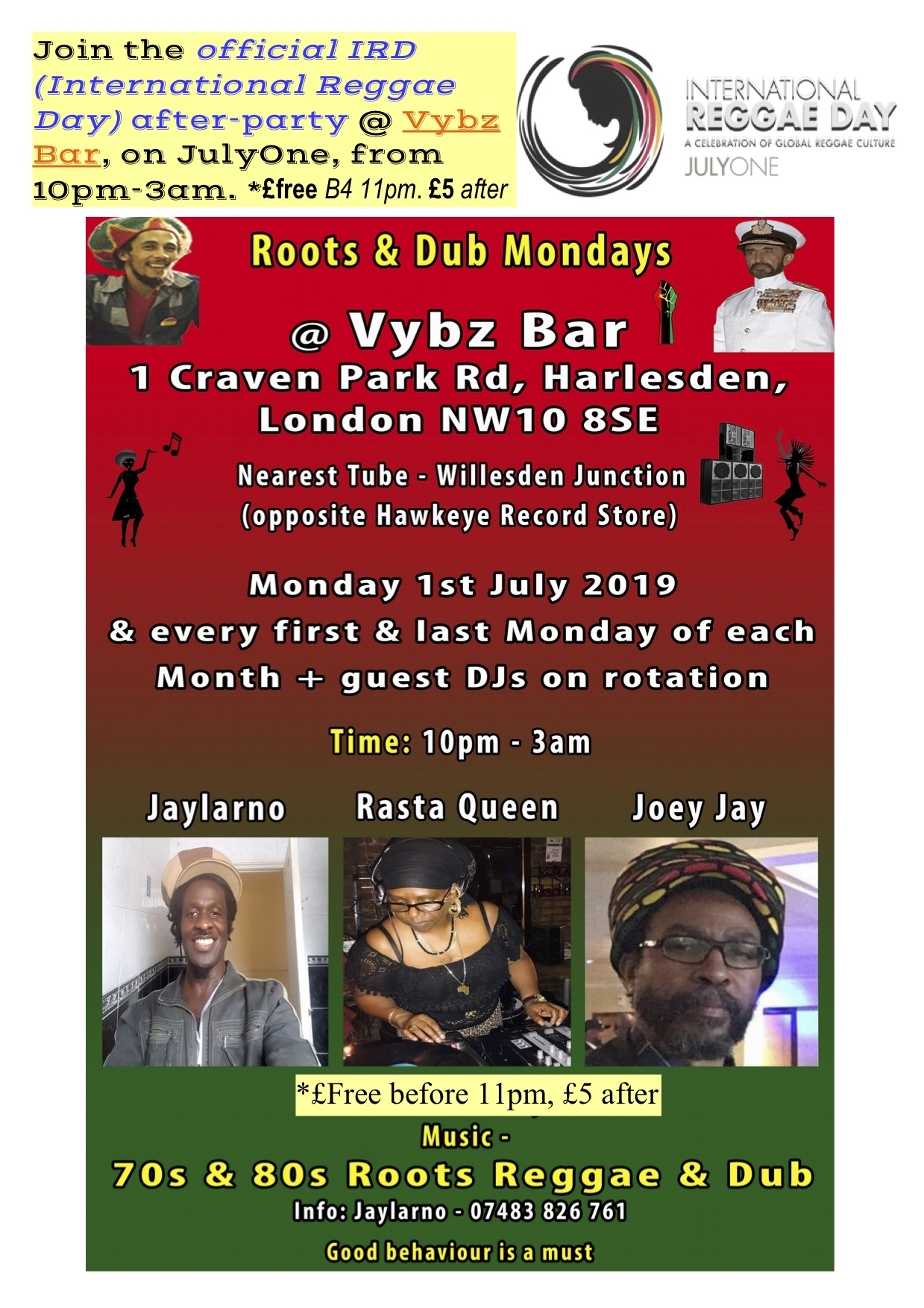 IRD UK is organised by BritishBlackMusic.com/Black Music Congress in association with Reggae Fraternity UK, and the following sponsors: