International Reggae Day London 2018 Stakeholders Meeting
Sales Have Ended
Registrations are closed
NO need to print ticket(s) - come with suggestions about how IRD can work with your reggae business or activity
Sales Have Ended
Registrations are closed
NO need to print ticket(s) - come with suggestions about how IRD can work with your reggae business or activity
Description
After this year's first International Reggae Day London (IRD) 2017, we are convening the first post-event meeting and inviting all interested reggae stakeholders to discuss how they can engage with moving International Reggae Day London 2018 forward - come with suggestions about how IRD can work with your reggae business or activity.
If you are a STAKEHOLDER, and can attend the meeting, please book now. If you can't join, but wou;d like to be kept in touch: bbmbmc@gmail.com
This event is organised by BritishBlackmusic.com/Black Music Congress in association with a number of partners including Reggae Village Trinity and Parents Action & Resource Centre. If you'd like to join partnership: bbmbmc@gmail.com
Venue is less than 5 minute walk from Holborn or Russell Square tube stations, and has free parking at the back of premises off Old Gloucester Street - if barrier's down, please see receptionist for access.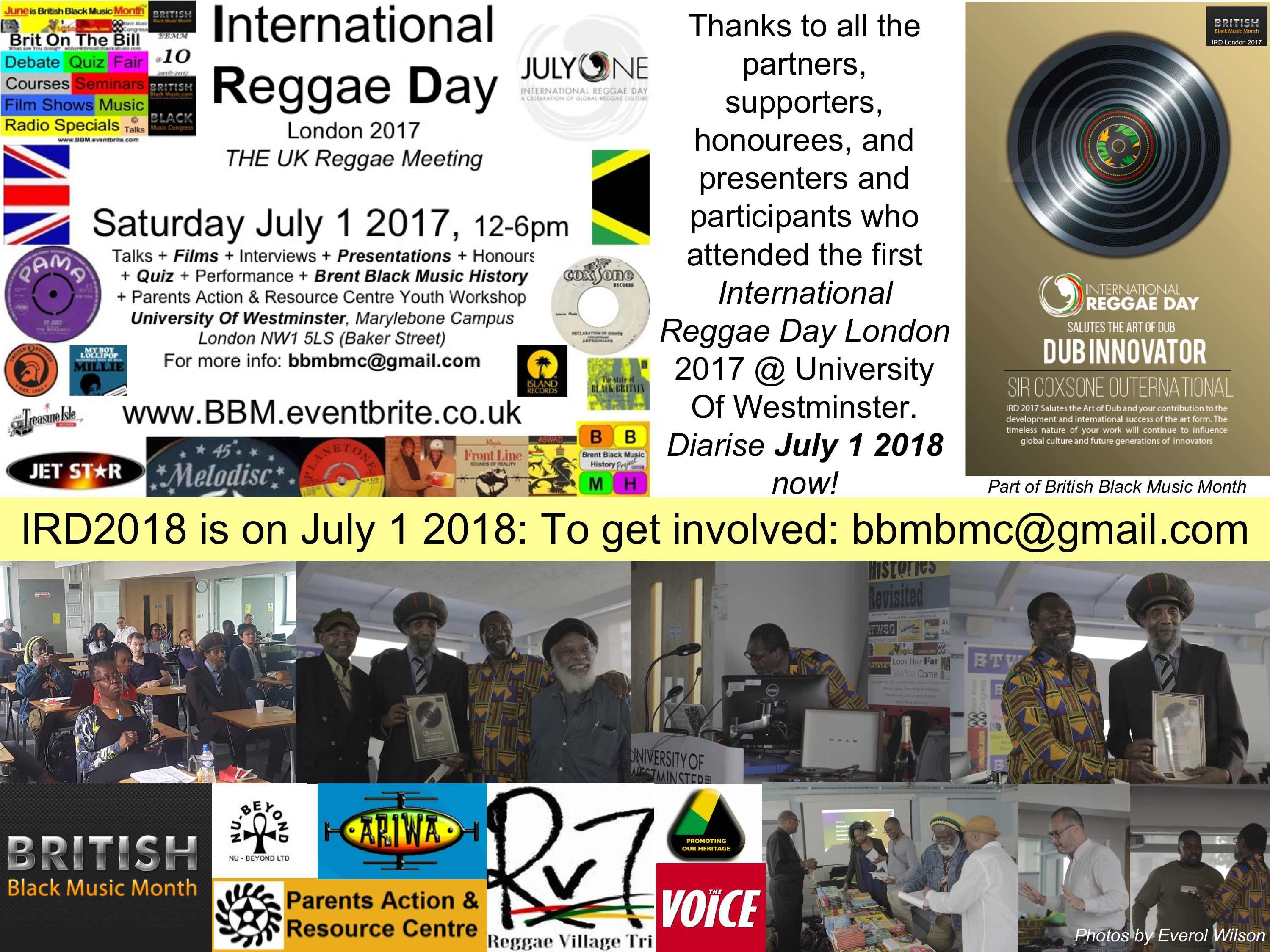 Licensed by International Reggae Day

Go to www.bitly.com/BritDevReggae to to view draft trailer of 'Britain's Contribution To The Development Of Reggae' vox pops containing excerpts from some of the 50+ contributors drawn from musicians, producers, journalists, DJs, academics, community activists, and the odd politician:
In order of appearance with Journalist/Music Publisher Kennedy 'Prezedent' Mensah, Musician/Producer King Sounds, Rapper Akala, Educator/Former Producer Toyin Agbetu, Lecturer/Music Biz Lawyer Kienda Hoji, Academic/.Culturalist Prof Paul Gilroy, Dancehall DJ Gabriel Heatwave, Lecturer, Singer-Songwriter/Producer Mykaell Riley, Journalist Mikey Massive, Journalist Kevin Le Gendre, Author, Journalist, DJ David Katz, Rapper HKB Finn, Musician/Composer Tunde Jegede, Performance Poet/Trade Unionist Zita Holbourne, Theatrical Actress/Director Yvonne Brewster, and Record Producer Neil 'Mad Professor' Fraser.