Event Information
Location
UCL Institute Of Education
20 Bedford Way
London
WC1H 0AL
United Kingdom
Description
International Reggae Day (IRD) is JulyOne - the reggae networking and information space - see Programme below.

Organised by BritishBlackMusic.com/Black Music Congress in association with Reggae Fraternity UK, Ready For The World and Reggae Village Trinity.
UPDATE:
Sunday July 1, 9am Reggae Tree 2 Craven Park Rd, London NW10 4AB planting near Hawkeye record shop 2 Craven Park Rd, Harlesde, London NW10 4AB by Brent Council leader Cllr Muhammed Butt and Brent Central MP Dawn Butler, with local dignitaries and reggae community. Just turn up - no booking required.

Tuesday July 3, 6-10pm, British Black Music Month/International Reggae Day 2018 Xtra @ Goldsmiths: Women In Reggae photo exhibition, sound system plus free music industry seminar 7.30-9pm: UK Music Industry Income Streams & Royalties Made Simple: http://bit.ly/XtraJuly3

Friday July 20, 6-9pm, Talking Copyright: On A Reggae Tip: http://bit.ly/TC2018Reggae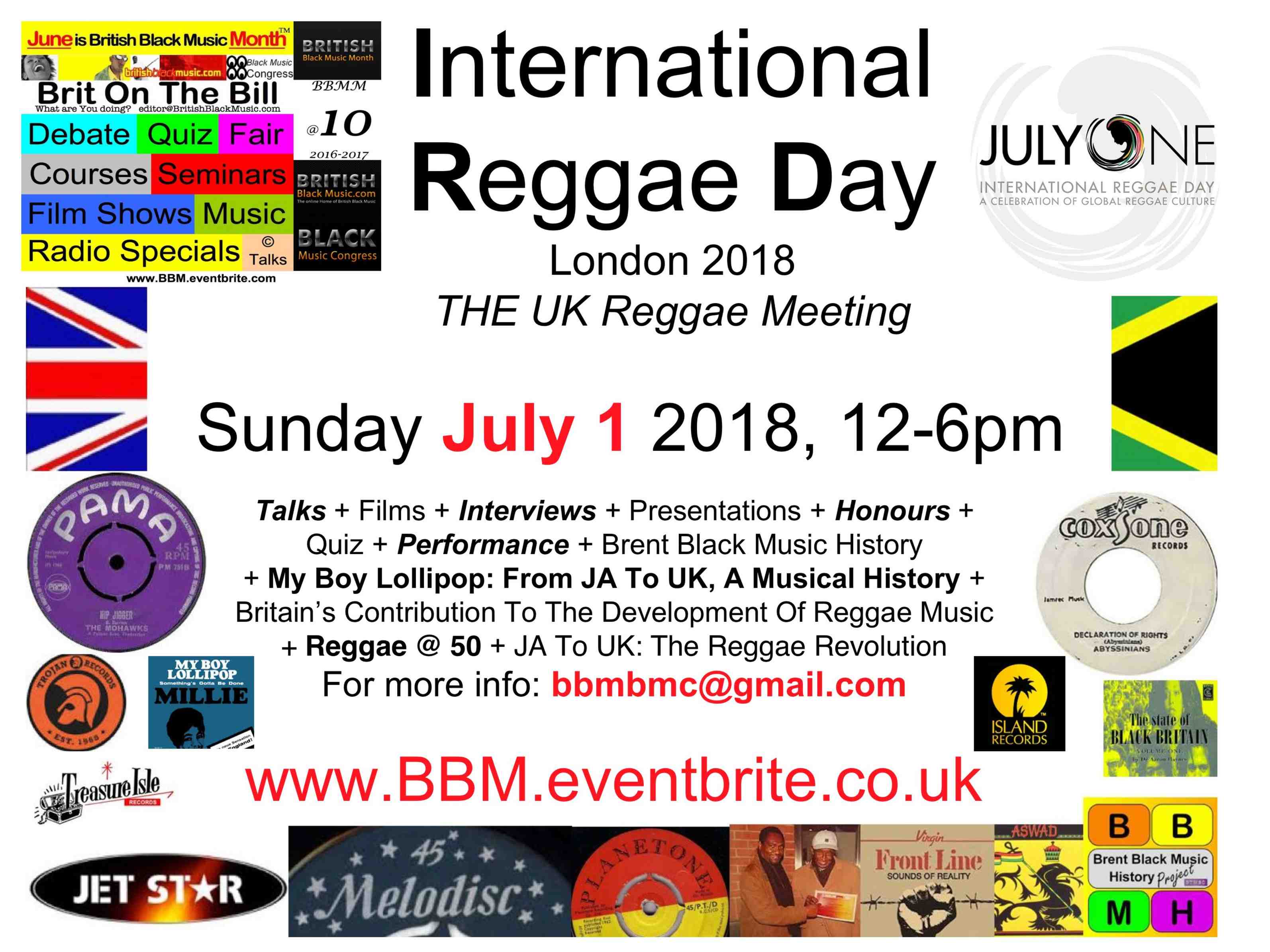 International Reggae Day London (IRD LDN) 2018 main hub event takes place at UCL Institute Of Education (Room numbers available to those that have booked), 20 Bedford Way, Bloomsbury, London WC1H 0AL (Russell Square, Euston Square, Holborn tube stations). There's a £5 refunable charge; £10 full price from June 25 is not refundable).
This family-friendly event, which takes place over two rooms, consists of:

Talks + Films + Interviews + Presentations+ Honours + Performance + Quiz + Brent Black Music History + Chris Peers & The Founding Of Island Records + Britain's Contribution To The Development Of Reggae Music + My Boy Lollipop: From JA To UK, A Musical History + Reggae @ 50 + JA To UK: The Reggae Revolution, Copyright & Reggae, etc.

To be kept in the loop, attend stakeholders meetings, acquire an IRD licence for your event, or find out about IRD satellite events across the UK: bbmbmc@gmail.com.
BBMM2018 has a number of Reggae @ 50 related events: www.BBM.eventbrite.com. IRD events also posted at www.IRDUK.co.uk.
IRD 2018 theme: JA To UK: The Reggae Revolution
IRD UK 20 theme: Women In Reggae

Programme - may be subject to change

Room 2: stalls, refreshments, merchandise, chill out, etc.
11.30am: Registration & Refreshments
Room 1: main conference
Interspersed with awards to artists and industry personnel
12.00: Remembrance: Remembering Tony Williams and some of those from the British reggae fraternity who passed away in 2018.
12.20pm: 'Is Contemporary Black Music More About Recording Rather Than Songwriting?' Exclusive video with Kwaku BBM interviewing Dennis Bovell who breaks down his songwriting process, including the writing of 'Silly Games'.
12.35: 'My Boy Lollipop - Reggae Music From JA To UK'. A short, quick-fire version of Kwaku BBM's presentation.
1.05pm: Hailing The Retailers. Hawkeye's Roy Forbes Allen and Starlight's Popsie are IRD 2018 Awardees. Video of the latter and others talking about record retailing in Harlesden and sound systems from Brent over the decades.
1.35pm: Veterans Talk: Back In The Day. Record producer, engineer, record label owner and manager Michael Campbell, singer-songwriter Tony Washington, and the late Island Records promoter and production team member Chris Peers (via video) provide much needed history of British reggae from the 1960s.
2.05pm: Mini Talking Copyright. Talking Copyright Within The Context Of Reggae Music, Dr Enrico Bonadio; and Taking Copyright On A Reggae Trip, Kennedy 'The Prezedent' Mensah.
2.35pm: 1974: That Carib Club Story. Exclusive video by Kwaku BBM with Dennis Bovell giving the inside story of the incident at the Carib Club, which led to two trials at the Old Bailey.
2.50pm: Death B4D Police Dub Wize! Helly C's presentation provides a pointed socio-political view, including the State's use of incarceration.
3.05pm: Break. British Reggae videos. Networking
3.25pm: Soulheads With Reggae Roots. The British Collective and Imagination's Leee John (via video) talks about his reggae roots, his'Police And Thieves' cover, Do It Right project, etc.
3.45pm: The Trojan And Jetstar Stories. Video compilations highlighting two seminal reggae labels with Brent connections.
4.00pm: Women In Reggae In Session. Lovers rock veteran Audrey Scott in conversation with Britain's Got Reggae organiser Cyrlene Braithwaithe and True Identity talk genre, gender, sexism and music industry politricks. Preceded by trailer of 'Women In Reggae - The UK Perspective' documentary in honour of associate producer Yaz Alexander.
4.30pm: 'Britain's Contribution To The Development Of Reggae Music'. Short excerpt from Kwaku BBM's vox pops and trailer of Menelik Shabazz's 'The Story Of Lovers Rock', highlight the British-created lovers rock genre.
4.45pm: Talking Genres - The Making Of & Significance Of The Lovers Rock Story. Documentary film maker Menelik Shabazz and record producer Neil 'Mad Professor' Fraser talk about making of and capturing the history of lovers rock.
5.15pm:: Hailing The Female Sound Systems. Nzinga Sounds' June and Ade talk about the stereotypes and challenges of a female-run sound system.
5.45:pm: Personal Stories. Plenary - audience offer their succinct personal stories.
6.00pm: Wrap Up. Remember BBMM/IRD 2018 Xtra @ Goldsmiths on July 3, 6-10pm, part of British Black Music Month, Reggae @ 50 - Women In Reggae photo exhibition by Kenny Passley; M3 Crew sound system; Free Music Industry seminar UK Music Industry Income Streams & Royalties Made Easy: www.BBM.eventbrite.comwww.IRDUK.co.uk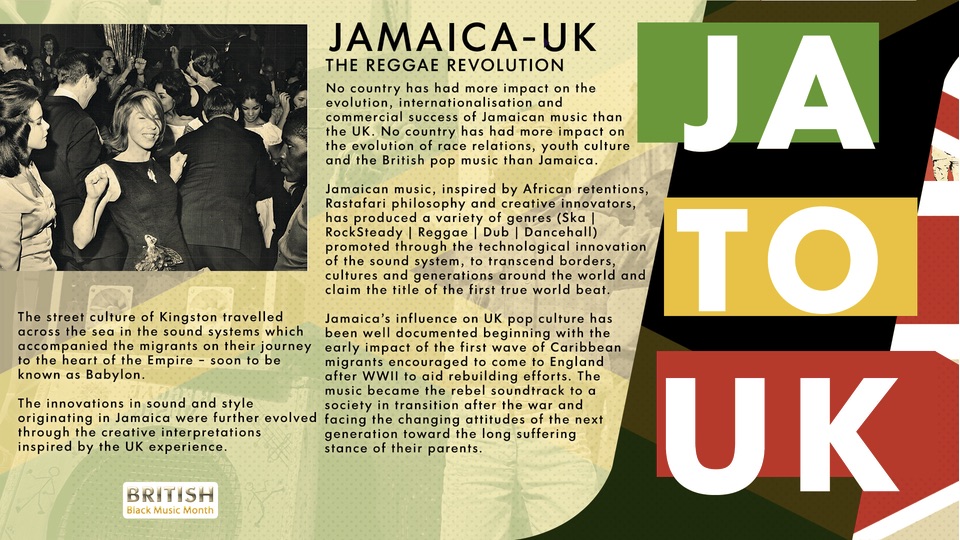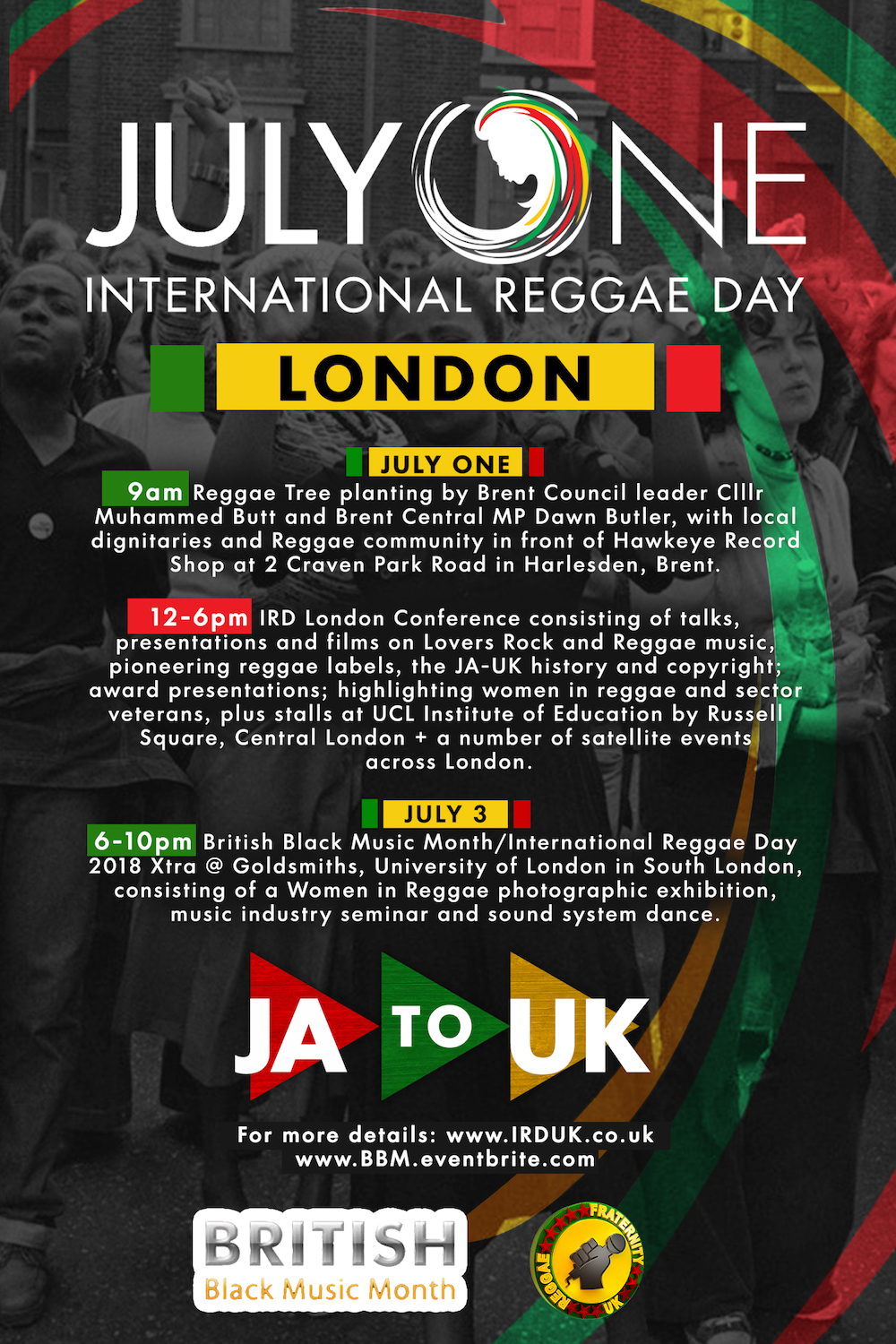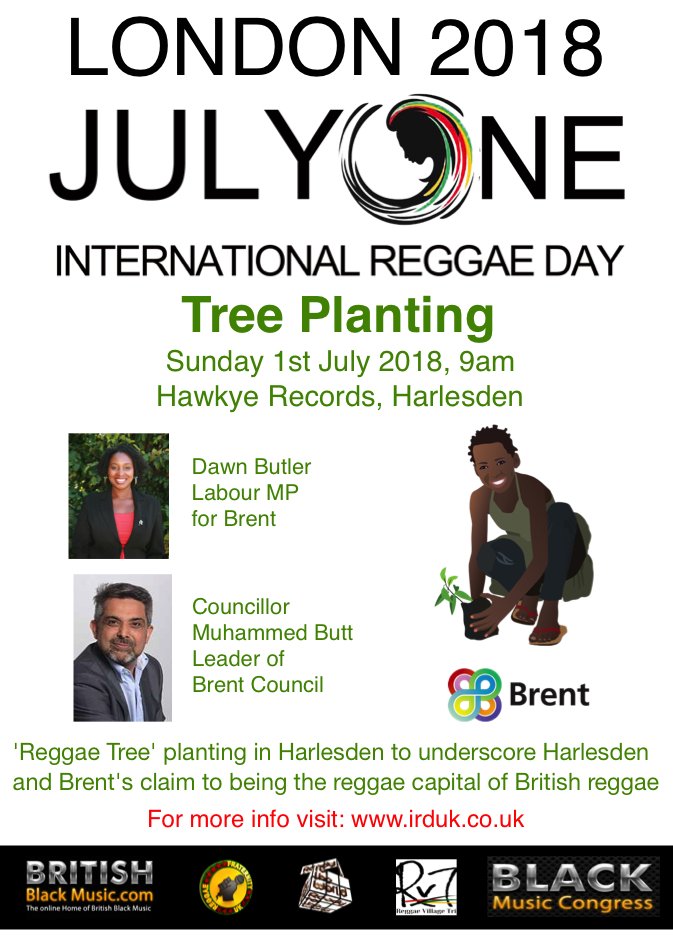 Date and time
Location
UCL Institute Of Education
20 Bedford Way
London
WC1H 0AL
United Kingdom