Description
Registration is now open for the International Robotics Showcase, the pinnacle event of UK Robotics Week 2018.
The full-day programme includes exclusive talks by world-renowned experts in science and technology, panel discussions, exhibitions, robot demonstrations and an award ceremony for competition winners demonstrating cutting-edge robotics innovation.
Exciting demonstrations of cutting-edge robotics technology;

Lively discussion and debate, covering ethical, legal and economic impacts of Robotics and AI;

The release of several new White Papers, covering the current research landscape in:

Urban Automation & Transport
AgriTech
The day also offers academics, industry, government organisations and the public, the opportunity to enjoy the fascinating and diverse exhibits by our sponsors, as well as provide a lively forum for discussion and discovery of some of the latest technological developments and research challenges in Robotics and Autonomous Systems.
The event will take place within the 2018 International Business Festival and a 9 day pass is included withi your registration.
Programme - click here to download pdf version
Time
Event
09:00
Welcome and Introduction
Prof. Guang-Zhong Yang, Chairman, EPSRC UK-RAS Network
09:10
KEYNOTE LECTURE
Professor Philip Nelson, Executive Chair, EPSRC
09:50
EPSRC ROBOTICS HUBS
National Centre for Nuclear Robotics
Professor Rustam Stolkin, Birmingham University
The Robotics and Artificial Intelligence for Nuclear (RAIN)
Professor Malcolm Joyce, Lancaster University
10:30
COFFEE BREAK
11:00
EPSRC ROBOTICS HUBS
Offshore Robotics for Certification of Assets (ORCA)
Professor David Lane, Heriot-Watt University
Future AI and Roboticxs for Space (FAIR-SPACE)
Professor Yang Gao, Surrey University
11:40
WHITE PAPERS: Launch
Agri-Tech
Professors Tom Duckett, Lancaster University & Bruce Grieve, Manchester University
Urban Automation & Transport
Professor Simon Marvin, Sheffield UNiversity
Complete Edition of all White Papers
Professor Guang-Zhong Yang, UK-RAS Network
12:10
LUNCH & EXHIBITION
14:00
Robotics & Ageing Lecture
Prof. Kerstin Dautehahn, University of Hertfordshire
14:45
CHALLENGES
Moving forwards: Care of Tomorrow Film Challenge
Professor Samia Nefti-Meziani, Salford University
Social Care & Independent Living Challenge / School Robot Challenge
Dr. Stephen Potter, Sheffield University Dr. Robert Merrifield, Imperial College
Surgical Robot Challenge
Dr. Robert Merrifield, Imperial College London
15:30
COFFEE BREAK
16:10
KEYNOTE LECTURE
Sir Mark Walport, Chief Exectuive Officer, UK Research & Innovation (UKRI)
17:00
Discussion and Conclusion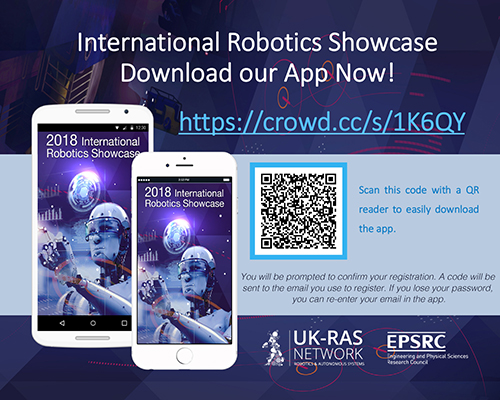 Comments from past delegates -
David Marcroft
"The speakers showed energy and swiftness and I was very happy with the morning presentations. The talks covered a wide range of robotic applications which we will see more of in the future and the practical demonstrations were very interesting"
Oleksandr Skrypnyk
"I feel like International Robotics Showcase met its goals in a spectacular fashion"
"It was a magnificent event and I look forward to attending it next year"
For more information please visit our website: www.uk-ras.org/