International Symposium "Human Rights in Practice: Equality in Tourism"
This one-day symposium discusses how tourism stakeholders can respect equality along their supply chain.
About this event
Equality in tourism has many different dimensions: From gender equality and non-discrimination of migrant workers to the respect of children's rights. From decent and family-friendly working hours and equal wages to women empowerment. And from accessible tourism products to the participation of local communities and vulnerable groups in tourism development processes, to name only a few.
With its extensive and fragmented supply chain in various destinations, high seasonality and day and night service demand, with more and more areas of work being outsourced and put on temporary work, respecting equality can be challenging for tourism stakeholders.
How can tour operators implement equality along the supply chain? How can they put aspects of equality in practice on an operational level? How can existing challenges be tackled?
The Symposium offers possibilities to discuss various aspects of equality in tourism and will cover topics like gender equality, fair working conditions and outsourcing challenges.
The focus of the symposium lies on
an inspirational introduction of concepts for fair and equal working conditions in business operations from various sectors
the sharing of concrete best practice examples and experiences how to actively integrate equality aspects into tourism practice, as well as
creating an intensive exchange of ideas and mutual learning on how to develop and implement decent working conditions along the tourism supply chain and how to create appropriate tourism offers to support equality
Upcoming ideas and practical, already implemented approaches are collected and documented as inspiration and assistance for tourism businesses.
Moderator of the day: Frank Oostdam, President ANVR
SYMPOSIUM & CATERING FEE
The conference is free of charge. We expect every participant to contribute to the costs for venue and catering with 40 € p.p.
Invoices will be sent via Email after your Eventbrite-registration for the symposium.
LOCATION
The Social Impact Factory Utrecht (Vredenburg 40, 3511 BD Utrecht) is a 2 minutes walk away from Utrecht Central Station.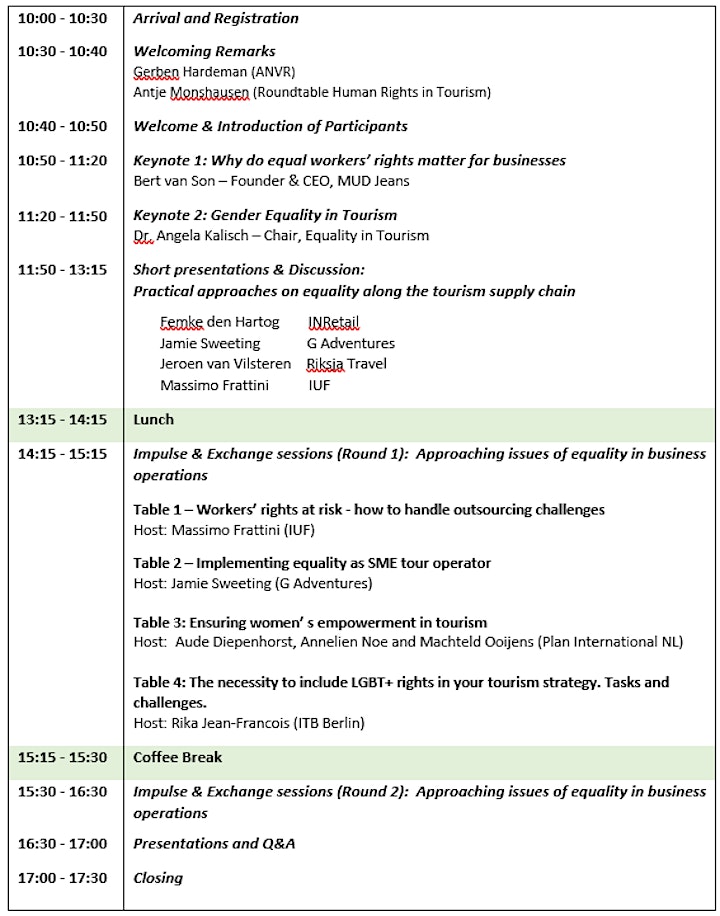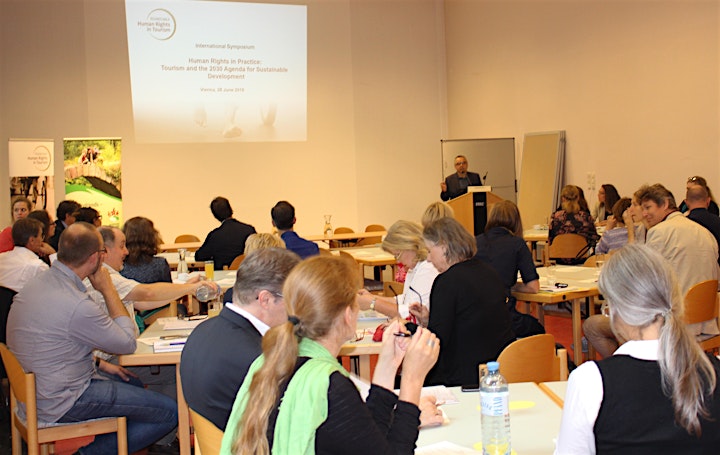 OPTIONAL DINNER
After the symposium we would like to invite you to join us for dinner at The Colour Kitchen (self-pay basis).
When? 18:30 pm
Where? The Colour Kitchen, Oudegracht 214BIS, 3511 NS Utrecht
Cost: We will get served a vegetarian three-course-meal. The cost is 30 Euro,excluding drinks. It can be paid on site in cash.
If you would like to join the dinner, please REGISTER HERE until 10 June.
You will also find detailed information there.
HOTEL RECOMMENDATIONS
We kindly ask you to organize your accommodation independently and would like to suggest you the following accommodation options (all green key certified):
For any questions, please contact:
Roundtable Human Rights in Tourism, Jara Schreiber (Coordinator)
Organiser of International Symposium "Human Rights in Practice: Equality in Tourism"