Description
JOIN over 1500+ WOMEN in TECH and WOMEN-LED STARTUPS on FRIDAY, MARCH 9, from 9am to 5pm for a special event to celebrate International Women's Day!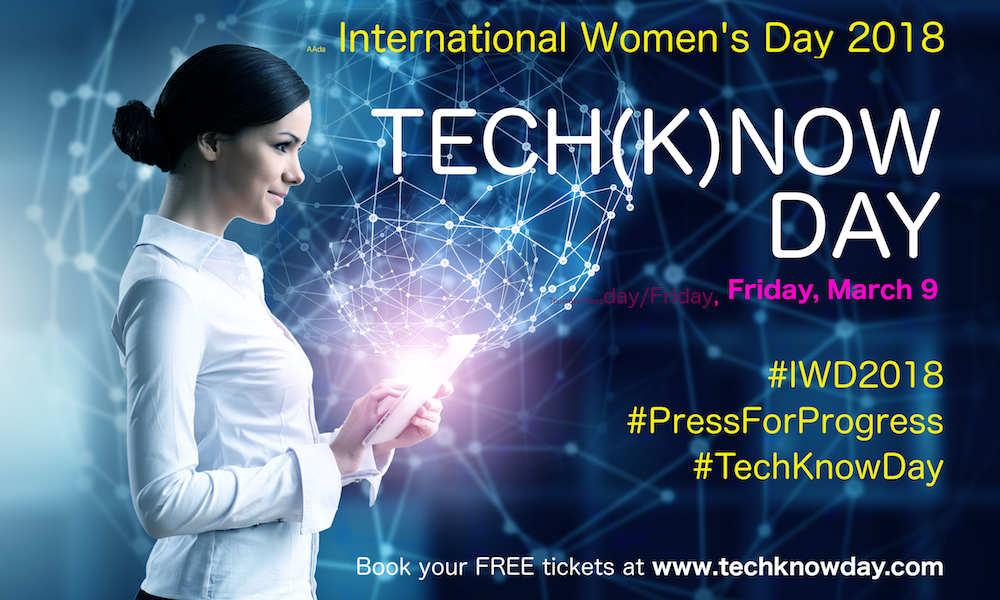 TECH(K)NOW DAY has been organised to provide a place and venue for anyone who identifies as a woman to go and learn new tech skills (see details below). This is in keeping with this year's International Women's Day theme - #PressForProgress.

Also, if you are a woman founder or woman co-founder of a startup, you can apply for a free exhibition space here >> http://www.bit.ly/techknowdayspace. If you are at a stage where you are looking to form a startup - then attend and get access to startup advice from some of the companies and organisations that will be present.


ROUGH SCHEDULE
8:00am to 9:00am - Arrival/Registration/Tea/Coffee/Biscuits/Pastries
9:00am to 9:30am - Talk 1 - Women in Tech - State of the Nation
9:30am to 10:00am - Talk 2 - Open Source Quantum Computing
10:00am to 10:30am - Talk 3 - Google Deepmind - Developing a Growth Mindset in Tech
10:30am to 11:15am - Talk 3 - Microsoft - Mixed Reality
11:15am to 11:35am - Opportunities in Open Source
11:35am to 12:00noon - Using Social Media Effectively for Your Organisation
12:noon - 1:30pm Lunch
1:30pm - 2:15pm Talk on CV/Interview Writing Tips
2:15pm - 2:45pm Talk on Leadership (using Emotional Intelligence to get you to a Leadership Position)
2:45pm - 3:15pm Coffee/tea/Break
3:15pm - 4:15pm Unconscious Bias
4:15pm - 5:00pm Closing Talk


Tea/Coffee/Pastries/Biscuits will be served for Breakfast (8-9am). Lunch will also be avalable as well as Tea/Coffee/Biscuits for the afternoon tea break.

ARE YOU AN ALLY?

If you do not fit the profile of the target attendees for this International Women's Day event, will you be an ally and help us spread the word about this event, by forwarding a link to this page to someone in your organisation or your circle of friends/influence who might benefit from attending? (Or if you do fit the profile but can not make it on the day and know someone who might be interested in attending, please pass the link on.) Thank you very much! Here's the link to share >> http://www.techknowday.com.


HOW WAS IT LAST TIME?

Below is a feedback from one of the attendees at the March 2017 event. We love the way she perfectly summarised what happened on the day! From 400+ attendees, we doubled it back in October and are looking to welcome 1500+ women in tech (or women wanting to get into tech) to the event. Make sure you don't miss out! (Also you can watch this short video on YouTube - https://www.youtube.com/watch?v=Zr35fIpEh1Q)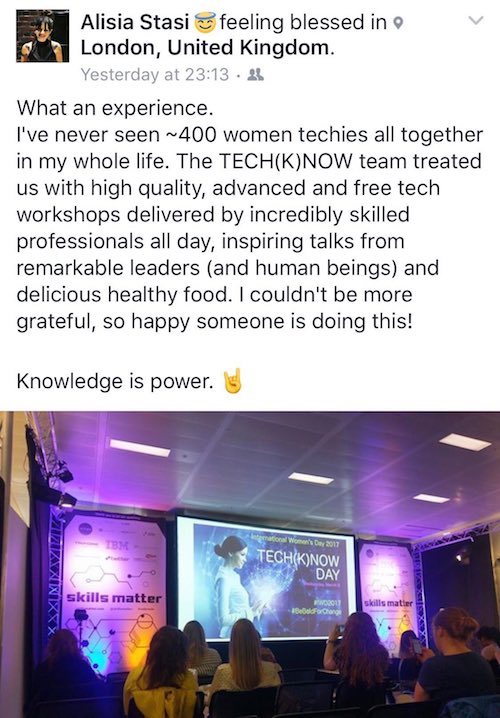 WHAT'S IN STORE?

HANDS-ON WORKSHOPS

Throughout the day, there will be a whole range of hands-on workshops available for both -
- complete beginners (for you to explore what's out there that you could be learning and find out for yourself if coding is for you)
- experienced developers (for you to explore other technologies/languages you might currently not be familiar with, for example - machine learning, AI, graph databases, AngularJS, messaging bots and a whole range of other topics).

NOTE: In order to receive information on the free workshops (topics, details, schedule, prerequisites), you need to have a valid conference ticket (it's free, so don't dilly-dally :D and book it soon - they will go quite fast! And don't forget to book your time off from work, too! Ask your manager, if you have one, if you can book it against training days).


Workshop timings are -
10am - 12:00noon
12:30 - 2:30pm
3:00 - 5:00pm

The workshops available are -

All/Beginners Level
- 10am - 12noon --> Beginner HTML/CSS
- 10am - 12noon --> iOS/Swift 101
- 10am - 12noon --> Introduction to Javascript
- 12:30pm - 2:30pm --> Kotlin Basics: Build a Simple Standalone Sudoku Game App
- 12:30pm - 2:30pm --> Intro to Pair Programming and Test-Driven Development
- 12:30pm - 2:30pm --> Learn Ruby Through Music
- 12:30pm - 2:30pm --> Wordpress Development for Beginners
- 12:30pm - 2:30pm --> Introduction to Python
- 3:00pm - 5:00pm --> Android 101

For more experienced developers
- 10am - 12noon --> Dealing with Legacy Code (Understanding the code-, Writing a Golden Master, Writing Unit Tests and Refactoring, Introducing new Features)
- 10am - 12noon --> Learn GraphQL
- 10am - 12noon --> Microsoft Bot Framework Workshop
- 10am - 12noon --> Learn how to use Java Streams
- 12:30pm - 2:30pm --> Introduction to Functional Programming in Scala
- 12:30pm - 2:30pm --> Getting Started with WebVR - An Introduction to A-Frame
- 12:30pm - 2:30pm --> State Management with Redux
- 12:30pm - 2:30pm --> Deep Learning with Python
- 3:00pm - 5:00pm --> Machine Learning on iOS
- 3:00pm - 5:00pm --> Learn React
- 3:00pm - 5:00pm --> Learn ReactJS
- 3:00pm - 5:00pm --> Learn WebRTC
- 3:00pm - 5:00pm --> Learn WebGL
- 3:00pm - 5:00pm --> Building a Recommendation System in R
- 3:00pm - 5:00pm --> Building AI applications using Microsoft Cognitive Services
- 3:00pm - 5:00pm --> Building a Conversational App with the Google Assistant

Personal Development
- 10:00am - 12:00noon --> More Impactful Presentations with the Power of Body Language

TALKS
There will also be a separate track for talks, so if you are not in one of the workshops above, you can listen to interesting talks and speakers about

Tech topics (current and emerging)

Personal Development

Career Development

Diversity / Inclusivity / Unconscious Bias




We particularly want to highlight the talk on Career Development (don't miss it!), where you'll learn about
Salary negotiation for women (including talks about new regulations coming up on equal pay)

Confidently applying for a job you don't have ALL the skills for (yet)

Areas you should consider developing skills in


Presenting yourself well in interview

How to get the most out of your relationship with your recruiter

Re entering the workforce after a break

Making your CV stand out


CAREER HUB / CAREER FAIR
There will be a career hub where experts will be on had to help you - if you want to have one-to-one conversations about the above career development-related topics.



Sign up for a ticket so we can send you more information along with the schedule of the hands-on workshops, talks and other activities happening on Friday, March 9!


And don't forget to book your time off for that date! It will be a wonderful day out for women in tech and women-led startups!

Organiser of INTERNATIONAL WOMEN'S DAY 2018 - TECH(K)NOW DAY - FRIDAY, MARCH 9, 9am to 5pm