INTERNATIONAL WOMEN'S DAY 2019 - TECH(K)NOW DAY - Saturday, MARCH 9, 9am to 5pm

Saturday, 9 March 2019 from 09:00 to 17:00 (GMT)
Event Details
JOIN #London WOMEN in TECH and WOMEN-LED STARTUPS on SATURDAY, MARCH 9, from 9am to 5pm for a special event to celebrate International Women's Day!   Due to popular demand we are holding the 5th TECH(K)NOW Day on a Saturday, so more of you can attend.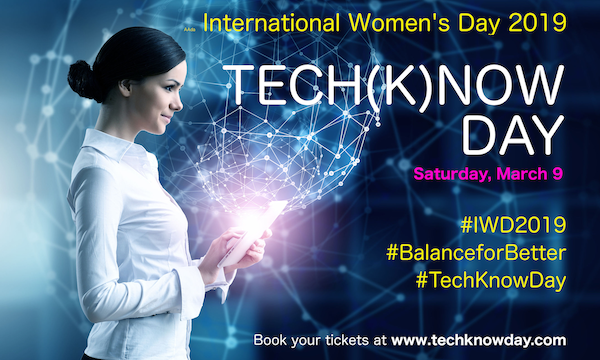 TECH(K)NOW DAY has been organised to provide a place and venue for anyone who identifies as a woman to go and learn new tech skills (see details below).   This is in keeping with the past few years' International Women's Day themes - #BeBoldforChange #PressforProgress #BalanceforBetter
Also, if you are a woman founder or woman co-founder of a startup, you can apply for a free exhibition space here >> http://www.bit.ly/techknowdayspace.  If you are at a stage where you are looking to form a startup - then attend and get access to startup advice from some of the companies and organisations that will be present.


Tea/Coffee/Pastries/Biscuits will be served for Breakfast (8-9am).  Lunch will also be available as well as Tea/Coffee/Biscuits for the afternoon tea break.

ARE YOU AN ALLY?
If you do not fit the profile of the target attendees for this International Women's Day event, will you be an ally and help us spread the word about this event, by forwarding a link to this page to someone in your organisation or your circle of friends/influence who might benefit from attending?   (Or if you do fit the profile but can not make it on the day and know someone who might be interested in attending, please pass the link on.)   Thank you very much!   Here's the link to share >> http://www.techknowday.com.
HOW WAS IT THE LAST FEW YEARS?

Below is a feedback from one of the attendees at the March 2017 event.  We love the way she perfectly summarised what happened on the day!   Make sure you don't miss out!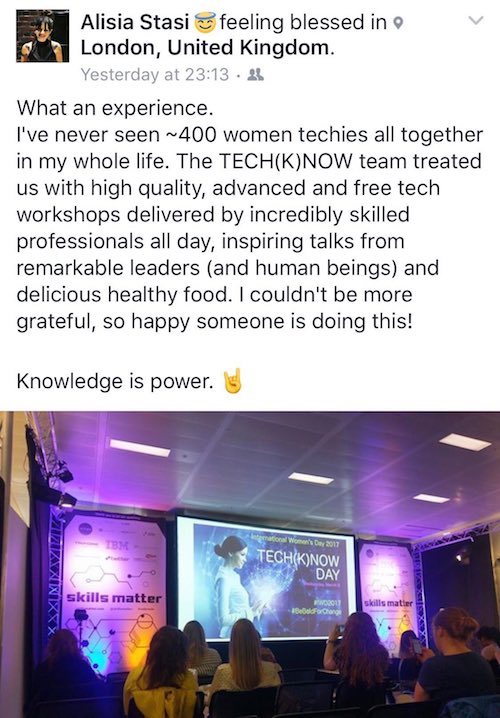 WHAT'S IN STORE?
HANDS-ON WORKSHOPS
Throughout the day, there will be a whole range of hands-on workshops available for both -
- complete beginners (for you to explore what's out there that you could be learning and find out for yourself if coding is for you)
- experienced developers (for you to explore other technologies/languages you might currently not be familiar with, for example - machine learning, AI, graph databases, AngularJS, messaging bots and a whole range of other topics).
NOTE: In order to receive information on the workshops (topics, details, schedule, prerequisites), you need to have a valid conference ticket  - they will go quite fast!



TALKS & WORKSHOPS

We have lots of interesting talks and workshops in store!

Speakers, workshop leads, career fair stands and CV Clinic advisers come from a host of different companies like-

The Linux Foundation/Cloud Native Computing Foundation
Amazon Web Services (AWS)
Thought Machine
Hired.com
The Financial Times
Expedia/Homeaway.com
Conde Nast
Twitter
Google
Beyond
The App Business
Buzzmove
Motaworld
Author of the Agile Technical Practices Book (https://leanpub.com/agiletechnicalpracticesdistilled)
Open University
Cambridge University
...to name a few


Our friends at Microsoft Reactor was able to make available additional rooms for our workshops, which is now allowing us to take the number of workshops from 11 to 15.  So aside from the main venue (The Curtain), we have a remote workshop site (which is a short 4-5 minutes walk).

Topics-wise, we have the following (some are for beginners (total beginners or junior devs), some are for intermediate/advance developers) >>

- iOS/Swift 101
- Android /Kotlin 101
- HTML/CSS 101
- Flutter Codelabs
- React for Beginners
- Getting Started Building Skills for Voice Assistants (Google and Alexa)
- Building Actions on Google Codelabs
- Cloud Study Jam - focusing on Baseline Data, Machine Learning and AI
- Introduction to Kubernetes with Minikube
- Cybersecurity Pen Testing for Beginners
- Practical Software Design
- Data Analysis and Machine Learning using Apache Spark
- Infrastructure as Code with Terraform
- I am Remarkable - https://www.youtube.com/watch?v=YKBgEsH0PJc
- Leadership & Humour

AGAIN NOTE: In order to receive information on the workshops (topics, details, schedule, prerequisites), you need to have a valid conference ticket
TALKS
There will also be a separate track for talks, so if you are not in one of the workshops above, you can listen to interesting talks and speakers about

Tech topics (current and emerging)

Personal Development

Career Development

Diversity / Inclusivity / Unconscious Bias




We particularly want to highlight the talk on Career Development (don't miss it!), where you'll learn about
Salary negotiation for women (including talks about new regulations coming up on equal pay)

Confidently applying for a job you don't have ALL the skills for (yet)

Areas you should consider developing skills in


Presenting yourself well in interview

How to get the most out of your relationship with your recruiter

Re entering the workforce after a break

Making your CV stand out


CAREER HUB / CAREER FAIR
There will be a career hub where experts will be on had to help you - if you want to have one-to-one conversations about the above career development-related topics.
Sign up for a ticket so we can send you more information along with the schedule of the hands-on workshops, talks and other activities happening on Saturday, March 9!
It will be a wonderful day out for women in tech and women-led startups!

Do you have questions about INTERNATIONAL WOMEN'S DAY 2019 - TECH(K)NOW DAY - Saturday, MARCH 9, 9am to 5pm?
Contact TECH(K)NOW
When & Where

The Curtain
45 Curtain Road
London
EC2A 3PT
United Kingdom


Saturday, 9 March 2019 from 09:00 to 17:00 (GMT)
Add to my calendar