Location
NOVOTEL West London
Hammersmith International Ctre 1, Shortlands
Hammersmith
London
W6 8DR
United Kingdom
An Impactful Festival Leading Up To International Women's Day 2022 - Centring the Unique Experiences of Black Women.
About this event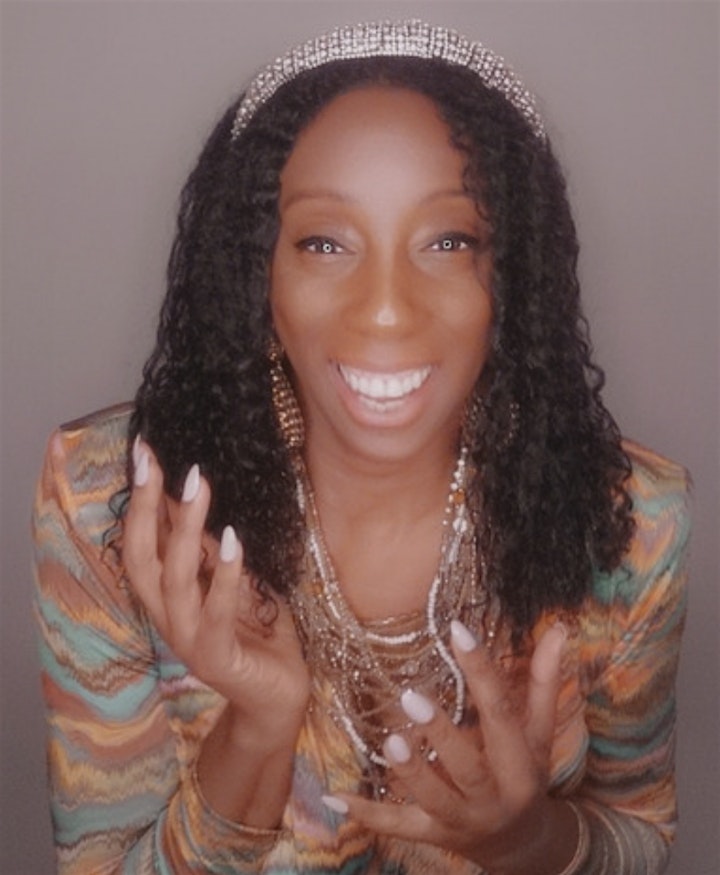 Now, in our 9th year, CURLYTREATS Festival introduces Dear Black Women - a series talks, interactive workshops, solution-oriented seminars, and the marketplace dedicated to Black women and our intersecting identities.
To celebrate Women's History Month this March 2022 as well as International Women's Day - please join us on Saturday 5 March for an exciting programme of activities at this festival designed to celebrate everyday Black Women.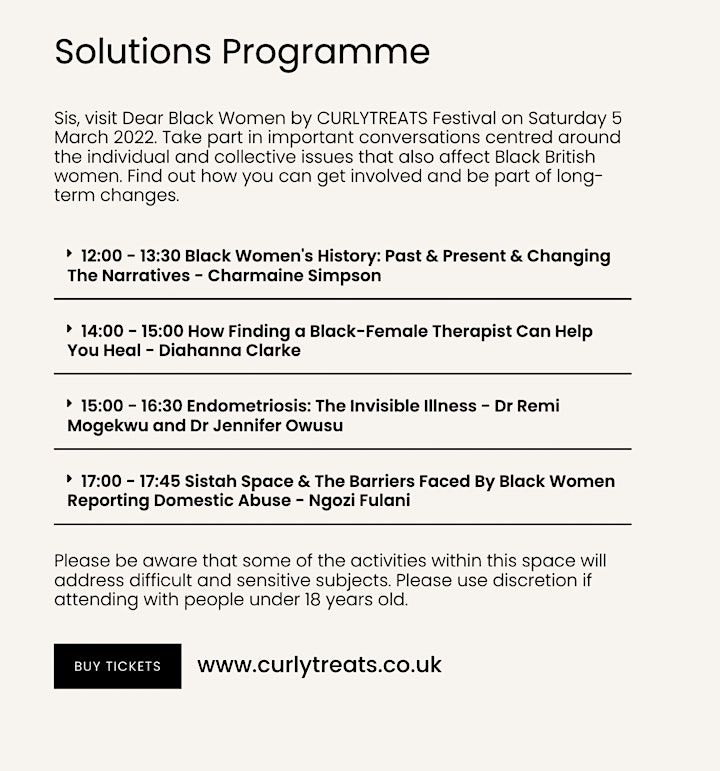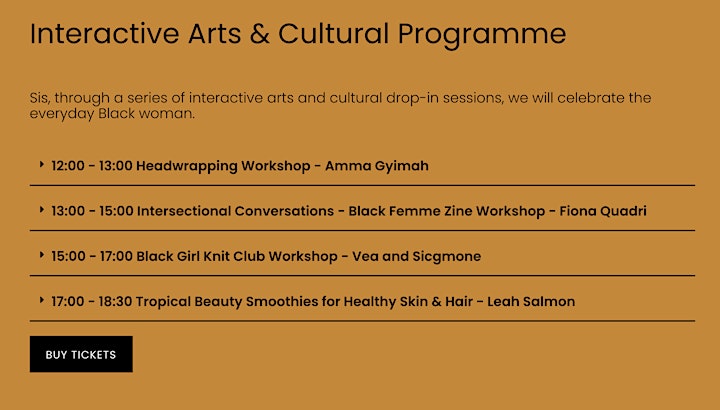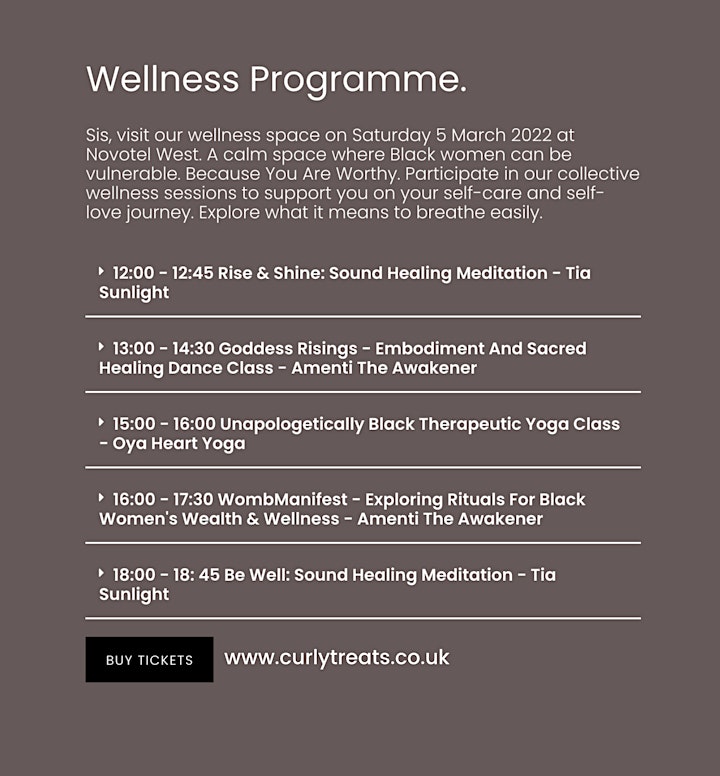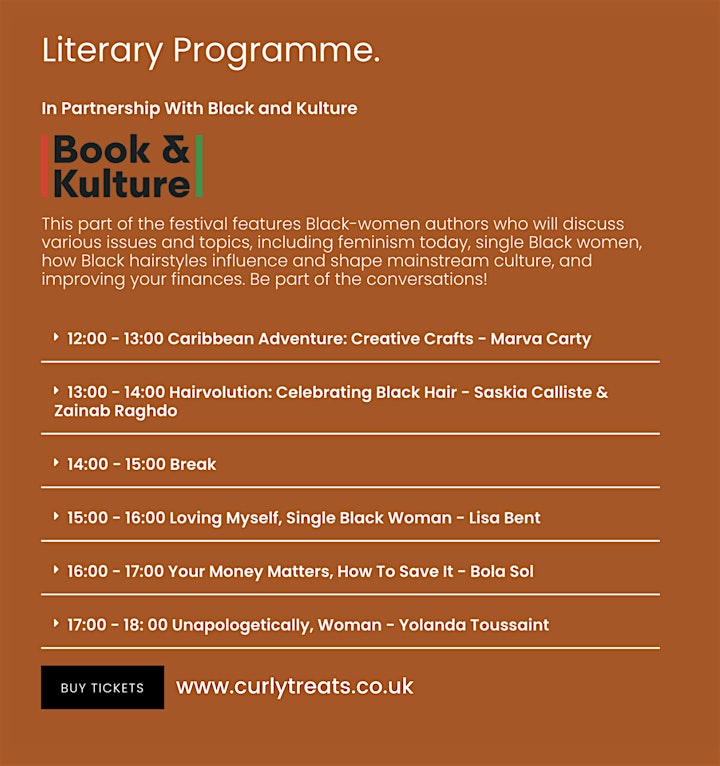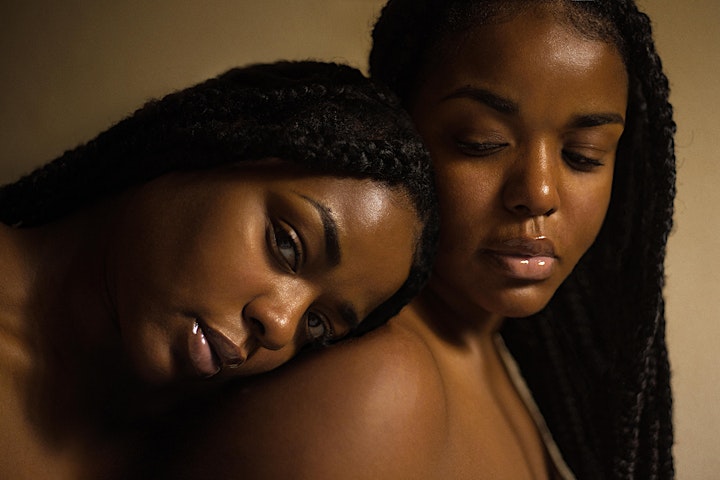 WHY DO WE CELEBRATE WOMEN'S HISTORY MONTH 2022?
During March, Women's History Month celebrates the vital role of women in history and acknowledges women's contributions to culture and society.
But historically, the contributions of Black women, some of who have been behind several of the world's impactful social movements, lacks wide recognition or are entirely erased from public historical narratives. Yet, the very fabric of society would be different without the contributions from Black women.
Here in the UK, join us on Saturday, 5 March, as we acknowledge the labour, sacrifices, and the incredible and inspirational contributions of dedicated pioneers who contributed and helped shape our world, as well as the committed Black women who have continued the exceptional work set by their forerunners.
WHY DO WE CELEBRATE INTERNATIONAL WOMEN'S DAY (IWD) 2022?
IWD is celebrated annually on 8 March to recognise women's social, economic, cultural, and political achievements, raise awareness of discrimination and bias, and inspire and empower us to take action for equality.
Black women exist at the intersection of racism and misogyny, we are marginalised and discriminated against for being Black and being women - we live in both identities at all times.
In seeking gender equality, the mainstream women's movement lacks real inclusion in celebrating Black women's achievements and raising issues that affect our intersecting identities, not because of our lack of participation in eradicating gender oppression. But the result of anti-Blackness, lack of real allyship and solidarity. Black women's challenges are generally ignored or not raised at all.
Join us on Saturday, 11 March 2023, at Novotel London West Conference Centre where the experiences and needs of Black women are centred.
WHY CURLYTREATS FESTIVAL PRESENTS DEAR BLACK WOMEN EXISTS?
To take up space, give appreciation and celebrate the resilience, power and contributions of Black women to history, culture, and society - through a series of thoughtfully curated panel talks, workshops, seminars, awards, and the marketplace.
The festival provides an environment that centres our love for ourselves and our visions for the society we want to experience and would like future generations to live in - a world that does not diminish, devalue, or discard us.
We are excited to see you there and celebrate this special day with you on Saturday, 5 March.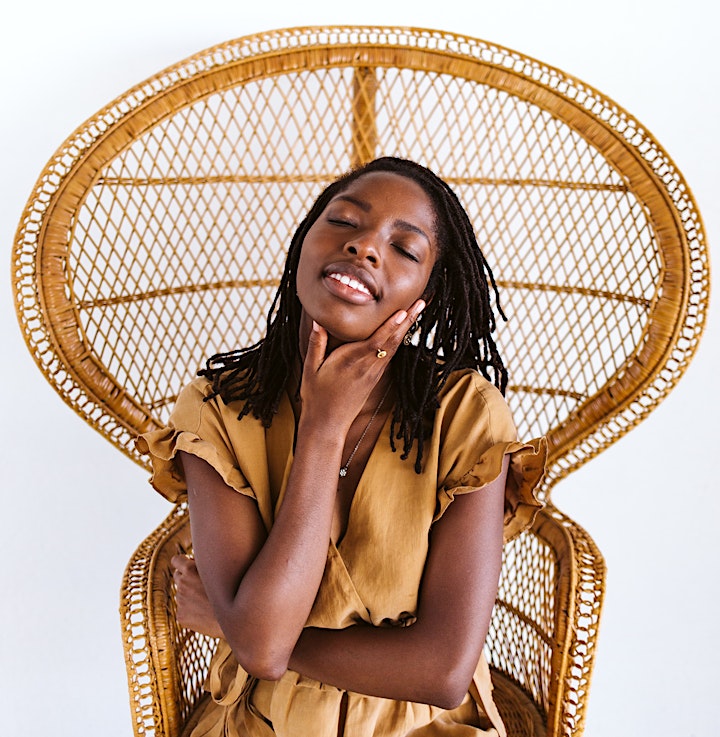 SUPPORT BLACK WOMEN-OWNED BRANDS AND ENTREPRENEUR
Discover and connect with over 60 Black women-owned businesses exhibiting in our marketplace.
One of the impactful ways to support Black women-owned businesses beyond social media is our spending power in person.
Since launching the festival in 2013, we have proudly supported the growth of amazing Black-owned businesses that face multiple challenges, including lack of access to funding, visibility and support. As a solution, our marketplace directly connects you with these brilliant small businesses, who offer a variety of products and services within the following categories:
Hair and beauty
Skincare
Health and Wellness
Fashion, Accessories and Wearable Art
Greeting Cards, Stationery, Paintings
Homeware
Dried food and drinks
Are you a Black woman running a business? Interesting in trading at this event? Get in touch!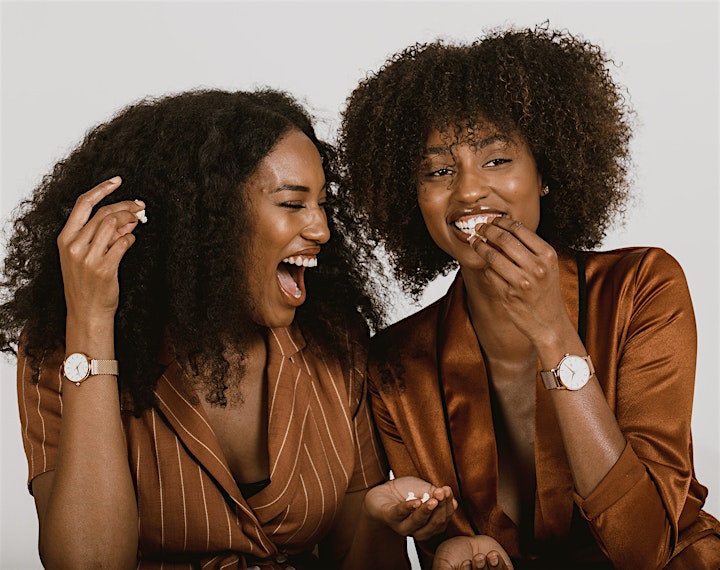 WHERE IS THE FESTIVAL TAKING PLACE?
Novotel West Convention & Exhibition Centre is one of London's leading convention venues. The festival is returning to Novotel for the 3rd year, taking place on the first floor of this 4-star venue.
The venue is wheelchair accessible; if you require extra assistance, please contact us at events@curlytreats.co.uk.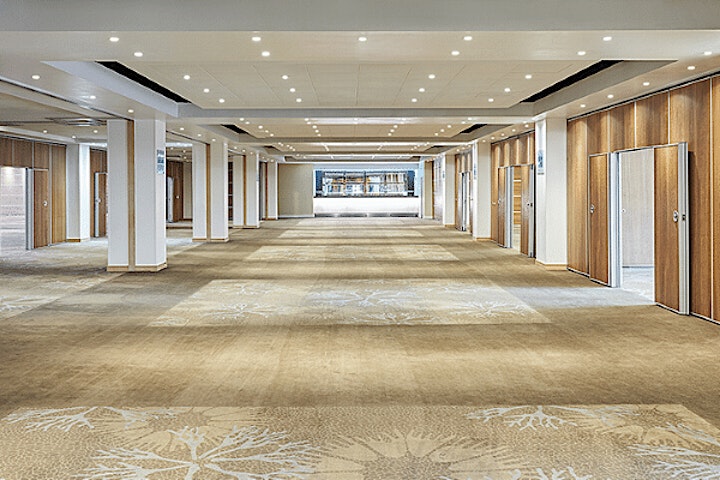 So, come and join us on Saturday, 5 March 2022 - where we as Black women empower, embrace and enhance each other's lives. Why? because Black women matter too.
See you soon!
Some of the activities at the festival will address difficult and sensitive subjects. Please use discretion if attending with people under 18 years old.
COVID-19 Refunds
If the event does not occur due to the Government COVID-19 restrictions, your paid ticket will be refunded.