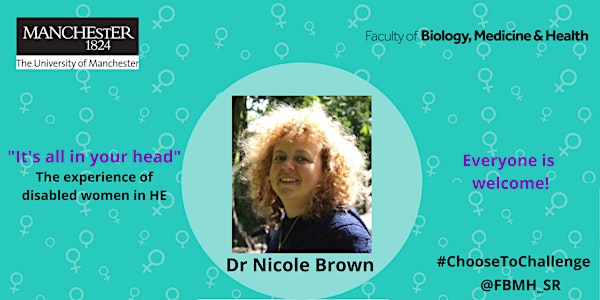 International Women's Day: #ChooseToChallenge
Celebrate International Women's Day with a guest talk from Dr Nicole Brown, hosted by the Faculty of Biology, Medicine & Health.
About this event
Ticket sales have now ended. To watch the event visit the Faculty's Facebook page at 12.30pm. Account not required, just click not now when asked to log-in. Please note: you may need to refresh the page if you are on the Faculty's Facebook page before the event has started.
#ChooseToChallenge
Join the Faculty of Biology, Medicine and Health (FBMH) for our annual International Women's Day celebration event with guest speaker Dr Nicole Brown, Director of Social Research & Practice and Education Ltd. and Lecturer in Education at the UCL Institute of Education, London.
Nicole's research focus is on the experience of disabled, chronically ill and/or neurodivergent members of higher education staff. She has presented extensively on cost-benefit analyses of disclosure as well as strategies and initiatives individuals and institutions may employ to bring about attitudinal changes regarding ableism.
In this keynote titled, "It's all in your head": The experience of disabled women in higher education', Nicole will draw on her research with academics with fibromyalgia.
By presenting the complexity of the condition and lived experiences of her participants, Nicole will extrapolate specifically what it means to be a woman with an invisible illness and/or disability in the context of the contemporary higher education in the UK.
Nicole will be joined by Dr Natalie Gardiner, Director of Social Responsibility (School of Medical Sciences), FBMH, and Vikki Goddard, University PS Lead for Equality, Diversity and Inclusion and Faculty Director of Operations, FBMH for a Q&A session.
How can I watch the event?
The talk will take place online on the Faculty's Facebook page. Account not required. Visit the event page here.
Please register for this event. You will be sent further details including instructions on how to watch the event a few days before.
If you require subtitles to watch the event please contact srbmh@manchester.ac.uk
How can I get involved?
This year's International Women's Day theme #ChooseToChallenge focuses on how collectively, we can all help create an inclusive world by choosing:
to challenge and call out gender bias and inequity
to seek out and celebrate women's achievements
You can show your solidarity in #ChooseToChallenge by taking a photo of yourself raising your hand high to pledge your support. Why not tag @FBMH_SR in your photos on Twitter?
Who is the event for?
This special event is open to everyone.
Enquiries
Please direct any enquiries to srbmh@manchester.ac.uk.
Sign up here to be informed of future events through our monthly newsletter