Description
Please join us for our Speaker Event for International Women's Day on Friday 8th March from 4-6pm.
Our key note speaker is Dr Finn Mackay, from UWE Bristol.
Finn Mackay is a Senior Lecturer in Sociology at UWE Bristol, with a PhD from the Centre for Gender & Violence Research at the University of Bristol.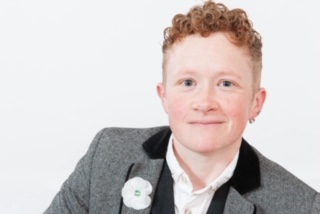 With a professional background in Youth Work, Finn has worked in domestic abuse prevention in the education sector for many years, as well as being a feminist activist; in 2014 Finn founded the London Feminist Network, which revived the London Reclaim the Night.
Finn still works with and delivers training for social workers and health professionals on gender-based violence. Finn is the author of 'Radical Feminism: Feminist Activism in Movement' published by Palgrave and is currently researching queer masculinities as well as working with positive men's organisations on challenging gender stereotyping, recently producing, with Let Toys Be Toys, a 20 tips poster for parents on avoiding gender stereotyping.
Inspiring Women
2018 marked the centenary of the Representation of the People Act which allowed some women to vote for the first time. To recognise this anniversary, over the last year, South Gloucestershire Council has been running a Heritage Lottery funded project Inspiring Women Legacies of the First World War. They have collected nominations for local inspiring women whose stories highlight women's achievements in South Gloucestershire including the role women have played in the development of industry and STEM, culture, sport, local politics, public service and social justice. You can see the inspiring women from the exhibition and all the nominations from the exhibition at:
http://www.southglos.gov.uk/leisure-and-culture/museums-and-galleries/inspiring-women-legacy-first-world-war-south-gloucestershire/
This event will link in with this theme looking at some of the inpsiring women who have been at the forefront of women's and LGBT rights.
Access
The room is wheelchair accessible and there is an induction loop. If you have other access requirements please contact the organiser so that we can try to meet your request.
Refreshments
Refreshments will be available.
Contact
Mobile (text or call) 07747 752 454
Email info@diversitytrust.org.uk
Organisers
The event is organised by the South Gloucestershire LGBTQ Equality Network led by the Diversity Trust with Southern Brooks Community Partnership and UWE Bristol.