About this Event
Would you like to explore your journey of menopause, meet other women on this journey and find support and resources?
"Menopause is an ending and a beginning, a time in which a woman deeply examines who she is, what she has done and who she now wants to be." Alexandra Pope
Come and enjoy a session of story-telling, simple physical exercises and the power of the circle (inspired by the women's circle movement to connect to yourself and others.For women who want to explore more about menopause and what it can bring, whether you are in the middle of it, it is ahead of you or behind you. For anyone identifying as a woman, of any age, ethnicity, sexuality.
Led by Fiona Bibby (Integral coach and qualified yoga teacher) and Sarah Sutcliffe (Storyteller). For more information on Oceantree's Feminine at Work projects please click here. www.theoceantree.com
Workshop Access - If you require access support for this event please contact info@diversecity.org.uk or call 07952 619763
Meet - 1.45pm at Stage Door, Rackhay (BS1 4HJ) off Queen Charlotte Street around the corner from King Street. We will guide you to the workshop space.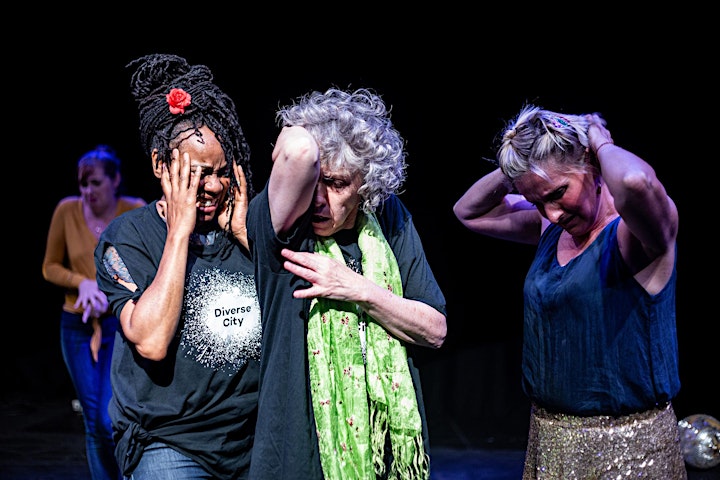 What Happens to us during menopause?
Many people feel challenged and bewildered by the changes that come with approaching menopause. There is a feeling that we don't quite "fit" in our own skin anymore. The cultural backdrop that seems to have only negative things to say about the menopause and this can be a lonely place to be.
And yet menopause is a completely normal and healthy process of transition that affects every woman. It can be a dynamic gateway to exciting change; to a more authentic you.
And...Come and See Mid Life!
a new play presented by
Diverse City
Written by Sheila Chapman
Director and Dramaturg Lucy Richardson
Created with and by Jacqui Beckford, Karen Spicer and Claire Hodgson
February 12th - 15th and March 4th - 8th 2020
Tickets £12
The Weston Studio, Bristol Old Vic, King St, Bristol, BS1 4ED


photos shows Jacqui Beckford, Karen Spicer, Nandi Bhebe and Claire Hodgson in performance o f Mid Life (c) Chelsey Cliff