Join us for an insightful afternoon, covering a range of topics that affect many of us in a variety of ways.
About this Event
Hotel Football is delighted to invite you to its International Women's day celebration on Friday 6th March 2020, from 12.30pm – 4.30pm.
Join us for an insightful afternoon, covering a range of topics that affect many of us in a variety of ways.
Your will hear from high profile and inspiring women from across the region, and have the opportunity to network with like-minded females in a collaborative and inspiring space!
12:30pm - Arrival Reception
1:00pm – Welcome by Jessica Southworth
1.05pm – Host Zarah Connolly of Salford FC to take you through the running of the afternoon.
1.10pm – Lunch service & speaker sessions to begin.
** Full Speaker Line up
Liz Taylor - Owner of Taylor Lynn Corporation
Liz Taylor has been at the forefront of the events industry for over 30 years. An entrepreneur at heart, she is an advocate for creating events that push back the boundaries of event design, technology and presentation. 
In 2015, she gave cameras unrivalled behind-the-scenes access to some of her events, the Taylor Lynn Corporation's (TLC) exclusive clients and her team of hand-picked suppliers, who deliver private and corporate events right across the UK and Europe. The result was the hit Channel 4 show, 'Millionaire Party Planner' which won the National Reality Television Award for Best Business Show.
Entertaining. Innovative. Inspiring. Liz is also an accomplished public speaker, media commentator and luxury brand marketing consultant. She sits on the Business and Enterprise Advisory Board at Manchester Metropolitan University Business School and is a recipient of the Manchester Evening News Business of the Year Award and a Legend of Industry Award from Variety, the Children's Charity.
Yvonne Harrison - Managing Director of Project 92
Yvonne is an award-winning Executive with a wealth of experience within the sport and physical activity sector.  She currently works for the Class of 92, as Managing Director of Project 92, working across their education and sports portfolio, including their recently launched Higher Education Institution – University Academy 92. 
Prior to this, Yvonne led Greater Sport, a Greater Manchester Charity, to outstanding success during her four years as Chief Executive, improving results in terms of both performance and profile.   Yvonne was a key driver to galvanize the Greater Manchester network to produce Greater Manchester Moving, supporting the ambition of devolution with the full support of the Greater Manchester Mayor, Andy Burnham. 
Yvonne also has a number of Non-Executive roles across the sporting arena and an extensive network of senior leaders within the sector.
Jane Kenyon - Founder, Girls Out Loud
Jane is a serial entrepreneur, intuitive coach, inspirational speaker, author, audacious commentator, campaigner and female champion. ?For the past 20 years she has been working in the personal development sector facilitating mind-set shifts and personal transformations with both adults and teenagers from all walks of life.
Although raised in a wealthy family, Jane had a traumatic youth tainted by abuse and abandonment and this led to her leaving the family home to go it alone at age 16. After a successful corporate career in marketing and brand development, followed by 20 years as a serial entrepreneur, she is now on her third act as a social leader and game changer with a particular passion for empowering teenage girls – the next generation of female leaders and business women.
Jane founded Girls Out Loud in 2010 & her legacy is to embed a more empowering mind-set in girls that in effect, inspires them to think big, reach for the stars and make better life choices.
Leanne Brown - Motivational Speaker & Patron of One Woman At A Time
Former cast member of ITV's The Real Housewives of Cheshire, Leanne Brown is the author of Grace, Gratitude, Grit; the self help journal that has helped thousands of people realise they can help themselves and take control of their own happiness.
A sought after motivational speaker, mum of 3 and philanthropist, Leanne, is best known for her kind hearted approach to empowering women through sharing her own experiences. This is also reflected in her quest to raise more awareness for the charity One Woman At A Time, which strives to help others less fortunate have a voice.
Emma Knighton - Ambassador, Once Upon A Smile
Emma is a mum of three with two sons aged 8 and 11 and an 18 year old daughter who is sleeping with the angels.
Originally trained as a property lawyer for Eversheds in Manchester, Emma started her own drama school when the children were young to fit in with family life, delivering drama classes to independent schools and nurseries. ? ?More recently Emma has committed to fundraising for local children's bereavement charity, Once Upon a Smile, for whom she is an Ambassador.??Emma is currently trying to raise funding and awareness for bereavement support within hospitals following the death of a child.
Natasha Sweeney - Meadowcroft - Founder, NSM Foundation
Natasha has used life experiences to help her set up the NSM foundation. The girls Natasha works with have been identified by secondary schools as having either, a lack confidence, self-esteem, tough backgrounds, and many more issues that they may be dealing with in their home life.
Natasha works with the girls to improve their issues to help them in their future life journey. She does this through her martial arts background and dance collaborated together for the girls to have their own performance to show off to other schools at a competition.
After the competition some girls decide they want to continue 'Breaking Barriers' and they are then involved with Breaking Barriers academy. All girls from different areas work together for one performance. The girls get to perform at a variety of venues including, Manchester Airport and Intu Trafford.
Tickets are £60 per person & are available now via jessica.southworth@hotelfootball.com
Each ticket will include:
• Arrival Reception,
• 2 Course Lunch,
• Speaker session & Goody bag
• A portion of the ticket cost will be donated directly to Girls Out Loud
For each ticket sold, Hotel Football will also donate a meal to a person in need via Foodinate.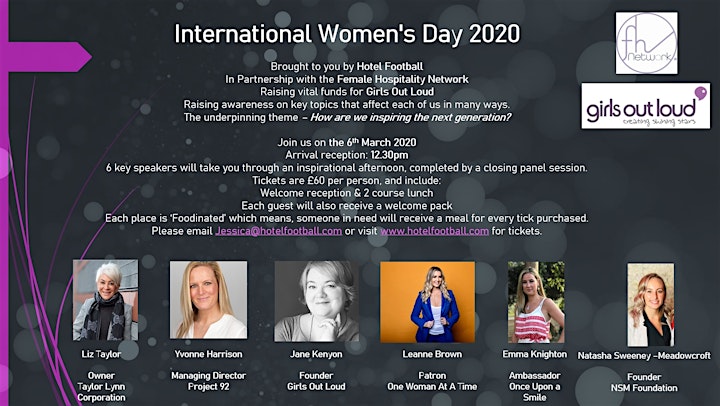 International Women's Day 2020