The 30% Club, REBA and Peppy bring you a free, virtual event in celebration of International Women's Day 2021 #ChooseToChallenge.
About this Event
This International Women's Day, join Baroness Mary Goudie, Leena Nair, Debi O'Donovan and Dr. Mridula Pore.
We know the Gender Pay Gap exists. The question is, what will it take to close it?
This event is brought to you by the 30% Club, the Reward and Employee Benefits Association (REBA) and Peppy.
About this event.
International Women's Day is an opportunity for us to reflect on the past and look forward to the future, to think about the progress we as women have made and to face up to the challenges that women still face today.
During this virtual panel event, we will hear from four inspiring businesswomen:
Baroness Mary Goudie, founding member of the 30% Club steering committee
Leena Nair, CHRO of Unilever
Debi O'Donovan, Director of REBA
(Host) Dr. Mridula Pore, CEO and Co-Founder of Peppy (www.peppy.health)
We will discuss the link between financial wellbeing and women's health journeys, the disproportionate burden of taking on a carer role, and the cumulative impact of gender bias and the Covid-19 pandemic on board representation for women.
There will be an opportunity to ask your questions to the panel.
Sign up for your free ticket today.
Wednesday 10th March 2021, 11am-12pm
Please note that this event will be recorded.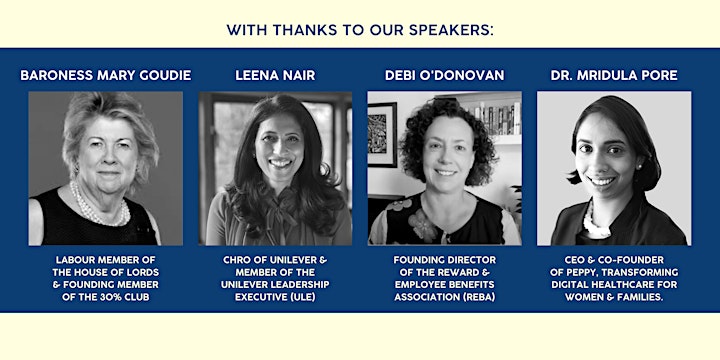 About the speakers.
Baroness Mary Goudie is a member of the British House of Lords and a global advocate for the rights of women and children. She works globally to promote gender equality, women's rights and peacebuilding.
She is an advisor to the Georgetown Institute for Women, Peace and Security. She is also on the advisory board for the London School of Economics - Centre for Women, Peace and Security and a member of the advisory board of Womens Forum.
Baroness Goudie is a founding member of the 30% Club steering committee, which aims to influence chairman into bringing more women on to corporate boards across the world.
Leena Nair is the first female, first Asian, youngest ever CHRO of Unilever and member of the Unilever Leadership Executive (ULE), which is responsible for delivering Unilever's business & financial performance.
Leena bears overall responsibility for the 160,000-strong human capital of Unilever and ensures the company has the right people, in the right roles, with the right capabilities and mindset to deliver high business performance.
Throughout her career, Leena has gained a strong reputation for her leadership ability to ignite outstanding business growth. Leena is also a Non-Executive Director of BT, BEIS (The Department of Business, Energy, and Industrial Strategy for the UK) and a member of the board for the Leverhulme Trust. Her purpose is to "ignite the human spark for a better business and better world".
Debi O'Donovan is director and co-founder of the Reward & Employee Benefits Association (REBA), which launched in 2015. She has been a speaker, commentator and writer on reward, pay, employee benefits, employee wellbeing and related business disciplines for over 20 years.
REBA is a membership community for reward, employee benefits and HR practitioners. It runs networking groups, conferences, data and insight reports as well as working with partners to bring greater professionalism to the discipline.
Previously Debi was editorial director of Employee Benefits magazine, which she edited for nearly 16 years, Employee Benefits Live conference and exhibition and the Employee Benefits Awards.
Dr. Mridula Pore is CEO and Co-Founder of Peppy (www.peppy.health). Peppy brings together Mridula's passion for affordable, accessible healthcare with her love of innovation. Before moving into digital health, she led healthcare projects as a management consultant at McKinsey and was a business unit head at Sandoz, a Novartis company.
She holds an MEng from Cambridge, a PhD from MIT and an MBA from MIT Sloan. She lives in West London with a young family.
About the event organisers.
The 30% Club is a global campaign led by Chairs and CEOs taking action to increase gender diversity at board and senior management levels. Their global mission is to reach at least 30% representation of all women on all boards and C-suites globally.
The Reward & Employee Benefits Association (REBA) is the professional association for employers offering rewards and benefits to their staff as part of a wider HR strategy to engage talent and drive success.
Peppy is a next-generation solution that's transforming digital healthcare. Peppy works with organisations to support their people during major life transitions – fertility, pregnancy, parenthood and menopause – by connecting them to real-life experts on a secure mobile app.