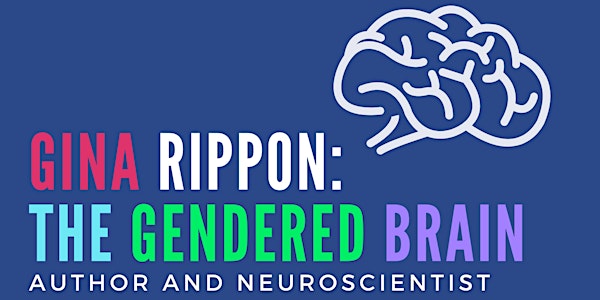 International Women's Day with Gina Rippon, author of The Gendered Brain
Location
Lecture Theatre A
University Place
176 Oxford Road
Manchester
M13 9PL
United Kingdom
Celebrate International Women's Day with a guest talk from Professor Gina Rippon, hosted by the Faculty of Biology, Medicine & Health.
About this event
#BreakTheBias
Join the Faculty of Biology, Medicine and Health (FBMH) for our annual International Women's Day celebration event with guest speaker Professor Gina Rippon, author and neuroscientist.
Watch the event live at 1pm on the Faculty's YouTube channel here
Do you have a female brain or a male brain? Or are we asking the wrong question?
For centuries both neuroscience and behavioural science have been pursuing a Hunt the Difference agenda, trying to find ways of characterising the differences between the brains and behaviour of females and males.
But just how different are women and men? Can brain scientists tell the differences between what they describe as female and male brains? Are women and men really distinguished by their levels of empathy or their map-reading skills? This talk revisits these old questions and introduces answers that might surprise you.
The event
Gina will be joined by Dr Ellen Poliakoff, Senior Lecturer in Psychology, FBMH, and Adele MacKinlay, Director of People and Organisational Development, UoM.
The talk will take place 1-2pm with the opportunity for questions and answers. There will then be optional networking taking place 2-3pm on the Ground Floor of University Place, refreshments will be provided.
How can I watch the event?
The talk will take place in person, Lecture Theatre A, University Place or online, you will be sent further details including instructions on how to watch the event online a few days before it takes place.
For venue accessible information click here
How can I get involved?
This year's International Women's Day theme #BreakTheBias - are you in?
- Will you actively call out gender bias, discrimination and stereotyping each time you see it?- Will you help break the bias?
Cross your arms to show solidarity - Strike the IWD 2022 pose and share your #BreakTheBias image, video, resources, presentation or articles on social media using #IWD2022 #BreakTheBias to encourage further people to commit to helping forge an inclusive world.
Why not tag @FBMH_SR in your photos on Twitter?
Who is the event for?
This special event is open to everyone.
Enquiries
Should you have any specific requirements, accessibility needs or other specific requests or queries, please contact srbmh@manchester.ac.uk.
Sign up here to be informed of future events through our monthly newsletter
Other events hosted by the Faculty
A Conversation with Dr Pragya Agarwal: women, bias, race, & (m)otherhood – Wednesday 9 March, 12-3pm (in person and online)
School of Health Sciences (SHS) welcomes guest speaker Dr Pragya Agarwal, behavioural and data scientist and author, and founder of research think-tank The 50 Percent Project. Join Dr Adam Danquah, Associate Dean for Inclusive Education and Engagement, as he interviews Dr Pragya Agarwal. The interview will then be followed by networking and a workshop on anti-racism, inclusion and unconscious bias.
Find out more and please register in advance via Eventbrite
From Sticky Floors to Glass Ceilings - Examining and challenging inequality in clinical academic careers - Wednesday 16 March, 2-3.30pm (in person and online) University staff and students
Join School of Medical Sciences (SMS) to examine and challenge inequalities in clinical academic careers with a live panel discussion. Inequalities in any career trajectory is often described as a 'leaky pipeline'. Women and Black Asian Minority Ethnic (BAME) individuals are the least likely to progress along the clinical academic career trajectory.
What factors affect access to clinical academic careers?
Why, and when, do inequalities occur?
What are the main reasons for leaving clinical academia?
What support is available to facilitate equality?
To find out more, join panellists:
Professor Gabrielle Finn, Professor of Medical Education and Vice Dean (Teaching, Learning and Students)
Banji Adewumi MBE, Director Equality, Diversity and Inclusion
Professor Margaret Kingston, Director of Undergraduate Medical Studies,
Dr Rebecca Farrington, GP & Senior Clinical Lecturer, SMS
Mr George Obolo, Third-year medical student at the University of Manchester and Co-Founder of The Black Excellence Network
Find out more and please register in advance via Eventbrite
Save the Date: Career progression of people from an ethnic diverse background - Wednesday 30th March 2-3.30pm
School of Biological Sciences Event. Further details to be announced soon.