International Women's Festival: Divas of Colour Fest 2020
Description
Join over 500 professional, entrepreneurial and leading women from around the world at the Divas of Colour International Women's Festival, the largest gathering of most influential women of colour from around the globe.
Live in the heart of bustling London City, on 28th March.
The Conference
Every year, #divasofcolourfestival brings together the most inspirational women of colour from around the world to share, learn, celebrate and grow together. But, it's not just that. We discuss meaningful, insightful topics to practically empower your personal freedom.
In 2020, the focus is on helping you tame your mind, discover practical ways to channel your mind's energy on things that will benefit your growth. This 7th edition of our flagship event conference will focus on - mental health awareness - tagged #MindYourMind.
Remember, mental health means keeping your mind's health to its optimal best not just away from mental illness. Having mental imbalance is not only about going crazy or mad as the layman will put it. But, about understanding how your mind functions in situations and learning how to protect yourself in such situations.
This important conference will feature international and renowned health professionals who will make sure you go home filled with strength.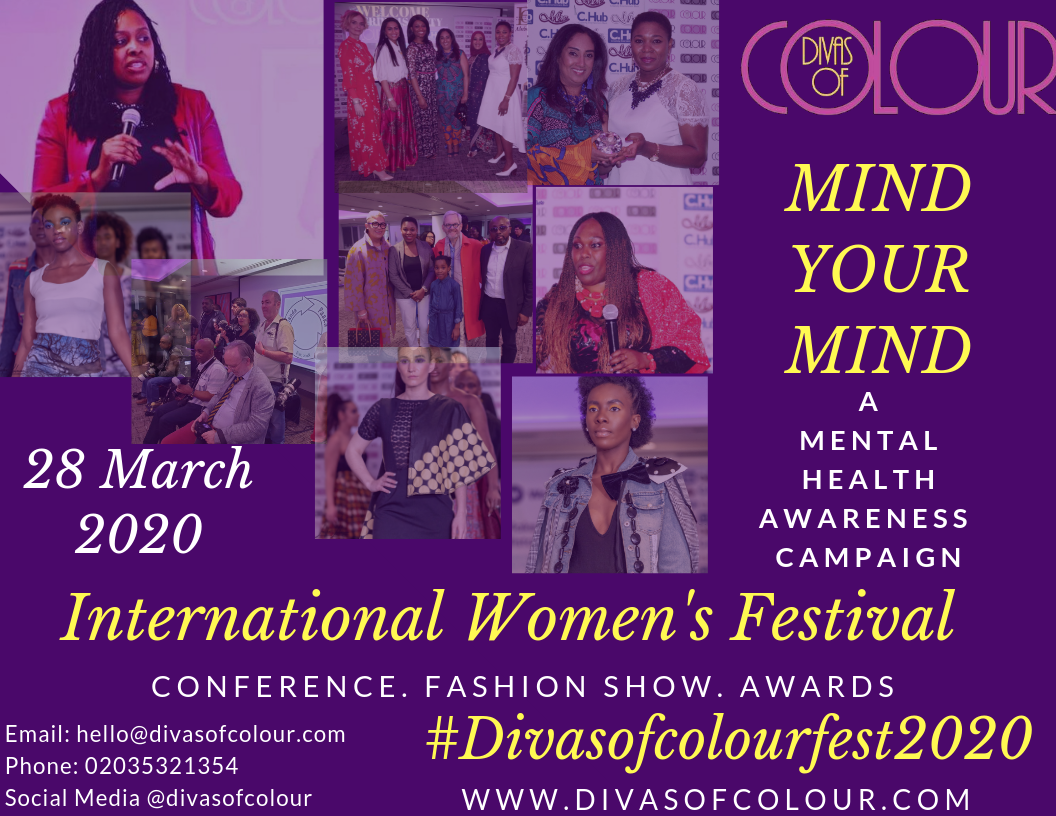 The Fashion Show:
This festival will see a dazzling showcase of beautiful designs from a diverse range of established and upcoming International and local designers.

Trade exhibitions:
Discover, browse through and shop from over 30 small and medium-sized businesses and brands showcasing, sharing, giving exclusive offers to Divas of Colour guests.
Music and entertainment:
Come and be entertained with a range of music and performances by diverse talented artists from around the world - Christian, pop, reggae and hip-hop. The all-day mix of vibrant performances, shows and quiet educative and informative events, workshops, exhibitions and quality, healthy refreshments means that whatever your preference, you will find what suits your personality.
The Awards
Every year, a minimum of 20 outstanding women are recognised for the phenomenal works they do in their professions, business, community or their general impact on society. To nominate visit - www.divasofcolour.com or email - mbwprmgt@gmail.com with any enquiries.
Why Attend Or Showcase and Exhibit At the Divas of Colour Festival?
• #Target:
Over 500 women and men. Professionals and entrepreneurs.
• #Network:
Meet, chat, mingle and do business face to face with your target market.
• #Visibility:
Create your longlasting impression with an impressive branding display and opportunity to pitch to a range of audience.
• #Database:
Build hundreds of real and authentic leads from prospects and take them further online after the show.
• #Positioning:
Have yourself and business seen and known as industry guru.
#Bonus. • #YourMentalHealthMatters: Learn crucial facts on mental health and wellbeing for entrepreneurs, employees and employers.
Ends:
*****
Note and statistics on Mental Health and its effects on women and families: Why you cannot afford to miss the conference.
Mental health is one of our top priorities because women's mental health has a direct effect on the family and society alike. Women are naturally more predisposed to poor mental health due to their biological dispositions, childbirth, religious, traditional and societal pressures all add to the strains and stress that women continual face.

Whether they're career professionals, entrepreneurs or simply stay at home mothers; women are majorly vulnerable and as such predispose more people to danger. For us, it's important that women globally are empowered to through adequate education, information sharing and validation.

Women are expected to compete both in business, career professions and most do these still going through pregnancy, childbirth and nurturing the family. As kore and more women step into the global stage, there's more need to pay attention to their overall health and more specifically their mental health.
This festival like no other is here to empower, uplift, celebrate and show women how far they have come and can still go with proper attention to their mental health in particular.
FAQs
Are there ID or minimum age requirements to enter the event?
There is no minimum age requirement. Kids 10years and below go free. Press and bloggers may need to present their ID.
What are my transport/parking options for getting to and from the event?
Nearest stations include;
Chancery Lane - 3 mins
Holborn - 6 mins
Covent garden - 14mins
Farringdon - 12mins.
What can I bring into the event?
Business cards, smiles, your A-game.
How can I contact the organiser with any questions?
Social media - @divasofcolour
Email: mbwprmgt@gmail.com
Phone: 02035321354.
Dress Code:
Dress to impress in white or purple glammed out outfit. Be read carpet ready.