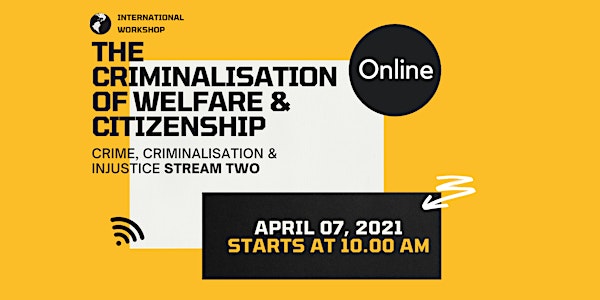 International Workshop: The Criminalisation of Welfare & Citizenship
The workshop combines the strengths & insights of International research on Social Policy, Sociology, Politics & Criminology.
About this event
You do not need to present to participate in the stream workshops.
If you would like to send an abstract for presentation consideration, please read the following guidance and contact:
Dr Simon Prideaux , University of Leeds.
Email: S.J.Prideaux@leeds.ac.uk
Please note: If you would like to present, please do not register yet.
1) Please send emails with the Subject 'ABSTRACT' and state country of origin (eg. subject would look like 'ABSTRACT: PORTUGAL' etc.)
2) Abstract should be as an attachment and the contents should be 'Country of Origin', 'Stream', 'Title', 'Author', 'Institution', 'Status' (ie. Postgraduate Student, Lecturer, Professor'), Email Address and the 'Abstract' (one paragraph of 100-200 words approx)
3) Please also provide a short Bio and photograph. If selected these will be required for inclusion within a brochure detailing the event information, organisers and contributors
Deadline for abstract submission: 10am (GMT) Monday two weeks prior to the stream.
Unfortunately abstracts received following this deadline will not be considered. If selected, you will be notified by the Wednesday before the stream concerned. Please also note, presentations are 15 minutes followed by workshop discussion and Q/A.
This is just one of four international workshop Streams (more details to follow).
To view our Introductory Brochure, please follow this link: @Injustice_Intl