Internationalisation Workshops: preparing business for global opportunities...
Description
International Investment Services is proud to deliver a series of half-day internationalisation workshops for Australian entrepreneurs, executives and investors looking to expand their business into global markets in partnership with leading experts from Grant Thornton, Gateley Plc, McCullough Robertson, Wholesale Investor, the Australian British Chamber of Commerce, Australia-UK Chamber and the UK Department for International Trade.
With over 200 Australian businesses registered to explore the UK market in 2019, our half-day workshops deliver a comprehensive overview to navigate the opportunities and challenges in expanding overseas.
We are working with the private and public sector to bring together Australia's and the UK's leading practitioners in law, accounting, finance, grants and government support over an intensive four-hour workshop.
Within the half-day workshop, participants will be provided with:
Comprehensive overview covering strategy, legal, taxation, marketing, HR, access to finance, grants, support and much more.

Direct access to UK and Australian Government representatives to support your business expansion.

Expert advice on claiming your Export Market Development Grant by 30 June 2019.

Understanding grants and incentives across the UK to expand your business.

Workshop checklist to help you follow up and prepare your business for international expansion.

Next steps for your UK and international market visits in 2019.
Event Partners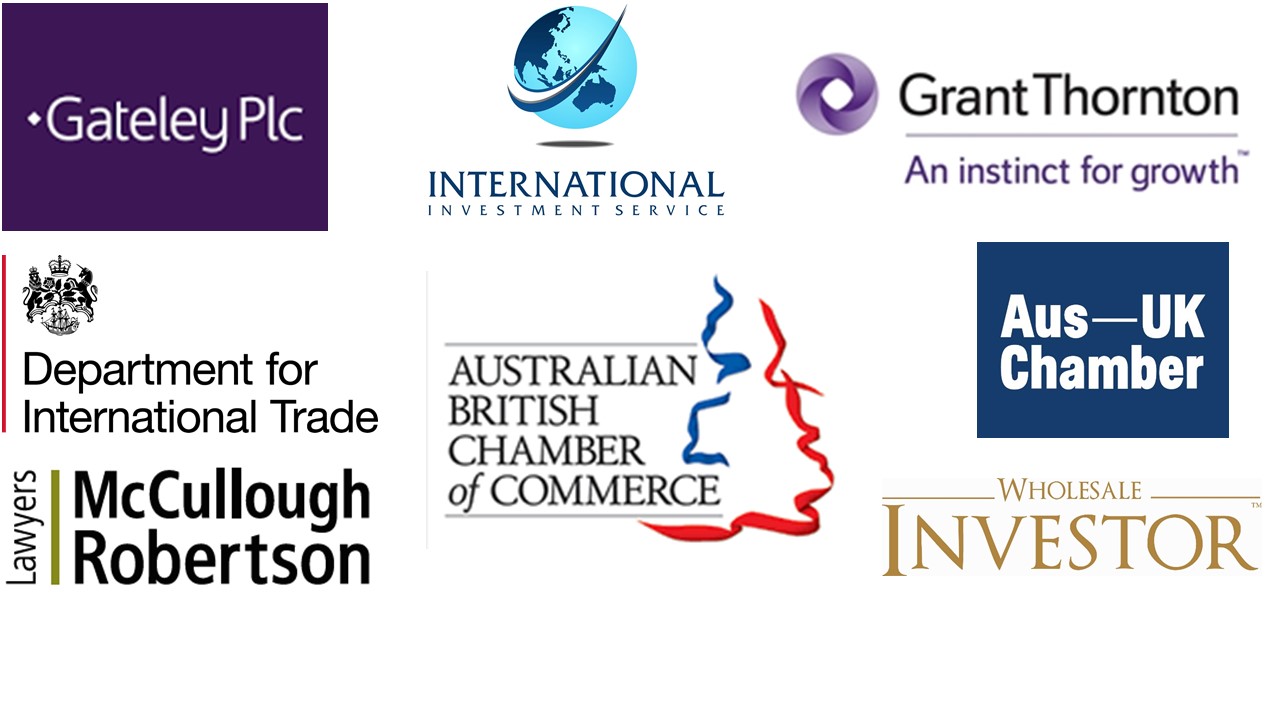 Who should attend?
The workshops support businesses across all sectors and every stage of the business lifecycle whether a start-up, a scale-up and even established Australian corporates who are considering expanding their business into international markets over 2019 and 2020.
The workshops are designed for decision makers to manage their international growth and designed for founders, investors, CEOs, CFOs and their direct teams.
In particular, with over 200 Australian businesses travelling to the UK in 2019 these workshops support entrepreneurs, executives and investors considering attending UK events including:
UK Tech Week

Australian British Chamber of Commerce FinTech and Cyber Security Catalyst

Australian British Chamber of Commerce e-Health and Med-Tech Catalyst

International Security Expo

Women in Sport Summit

IoT Tech Expo

Chatham House Cyber2019

EdTechXEurope 2019

NHS Providers Annual Conference and Exhibition

NorthWest Aerospace

SIBOS (London)

And any major international trade-shows or global conferences.
What you can expect:
Over the workshop, you will learn which questions to ask to navigate the pathway to international expansion and understand, with confidence, what is required to access over 98% of the global markets that exist outside of Australia. By discussion with leading subject matter experts, you will be able to explore strategically whether this is the right time to grow your business internationally and, if so, where to expand globally and how to do it. Individuals will be directly connected with government agency teams to access free government services in Australia and the UK to optimise government grants to part-fund your international expansion, including capturing all grants available in FY 2019.
Workshop Agenda (4-hours):
08:00 Registration opens and networking over a light breakfast
08:30 Welcome
08:45 Why Australian firms should grow internationally
09:00 Deciding which markets to target for international expansions (Market Research)
09:15 Internationalisation operating models available and taxation implications for entrepreneurs, staff and investors
09:30 Organic market entry versus M&A in market (Market research and market representation).
09:40 Marketing and PR: the need to tailor and adjust for the new market.
09:50 Break
10:00 Preparing the Australian company for international expansion
10:15 Ensuring the Australian business is fit for international competition
10:30 Road map for establishing a business in the UK including access to UK banking
10:45 Compliance requirements for establishing in the UK
11:00 Break
11:15 Access to UK Capital Markets (VC and IPO)
11:45 Grants and incentives in the UK
12:00 Australian and UK Government agency support
12:10 EMDG and Australian government support
12:15 Next steps for your UK international journey
12:30 Panel Q&A over a light lunch
13:00 Close