Internet of Things & OSS Workshop

Tuesday, 12 January 2016 from 17:30 to 20:30 (CET)
Event Details
Join us on January 12th 2016 for a 3 hour workshop with presentations and cool demos on the Internet of Things with Open Source Software. 
We will have 3 great guest speakers from Canonical (Ubuntu), the Eclipse Foundation and Resin.io to talk about and show you how to build cool IoT stuff. Learn how to use Ubuntu Core on a RaspberryPi and download Snappy IoT apps instantly, manage IoT and Home Automation devices easily and deploy and manage your device's software remotely: 
The Ubuntu Snappy IoT Marketplace: Build and share IoT apps for your devices 
Ubuntu Core, also known as Snappy, is a stripped down version of Ubuntu, designed to run securely on autonomous machines, devices and other internet-connected digital things. It supports the most widely deployed ARM developer boards today, like the RaspberryPi 2 and the Beaglebone. With Snappy it becomes extremely easy to develop IoT apps that can run both on emdbeeded devices and on Cloud systems.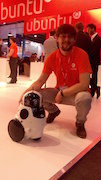 Alexander Sack is the Director of Ubuntu Core R&D.  He will present Ubuntu Core and explain how to run it on embedded devices. He will also talk about development tools and show a live demo on how to build and use Snappy apps for IoT devices.
Building IoT Solutions with Eclipse IoT Projects 
The Eclipse IoT open source community provides the key components developers need to build IoT solutions. The open source projects at Eclipse IoT includes implementations of popular IoT standards, MQTT, LWM2M, CoAP, DNS-SEC, OneM2M and IoT frameworks for building IoT gateways, home automation, SCADA, and more. This presentation will provide an overview of the Eclipse IoT community and discuss how developers and organizations can participate.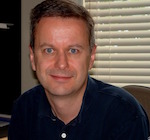 Ian Skerrett is the VP of Marketing and Ecosystem Development at the Eclipse Foundation. For the last 3 years, he has been helping to lead the creation of an IoT open source community at Eclipse.
SW managing for your IoT devices and beyond

Resin.io aims at making IoT infrastructure… boring! This is by simplifying deployments, updates and maintenance of code running on remote devices. Resin.io is a product of Rulemotion Limited with offices in Seattle, London and Athens.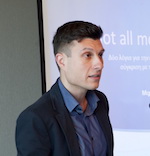 Georgios Michalakidis, based in  London, is Operations Director of Rulemotion and will show us around the Resin.io platform, run a live demo and present some key integration features that act as catalysts to AGILE gateway and the enablement of shareable application components for a mature, developer-friendly IoT ecosystem.
In addition, you will learn about a new project, AGILE, that aims to bring all the Cloud functionality in an open-source gateway. Join us in the FBK bulding in Povo, Aula 102 - Primo Piano Edificio Nord.
The Event is organised and hosted by:
When & Where

FBK
Via Sommarive, 18
Aula 102 - Primo Piano Edificio Nord
38123 Trento
Italy


Tuesday, 12 January 2016 from 17:30 to 20:30 (CET)
Add to my calendar