Interpreters on the Fringes of Society: Coping with Emotions
About this Event
This event will bring together interpreters, psychotherapists, charity workers and academics, to discuss (1) how charities can collaborate effectively with interpreters working with vulnerable populations, and (2) how interpreters can cope with highly-charged emotional interactions.
This event will draw on the applicants' research in the areas of interpreting and emotional processing in order to disseminate and exploit information on coping mechanisms and ethical interpreting practices with volunteer linguists working with charities, and invite reflections from a wide range of participants who are involved in the provision of interpreting services for vulnerable citizens on the fringes of society for whom English is not their first language.
To this end, the event will include presentations with invited speakers (e.g. psychotherapist, interpreter, researcher) and opportunities for informal discussions and reflections from participants. The hope is to create wider awareness and understanding of this type of work and to provide participants with resources that they can make use of and benefit from when working in these culturally and linguistically sensitive contexts.
Please note that this event will be live streamed and made available to the public via the internet. Audience members are participants in this process.
Please find below a provisional programme for the event. Please note that this programme is subject to change.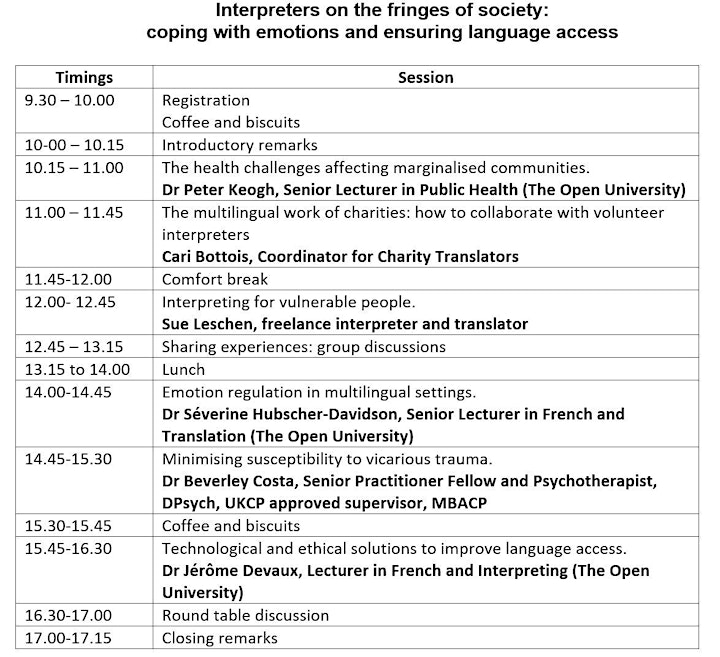 The hashtag we will use for the event is: #1ntOnTheFringe
We would like to thank our sponsors for enabling this event to take place:
@AHRCpress
@OWRILanguages
@languageacts
@OULanguages
#Valuelanguages
#Interpretingemotions
If you would like to attend the event in person, please register for the following ticket type: General Admission [attending in person]
If you would like to view the event live on the day, please register for the following ticket type: General Admission [attending online]
This is the link to access the livestreamed event : https://bit.ly/2CnFLpy
For any organisational enquiries, please email: Samantha.Davage@open.ac.uk