INTERREG IV A 2Seas Training School: UoG - AAPS Chapter Conference 2014

Wednesday, 16 July 2014 at 08:30

-

Friday, 18 July 2014 at 17:00 (PDT)
Who's Going

Loading your connections...
3 of your friends are going.
Share it to get more people on board.
Share

Sara Haughty
San Francisco, California

Luke Picard
London, United Kingdom

Rick Vespucio
Florence, Italy
Event Details
Online Registration Ends: Tuesday, 15 July 2014                    
Posters are welcome in any category of formulations/ drug delivery and design/ chemical science/ analytical chemistry/ nanotechnology/biological science and others for the poster awards sponsored by different companies.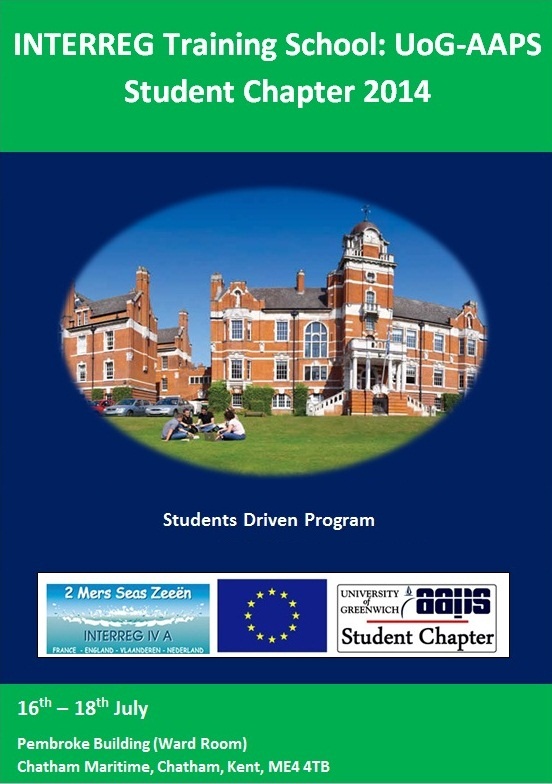 Overview
This event is sponsored by INTERREG (European Commission) and AAPS. The aim of this program is to promote diversity of students from a wide range of Universities (>10) within the UK and EU scientific community aimed at their professional and scientific development. By increasing the students/ participant involvement in professional and AAPS activities, this program would open new opportunities for interactions between the students and academia as well as people from industries. We believe this would be the first student oriented international conference of INTERREG and AAPS within the UK which targets students' research activities. We aim to attract the participation of more than 15 Universities (UK and EU) .
Programme (16th - 18th July 2014)
Day I (Drug delivery and novel characterization approaches ) 16th July 2014
8.15   -  9.00

Registration, posters, exhibiting

9:00 –  9:10

Opening speech by Prof. Tom Barnes  Deputy VC (University of Greenwich)

9:10 – 09:40

Prof. William Jones (University of Cambridge)

"Engineering and formulation of pharmaceutical cocrystals"

09:40 – 10:10

Prof. Duncun Craig (UCL, London)

"Novel thermal characterization methods of solid dosage forms: Part A"

10:10 – 10:40

Dr Isaac John (NHS, St. Peter Hospital)

"Clinical trials for cardiovascular"

10:40 – 11:00

COFFE BREAK (POSTERS and EXHIBITION)

11:00 – 11:30

Dr Sheng Qi (University of East Anglia)

"Novel thermal characterization methods of solid dosage forms: Part B"

11:30 – 12:00

Dr Mohammed Maniruzzaman (University of Greenwich)

"Hot Melt Extrusion processing for the development of solid dispersions:  a versatile technology"

12:00 – 12:30

Prof. Bernard Martel (University of Lille 1)

"Cyclodextrin in drug delivery systems DDS - an in vitro & in vivo evaluation"

12:30 – 13:00

Dr. Nicolas Blanchemain (University of Lille 1)

 

 "Cyclodextrin in drug delivery systems DDS - approach of the functionalization of medical devices"

13:30 – 14:30

LUNCH (POSTERS and EXHIBITION)

14:30 – 15:00

Sheelagh Halsey (ThermoFisher, UK)

 

 "Process analytical technologies (PAT) for the development of solid dosage forms"

   15:00 – 15:30

Dr Ian Slipper (University of Greenwich)

"X-ray powder diffraction analysis for the characterization of solid dosage forms"

15:30 – 16:00

Dr Nick Scoutaris (University of Greenwich)

"Novel applications of ink jetting for the development of medical devices"
Day II (Training School of Various Novel Techniques) 17th July 2014---------------------------------
Students will be separated into 5 groups and receive 30 min demonstrations/training on the following techniques:
Thermal analysis (TA); Spray – drying (SD); High pressure homogenization (HPH); Hot Melt Extrusion/NIR (HME); SEM/EDX analysis (SEM/EDX); Ink Jetting (IJ); Sirius (T3)
Group

TA (Mettler)

Room: G231

SD

Room: G132

HPH

Room: G132

HME (Thermo)

Room: G132

SEM/EDX

Room: G008

Ink Jetting

Room: G133

Sirius (T3)

Room: G009

Group A

(x 6 Students)

Mushfiq

10 – 10.30

11-11.30

 

9.30 – 10

 

11.30- 12

 

14 – 14.30

 

9– 9.30

 

14.30-15

 

Group B

(x 6 Students)

Hiren

9 - 9.30

10-10.30

14.30-15

11 – 11.30

9.30 – 10

11.30-12

14-14.30

Group C

(x 6 Students)

Syeed

14.30-15

 

9.30 – 10

11-11.30

14 -14.30

11.30 -12

10-10.30

9 – 9.30

Group D

(x 6 Students)

Uttam

11.30 -12

 

9-9.30

10-11.10

10-10.30

14 -14.30

14.30-15

9.30-10

Group E

(x 6 Students)

Sam

11- 11.30

 

14-14.30

9-9.30

14.30-15

10-10.30

9.30-10

11.3-12 
Coffee/ Posters: 10.30 – 11.00; 15.00 -16.00

Lunch/ Posters: 12.00 - 14.00 
-----------------------------------
Day III (Students Driven Program) 18th July 2014
8.15-9.00

Registration, poster mounting, exhibiting

9:00 – 9:10

Opening speech

Dr Mohammed Maniruzzaman, Chair of UoG-AAPS Student Chapter (University of Greenwich)

Stacey May (AAPS, USA)

 

Student Plenary Talk Session

Chair: Prof. Martin Snowden (Pro VC, University of Greenwich)

9:10 – 9:30

Arvind K. Jain (University of Oxford)

"A novel nanoparticle-in-nanoparticle composite system for the enhanced and prolonged gene delivery"

9:30 – 9:50

Abida Rahman (University of Cambridge)

'Structural and Solubility Studies of an Archetypal Drug Molecule, Triamterene'

9:50 – 10:10

Coline Jumeaux (PhD Student, Imperial College, London)

"Stimuli-Responsive Gold-Silica Hybrid Nanovectors for Combined Cancer Therapy and Imaging"

10:10 – 10:40

COFFE BREAK (NETWORKING, POSTERS and EXHIBITIONS)

 

Students presentation from selected research topic of interests: Session I

Chair: TBC

10:40 – 11:00

Naba Elsaid (PhD Student, UCL, London)

"Sirolimus nanoparticles for potential non-invasive ocular drug delivery"

10:00 – 11:20

Pratchaya Tipduangta (PhD Student, University of East Anglia)

TBC

11:20 – 11:40

Diana Garcia (PhD Student, Medway School of Pharmacy)

"Synthesis and Characterisation of Poly(amidoamine)-BSA conjugates"

11:40 – 12:00

M Usman Ghori (PhD Student, University of Huddersfield)

'' Pharmaceutical Applications of Okra Gum''

12:00 – 13:30

LUNCH (NETWORKING, POSTERS and EXHIBITIONS)

 

Students presentation from selected research topic of interests: Session II

Chair: TBC

13:30 – 13:50

Nitesh Kunda (PhD Student, Liverpool J Moore University, UK)

TBC

13:50 – 14:10

Stefania Lattireri (PhD Student, University of Kent)

"Development of functional materials as cheap and durable alternatives to natural receptors"

14.10 – 14.30

Anran Hu (PhD Student, Nottingham University)

"Formulation of HPMC/PEO hydrophilic matrices to improve extended release profiles in NaCl environments"

14.30 – 14.50

TBC

 

Presentation from an early career researcher

Chair: TBC

14.50 – 15.10

TBC

 

15.10 - 15.30

Dr Samuel Owusu-ware

"Thermally stimulated depolarisation current  (TSDC) as a tool in materials characterisation"

15.30 – 16.15

COFFE (NETWORKING, POSTERS and EXHIBITIONS)

16.15 - 16.30
<td style="width: 378.7pt; border-top: none; border-left: none; border-bottom: solid #78C0D4 1.0pt; border-right: solid #78C0D4 1.0pt; background: #D2EAF1; pa
When & Where

Pembroke Building
Faculty of Engineering and Science
University of Greenwich
ME4 4TB Chatham Maritime
United Kingdom


Wednesday, 16 July 2014 at 08:30

-

Friday, 18 July 2014 at 17:00 (PDT)
Add to my calendar
Organiser
INTERREG UoG - AAPS Student Chapter
"A students driven program"
INTERREG IV A 2Seas Training School: UoG - AAPS Chapter Conference 2014