Description
Interrogating State Violence: Custodial Deaths, Justice and Resistance
by Centre for Research on Race and Law, United Families & Friends Campaign and Migrant Media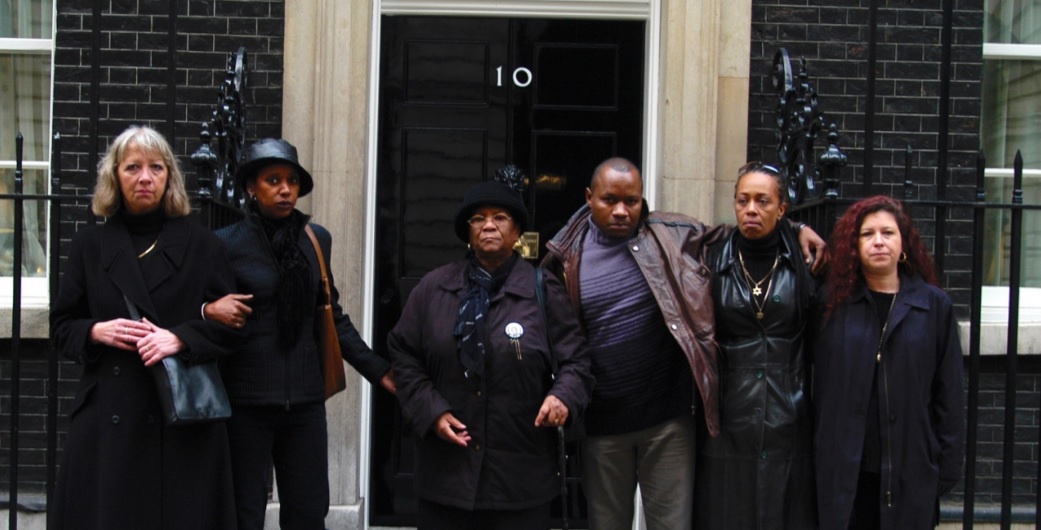 United Families & Friends March to Downing Street, October 2003 © Migrant Media
A conference to mark the 20th anniversary of the United Families & Friends Campaign will take place on 26 October 2018 in London. The conference aims to bring to focus research on the issue of deaths in custody in the UK. The anniversary event will map trajectories of struggles for justice over two decades, highlighting new research and policy directions, as well as offering contextualised and historical understandings of state violence.
Interrogating State Violence: Custodial Deaths, Justice and Resistance
Friday 26 October 2018, 9am-9pm. Venue: The Light, Friends House, Euston Road, London NW1
Programme

9.15 Arrival and registration
9.45 Introduction
10:00 Keynote 1 - Akala (BAFTA and MOBO award-winning hip-hop artist, writer and social entrepreneur, Supporter of UFFC)
10:30 Tea and coffee
10:45 Panel 1: The Mirage Of Accountability
Chair: Nadine El-Enany (Centre for Research on Race and Law)
Timeline of Dissent - Saqib Deshmukh & Zia Ullah (Justice for Paps Ullah Campaign)
Family justice campaigns and the Angiolini review one year on - Deborah Coles (INQUEST)
The perpetual killing machine - John Moore (Lecturer in Criminology, Newman University)
A system designed to fail - Dr. David Baker (Senior Lecturer in Criminology, Coventry University)

12:15 Keynote 2 - Janet Alder (Sister of Christopher Alder who died in Hull Police Station in 1998)
13:00 Lunch break (BYO)

14:00 Panel 2 - Evasion and lessons learned
Chair: Kadija George (Justice for Sheku Bayoh Campaign)
Strategies for campaign into law - Marcia Rigg and Aji Lewis (Justice for Sean Rigg Campaign and Justice for Seni Lewis Campaign)
Violences during deportations - Monish Bhatia (Lecturer in Criminology at Birkbeck, UofL)

The unaccountability of blackness: the anti-black logics of English police officers' accounts as provided for inquests - Carson Arthur (Social Science Student, Birkbeck, UofL)

The David Bennett Institute for Black Mental Health: Reclaiming our Madness 20 years on - Dr. Joanna Bennett
15:30 Tea and coffee
15:45 Keynote 3 - Sherene Razack (Distinguished Professor and the Penney Kanner Endowed Chair in Women's Studies, Canada)
16:45 Panel 3 - Strategies for the future
Chair: Ken Fero (Migrant Media)
From Protest to Change - outcome-focussed campaigning - Tippa Naphtali (Mikey Powell Campaign)
From racism and pathologisation towards transformative visions to prevent state deaths - Dinesh Napal (Graduate in Law, Development and Globalisation, SOAS)

Comparative Struggles for Justice Internationally - Nosa Imaghodo (PhD Candidate - Research on Scholar Activism - Essex University)

From Love to Justice: Families' Interrogation of Racial State Violence Nadine El-Enany (Senior Lecturer, Co-Director of Centre for Research on Race and Law)
Launch of the UFFC justice research project - Lisa Cole (Justice for Marc Cole Campaign)
18:15 Summary and discussion
18.30 Break
18:45 Film and Q&A
INJUSTICE (98 minutes/Migrant Media/Ken Fero & Tariq Mehmood) - The struggles for justice by the families of people that have died in police custody (Winner Best Documentary BFM London Film Festival 2002, Winner National Social Justice Award 2003, Winner Best Documentary (Human Rights) One World Film Festival 2003. Distributed by the BFI).
Q&A with Marcia Rigg, Stephanie Lightfoot Bennet, Aji Lewis, Myrna Simpson, Germaine Phillips, Kadi Johnson, Tippa Naphtali, Lisa Cole, Raj Mahay and other families.
21:00 End
---
UFFC 20th Anniversary Procession
Saturday 27 October 2018. Venue: Assemble at Nelson's Column, Trafalgar Square, London at 13:00
Hosting Organisations
- United Families & Friends Campaign
- Centre for Research on Race and Law, Birkbeck Law School, Birkbeck College, University of London
- Migrant Media
- 4WardEverUK
The United Families and Friends Campaign (UFFC) is a coalition of family justice campaigns affected by deaths in police, prison and psychiatric custody. Established in 1997 initially as a network of Black families as a response to a string of highly controversial deaths, over recent years the group has expanded and now includes the families and friends of all those who have died in custody.
---
This event is free however booking is required via this page.
Latecomers to the event are not guaranteed entry. Please be advised that photographs may be taken at the event. Please note that this booking is through the 3rd party service Eventbrite and by making this booking you are a customer of Eventbrite.
Please contact us if you have any access requirements. More details of accessibility at Birkbeck venues can be found here.