About this Event
Over the last 25 years a series of Bronze Age palaeochannels have been undergoing erosion producing many interesting artefacts from the Late Neolithic/initial Bronze Age and middle Bronze Age. The finds include: many worked wood posts, some withy panels which may be part of fish traps, animal bones, pottery, the wood handle of a middle Bronze Age palstave axe and a wood paddle or digging stick.
Finds made up to 2011 were published in Bell, M 2013 The Bronze Age in the Severn Estuary. York: Council for British Archaeology Research Report 172. Finds made subsequently have not yet been published.
Every few years more material is eroded out and a team records what is found gradually adding to the emerging understanding of this site. This training project in intertidal archaeology will be the latest phase of the ongoing recording.
A team of four experts will train and guide participants in intertidal field recording, finds processing and analysis and interim report preparation.
Monday 8th April: 10:30am - 3:30pm
AM: Introduction to Intertidal Archaeology - Professor Martin Bell
PM: Introduction to finds from Peterstone, what to look for and how to record what you find - Dr J Foster, Dr Tom Walker, Adam Turner.
Tuesday 9th/Wednesday 10th April: 1pm - 6pm
In field recording at Peterstone; including artefact recording with hand held and differential GPS, note-taking and planning. We plan to excavate some worked wood posts - Professor Martin Bell and team
Thursday 11th April: 10:30am - 3:30pm
Cleaning, processing and recording the finds and preparing an interim report on the project, with Dr J Foster and team.
Conditions can be muddy and wet and walking can be difficult in the mud. We will be on the foreshore for 5 hours with no access to shelter or welfare facilities. Activities will continue whatever the weather, which can change rapidly.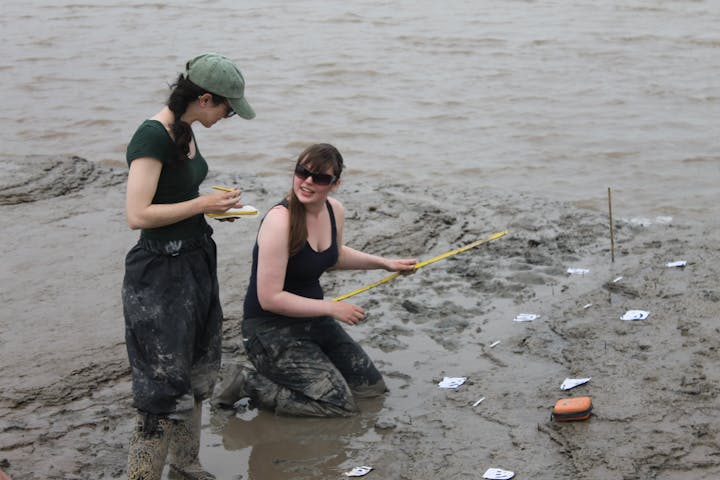 Clothing
Wellington boots (full length, i.e. mid-calf length), waterproof over-trousers, waterproof coat, warm clothing with several layers, warm hat and gloves.
Health conditions
To participate in this course you need to be physically fit and have good mobility. It is not suitable for anybody with significant health problems.
A full health and safety risk assessment will be provided in advance of the course.
Age
We are unable to take applicants under 18 years of age for reasons of safeguarding.
What you need to bring
Thermos with a hot drink and something to eat.
Backpack so that your hands are free.
If you have an archaeological trowel (small builders pointing trowel) that would be useful, likewise a hand held (walkers) GPS e.g. Garmin . But neither the trowel or GPS are essential.