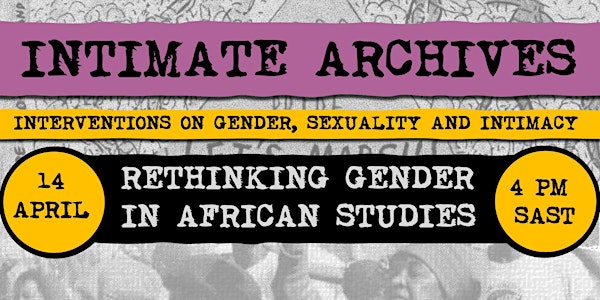 Intimate Archives: Rethinking Gender in African Studies
What are some of the possibilities that gender research offers to African studies? We invite three scholars to speak about their new work.
About this event
For some time now, gender has been an important social and analytic category in African studies. Owning to the impact of feminist activism and scholarship in African universities, cultures and societies at large, research on women has gained momentum and popularity. It has also moved beyond "woman", as a self-evident and monolithic category, to question the historical and social processes by which gender identities and subjectivities are produced, contested, and put into circulation in politics and popular culture, under processes of colonialism, postcolonial nation-building and neoliberal globalization.
This webinar invites three prominent scholars to present their latest contributions to this field. Drawing on distinct disciplinary terrains and using various methodologies, their exciting new books are exemplary of the critical intellectual and political work that gender does in African Studies.
Speakers:
Simidele Dosekun is an assistant professor in the Department of Media and Communications at the London School of Economics and Political Science. Her research centres black African women to explore questions of gender, race, subjectivity and power in a global context. Fashioning Postfeminism: Spectacular Femininity and Transnational Culture (University of Illinois Press, 2020) is her first book. She is also co-editor of African Luxury: Aesthetics and Politics (Intellect Books, 2019). Her work has appeared in Feminist Media Studies, Feminism and Psychology, and Feminist Africa, among other journals. She is a member of the editorial collectives for Feminist Africa and Feminist Theory.
Oluwakemi M. Balogun is an associate professor in the Department of Women's, Gender, and Sexuality Studies and Sociology at the University of Oregon. Her work focuses on gender, globalization, nationalism, race, ethnicity, and migration. She is the author of Beauty Diplomacy: Embodying an Emerging Nation (Stanford University Press, 2020). She is also the co-editor of Africa Every Day: Fun, Leisure, and Expressive Culture on the Continent (Ohio University Press, 2019). Her work has been published in outlets such as African Studies Review, Ethnicities, and Gender & Society.
Jacqueline-Bethel Tchouta Mougoué is an interdisciplinary feminist historian of Africa interested in how constructions of gender inform the comportment and performances of the body, religious beliefs, and political ideologies. She is an Assistant Professor of African Cultural Studies at the University of Wisconsin-Madison in the United States. Her book, Gender, Separatist Politics and Embodied Nationalism in Cameroon (University of Michigan Press, 2019), received the Frances Richardson Keller-Sierra Prize, given annually by the Western Association of Women Historians to recognize the best monograph in the field of history. Her work has appeared in top-tier journals, including Gender & History, Journal of West African History, and African Studies Review. She currently sits on the editorial advisory boards for Feminist Africa and the Journal of Women's History.
Moderation:
Srila Roy is an associate professor at the University of the Witwatersrand and Lead Investigator of the Governing Intimacies Project.