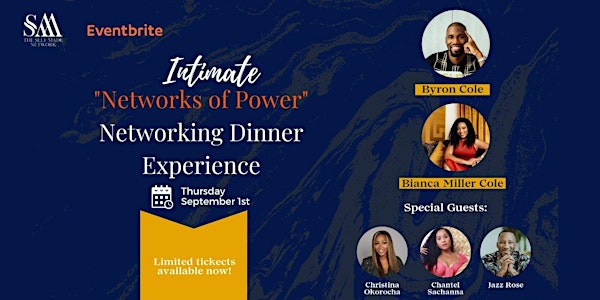 Intimate "Networks of Power" Networking Dinner Experience
Location
Secret London Location
Details on purchase
central london
central london
W1F 0TN
United Kingdom
Networks of Power Intimate Networking Dinner Series hosted by Byron & Bianca Cole and special guests to be announced!
About this event
After the huge success of our last "Networks of Power" Networking Dinner Experience, we bring to you another epic dining experience with movers and shakers.
Intimate "Networks of Power" Networking Dinner Experience - Thursday 1st September 2022.
We are brining to you some amazing thought leaders to share an intimate dinning experience with you. Are you ready?
Alongside ourselves, Byron and Bianca Cole we have some special guests lined up to join us at this intimate dinning experience!
Having spoken to people within our networks over the years, one of the gripes many of us have is the opportunity to network in more of an intimate setting regularly. They want to meet and build relationships with like-minded and serious people in a sociable way with the potential of making contacts for their business.
The concept of 'Networks of Power' will provide a variety of ways for individuals to develop long and meaningful business relationships in a sociable setting with some amazing thought leaders present answering any questions you may have.
This is an EXCLUSIVE intimate dining experience with limited availability for a handful of movers and shakers.
The ticket includes a 3-course meal, welcome glass of wine, soft drinks and service charge. No additional costs are due on the day.
Byron & Bianca have been running this dining series for the last 5 years and now we are delighted to open this up to a wider audience and add some amazing thought leaders.
Your Hosts:
Bianca Miller-Cole is the hugely successful entrepreneur and finalist from The Apprentice 2014 who went on to major business success, founding consultancy brand The Be Group and hosiery brand, Bianca Miller London. She is an in-demand public speaker, author and was awarded a Power Profile by Linked in 2016/ Forbes 30 under 30 in 2018 / EMpower & HEROES list 2018.
Byron Cole is an award-winning serial entrepreneur, investor, philanthropist and mentor to entrepreneurs and students. He runs the BLC Group, an umbrella company that look after his many business interests as well as being an in-demand start-up business consultant.
Christina Okorocha - is a co-founder and Head of Entertainment at VAMP, A digital talent and entertainment PR agency. VAMP work with some of the biggest entertainment, Food, film and TV companies such as Warner Brothers, McDonalds, Disney, Universal Music and Atlantic Records to support in maximising reach by authentically diversifying content and approach. VAMP are specialists in black culture, they manage and work with top black content creators in the UK.
Chantel Sachanna entered the world of entrepreneurship in 2017 with her first business venture running women's empowerment events, where she used her skills in marketing to achieve constant sold out events. She then went on to offer business coaching services as a result of the business success she had achieved. Through this Chantel has helped her clients scale their business, with her top clients scaling to 6 and 7 figures within a matter of months of working with her. In November 2020 Chantel started a hair care company, selling the miracle hair product she created that helped her to achieve longer and healthier hair. The company instantly sold thousands of units and she now divides her time between running her businesses, spending time with her family, and traveling the world!
Jazz Rose - Entrepreneur, Property Investor & Creator of Money Mastery, has taken his business from £30 to £3 million. He is also a Property Investor, Author & Serial entrepreneur helping individuals build wealth and become financially free!
Come and dine with us & some amazing movers & shakers in London.
General info:
Where: Central London Location disclosed on ticket purchase
Time: 18:45 to 21:00
Your hosts will be there to greet guests from 18:45 with guests taking their seats to dine at 19:15.
Location: Secret Location in London | revealed once your ticket has been purchased.
Early Bird £197 | Limited availability | DO NOT MISS OUT
Limited Standard: £297 | Thereafter
Dietary requirements: We can cater for all. Please add a note if you have any dietary requirements.
Tickets will go on sale Monday 2nd May 11:00 DO NOT MISS OUT
How does it work on the day? Come along and find out :-)
This is a must not miss opportunity to be in a room full of winners!
Check out the highlights below, from the previous Networks of Power, Intimate Networking Dinner Series hosted by Byron & Bianca Cole, Keith Dube, Jazz Rose & Emmanuel Asuquo!