Description
International Women's Day 2019 Conference – Welcome to "THE QUEENS DEN" #BalanceforBetter
Date – Friday 8th March 2019 – Rosie Birmingham, 259 - 262, Broad Street, B1 2HF
Time – 10.00 to 14:30

* * FREE GLASS OF FIZZ FOR ATTENDEES AND COMPLIMENTARY LUNCH **
Female entrepreneurs and female-led businesses make a significant contribution to the national economy but there is still a huge, untapped potential. Female entrepreneurs contributed £3.51 billion to the UK economy; Women Launched 126,000 Businesses in 2015 and 798,000 jobs in the UK were generated by businesses started by women between 2002 – 2015.
At NatWest our commitment to support more women to succeed in business goes beyond financial services. This is why we are delighted to be working with The Multi Award Winning Motivational Queen Zoe Bennett and Female Entrepreneur of the year Justice Williams MBE to bring you a unique way to celebrate this years International Women's Day – Welcome to "The Queens Den"
We invite all female entrepreneurs to submit their application to win a place to pitch their business to a panel of experts and be in with a chance to win an exclusive support package to help you grow your business.

If you want to enter "The Queens Den" please email your application to info@motivationalqueen.com or follow this link https://goo.gl/forms/AZVp1txySfoQ2ew22 including the following
- Business Description (max 250 words)
- Why your business is a unique proposition? (max 250 words)
- About you (max 250 words)
- Your social media links
- What stage is your business at? (max 250 words)
- How would the business support package help you? (max 250 words)

Also on the day we will have a range of inspirational speakers talking about how they have succeeded in male dominated industries and a panel of esteemed female leaders discussing this years theme #BalanceforBetter so even if you don't want to pitch in "The Queens Den" it will be great to see you there for the conference inspiration, networking and lunch!!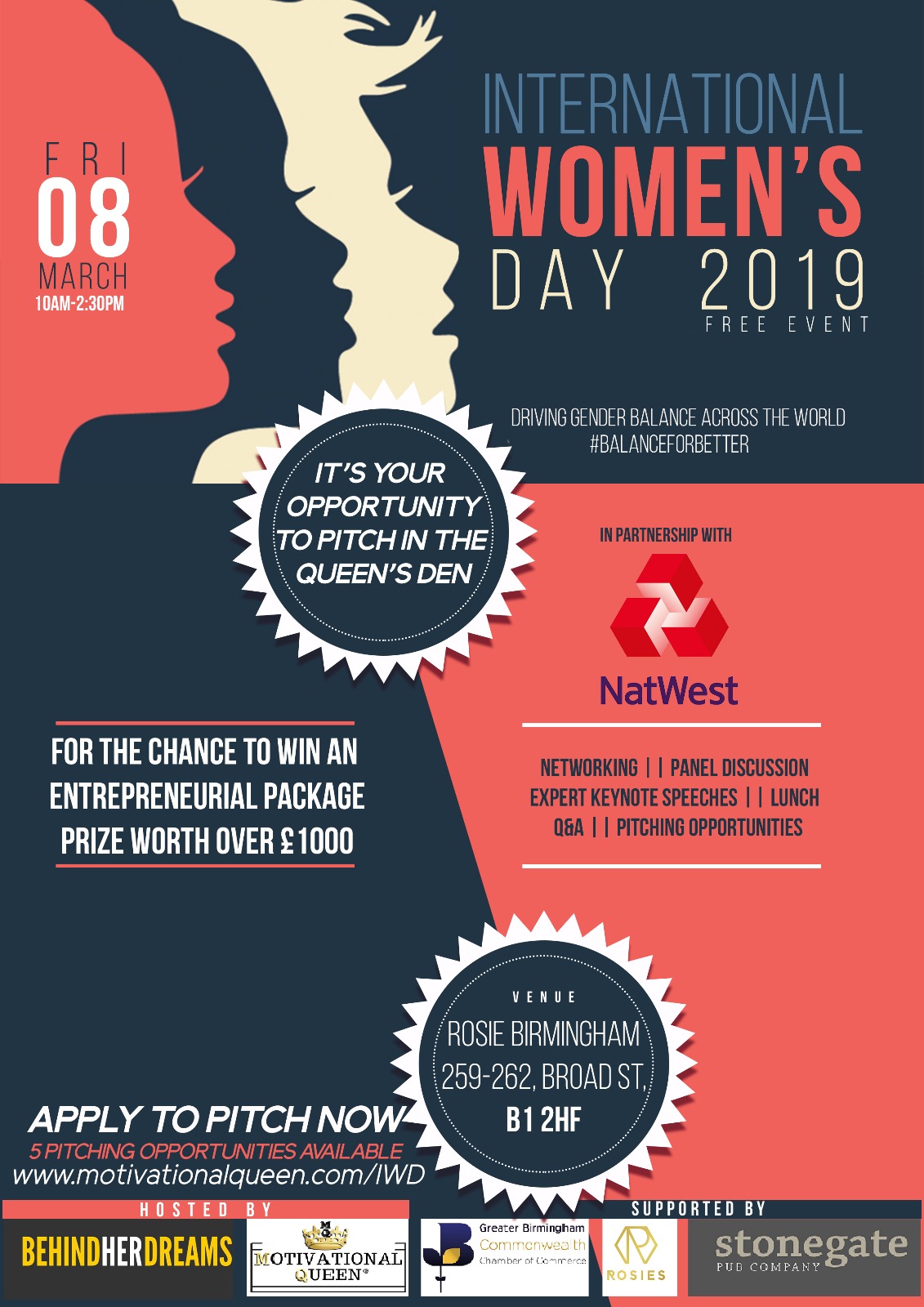 SUPPORTED BY
- GREATER BIRMINGHAM COMMONWEALTH CHAMBER OF COMMERCE
- ROSIES NIGHTCLUB
- STONEGATE PUB COMPANY

THIS EVENT IS FOR AGES 18+ ONLY
All information used in this presentation you are registering for is produced for information purposes only and is for the sole use of the attendees at the presentation.
Whilst we feel this topic is beneficial to business owners, the views expressed are not intended to be and should not be viewed as individual advice or as a recommendation by RBS, NatWest or any third party. You should seek independent advice in respect of issues that are of concern to you.
To the maximum extent permitted by law we expressly disclaim all representations, warranties, or assurance of any kind, expressed or implied, that are made to the accuracy or completeness of the information contained in this presentation and do not accept any obligation to update or correct any information contained herein.
During the event photographs may be taken on behalf of the host with a view to posting on social media to promote services offered to customers. If you do not wish to be included in the photographs please notify us.
For the avoidance of doubt RBS/NatWest does not produce the materials for all presentations. This disclaimer applies equally to any materials or presentations produced by a third party.
By registering for this event you agree that you have read and expressly agree to the use of your personal data submitted as part of your event registration by Eventbrite in accordance with their: