How To Academy presents...Into the Anthropocosmos – Inventing Humanity's Interplanetary Future | Ariel Ekblaw, MIT
About this event
As Earthlings, we stand on the brink of a new age: the Anthropocosmos—an era of space exploration in which we can expand humanity's horizons beyond our planet's bounds.
As the Founder and Director of MIT's Space Exploration Initiative, Ariel Ekblaw is transforming our sci-fi dreams into the real future of humanity. Her community of grad students, faculty and staff have a pioneering mission: to prototype and deploy the artefacts of our interplanetary future while democratising access to space.
In collaboration with NASA, she harnesses the creativity and curiosity of MIT's brilliant engineers, scientists, and designers to imagine and build bold and provocative tools of the future – from the architecture of space tourism to slime-mould inoculated spacesuits, zero-G musical instruments to Martian space bases tested in the deserts of Iran.
Their plan is nothing less than to revolutionise the future of space exploration. Ariel says: "We are once again at a pivotal moment for space exploration. We have just marked the Apollo 11 Moon landing's 50th anniversary, and a global zeitgeist of excitement for space has returned… This opportunity to design our interplanetary lives beckons to us—our collective creativity strives to bring science fiction to life."
Star Trek promised us that the galaxy would be filled with extraordinary wonders – now, Ariel joins How To Academy to tell us how she is taking us there.
Praise for Ariel Ekblaw's Into the Anthropocosmos:
"Take a glimpse into a future of possibility—where SciFi can become SciFact. This book reminds us that the best solutions for overcoming the challenges of settling space far from our home planet are the ones that ultimately improve life on it." —Nicole Stott, artist and astronaut; founder of the Space for Art Foundation; author of Back to Earth
"Into the Anthropocosmos importantly synthesizes science-art-engineering-design, postulating the duality of opportunity and responsibility for the future of space exploration." —Dava Newman, Apollo Professor of Astronautics. MIT, and Director, MIT Media Lab
"Into the Anthropocosmos is both glorious speculation and wild celebration of what is next in space travel technology and what could be right around the corner—a true playground for science fiction writers." —Nnedi Okorafor, science fiction writer; author of the Binti Trilogy and Who Fears Death
Ariel Ekblaw is Founder and Director of the MIT Space Exploration Initiative at the MIT Media Lab. Her work has been featured in WIRED, MIT Technology Review, Harvard Business Review, the Wall Street Journal, and IASS and AIAA proceedings, and on the BBC, CNN, and NPR.
Robin Ince is the co-presenter of Radio 4's multiple award winning The Infinite Monkey Cage. He spent 2019 appearing across the world in the Universal tour with Brian Cox – travelling from LA to Oslo, Wellington to Aberdeen and ending up in Reykjavik after shows at the 02 and Wembley Arena. Robin co-wrote How to Build a Universe (part 1) with Brian Cox and his most recent book is I'm a Joke and So Are You, a book about why we become who we become and how we deal with it.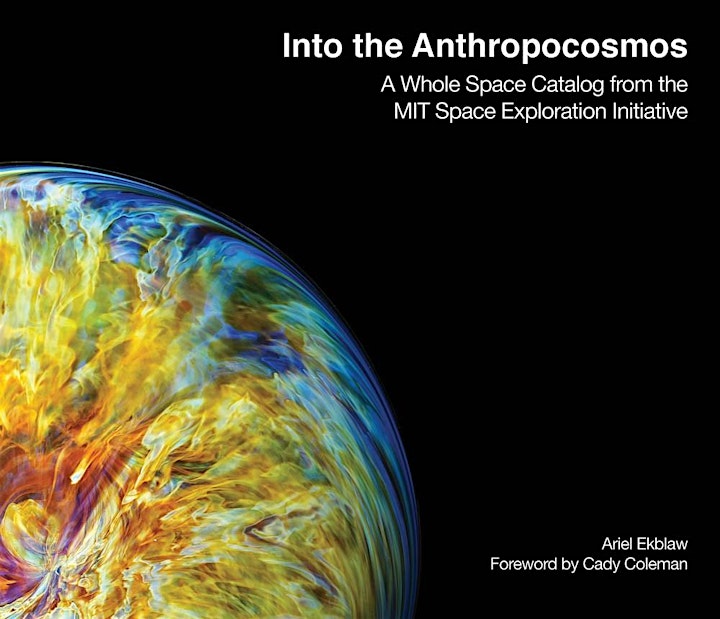 Organizer of Into the Anthropocosmos – Inventing Humanity's Interplanetary Future
How To Academy is an organisation for people who think big. From Nobel laureates to Pulitzer Prize winners, we invite the world's most influential voices to London to share new ideas for changing ourselves, our communities, and the world. 
We host leading artists and thinkers in an unrivalled programme of public talks, debates and conferences – from Yuval Noah Harari to Natalie Portman, Emma Watson to Eric Schmidt.
We help businesses discover transformative new strategies, anticipate the future, and inspire their staff with keynotes and workshops by internationally-acclaimed economists, psychologists, politicians, and thought leaders. 
We offer masterclasses live and online with experts in essential twenty-first century skills, like leadership, public-speaking, decision-making and resilience. And we make books, podcasts and films to share insight and innovation around the world.