This fully funded 1 week crash course gives you the skills needed to effectively project manage and pitch immersive products and experiences
About this event
Please note - to participate in this course you must be based in Greater Manchester. This is due to funding restrictions and exceptions cannot be made.
Calling all creative and cultural organisations in Greater Manchester!
If you want to learn about immersive storytelling and understand how to execute an XR content project, then this course is for you. No experience necessary :)
What exactly is XR?
XR is the umbrella term for Virtual Reality (VR) Augmented Reality (AR) and Mixed Reality (MR)
And, it's no longer sci fi - these technologies are here and here to stay!
If you don't believe us, take a look at some of the amazing creative immersive projects that have been produced over the last few years:
Current, Rising - The Royal Opera House
Dream - Royal Shakespeare Company
The Vyne Roof - National Trust
And it's not just the cultural heavyweights that are playing with this technology. As these technologies are maturing, hardware and development costs are falling and processes are becoming more efficient and robust.
The range of software supporting immersive creative development have become cheaper, more numerous, and have unlocked more unique XR possibilities. Every day, more and more SMEs are seeing the vast possibilities and low barriers of entry to producing creative immersive content.
Ok, I'm interested. What can I expect?
This one week course will take you through the fundamentals of planning an immersive project.
Over five half-days, you will be guided through the process of taking an idea from concept to pitch ready.
At the end of the course, you will have a project plan and pitch deck ready to share with potential funders, clients or commissioners. You will also gain a solid understanding of:
The current immersive landscape, available technologies and limitations
How to benchmark the quality of immersive projects through exposure to state of the art experiences
Today's XR marketplace, knowing your audience and opportunities for monetisation
How to create a robust resource plan and pull together a creative team made up of the right skills and experience
How to produce a compelling pitch deck
Do I need to have already experienced XR to take part?
No prior experience of XR is necessary. The course will take place online and all participants will receive a watch list of of content prior to the beginning of the course.
VR headsets will also be provided so that participants can experience the full capabilities of immersive technology. The headsets will be delivered to your home with full instructions for use and remain with you for the duration of the course. They will then be collected once the course has finished.
Please note - we will be using Oculus headsets therefore you will need to have a facebook account to use the headset.
Who is this for?
If you're a creative or cultural business and you're interested in how XR can enhance the products and experiences you create, then this course is for you. No prior experience is needed. Due to the funding requirements of the Ideate programme, the following eligibility criteria applies:
- Participants must be based in Greater Manchester
- Participants must be registered freelancers or companies e.g. ltd companies, charities, CICs etc (we will require your UTR number or company registration number before accepting you onto the course)
- Participants must employ fewer than 250 people and turnover less than €50m
How many places are on the course?
There are 20 places available on the course. Due to the limited number, participants must be able to commit to all of the course dates and times which are outlined below.
Course Outline
Day 1: Introduction to Immersive Technology
Monday 21st June 9:00 – 12:00
Overview of XR Technologies – current state of the art
A holistic understanding of today's XR marketplace
The Experiential Benchmark – assessing the current state-of the-art in XR user experiences with examples and recommended XR content to sample
Day 2: Foundations of Immersive projects
Tuesday 22nd June 9:00 - 11:00
Understanding XR opportunities and limitations
A shortcut to all the essential knowledge you'll need to start planning for and working in the XR space today
Discuss sample XR content in context of session learnings
Day 3: Communicating Immersive Ideas
Wednesday 23rd June 09:00 - 12:00
Insight into widely available tools allowing streamlined pre-prod tasks to be completed using XR Technologies.
What can you do with creative tools available now?
Understanding the possibilities of Gravity Sketch, Quill, Tiltbrush, SculptVR, Mindshow, Tvori, Dreams, Unity, Unreal
Day 4: Planning Immersive Projects
Thursday 24th June 9:00 – 11:00
How to construct a strong, robust resource plan
Who do you need to build your team?
Long term road mapping
Day 5: Pitching Immersive Projects
Friday 25th June 9:00 – 12:00
Constructing a pitch document and presentation
Understanding your audience
A checklist of Pitching Do's and Dont's
How to Join
Register your interest in joining this course by signing up on Eventbrite and the Ideate team will be in touch with you directly to confirm your place. All sessions will take place on zoom and participation is fully funded.
The deadline for registrations is 6pm Monday 7th June and places on this course will be allocated on a first come, first served basis (subject to eligibility criteria).
About the Course Trainers
This course is being delivered by Simon Benson and Jed Ashforth.
Simon Benson is the founder of Talent for Tech - a specialist technology consultancy with a passion for immersive and real-time interactive development.
Simon was formerly the Director of the Immersive Technology Group within Sony Interactive Entertainments Worldwide Studios (SIE WWS) where he headed up a team of specialists, researching and developing new technologies to bring high levels of immersion to Sony PlayStation®. Simon was a founder member of the PlayStation®VR project and was heavily involved in the development of the hardware and system integration from inception. In addition, Simon was the European spokesperson for PlayStation®VR, was also heavily involved in advising developers and publishers on best practices for the creation of VR content and was a member of the global VR consultation committee, defining the quality standards for all VR content on PlayStation. After gaining a degree in Software Engineering in 1995, Simon began his career as a Simulation Engineer, creating advanced military flight simulators and Formula 1™ motor racing simulators. He later joined Evolution Studios where he worked initially in game development on PlayStation®2 titles such as the BAFTA nominated World Rally Championship series. Other early career highlights included producing the PlayStation®3 launch title MotorStorm™ and leading the 3D Gaming Team that was responsible for launching Stereoscopic 3D gaming on PlayStation®3.
Jed Ashforth is an independent XR Consultant and Trainer, and a world-class specialist in the fields of Immersive Design, Immersive Narrative, XR User Experience and XR Comfort and Safety.
Jed was formerly Sony PlayStation's Immersive Experience Specialist and a key member of the Immersive Technology Group at PlayStation, where he spent years researching and establishing the foundations of VR experience design and developed new techniques to enable high levels of immersion to PlayStation®. As a founder member of the PlayStation®VR project, Jed was instrumental in establishing many of the now common foundations of the VR user experience, working with world-class developers to establish, create and teach Sony PlayStation's best practices for VR, a foundational reference for every PlayStation®VR developer. In addition, Jed was a European spokesperson for PlayStation®VR, and educated creators and developers around the world in the finer arts of VR content creation. He was a core member of the global VR Consultation Committee, defining the quality standards for all PlayStation®VR content.
In 2017, Jed Ashforth co-founded the specialist XR consultancy business Realised Realities, with a goal to help clients to realise the true potential of their Virtual Reality experiences. Jed has consulted and advised on over 100 VR titles, and now works across the wider XR landscape, helping developers and creatives to make a smooth transition to immersive project work, and to help them make their immersive realities the absolute best they can be.
Our Funders and Partners
This course is part of Ideate - a bespoke support programme for creative individuals and businesses in Greater Manchester delivered by Creative England, funded by the European Regional Development Fund and run in partnership with Manchester Growth Hub and Northern Powerhouse.
Get in Touch
If you have any queries about this course or the Ideate programme, don't hesitate to get in touch with stephanie.clark@creativeengland.co.uk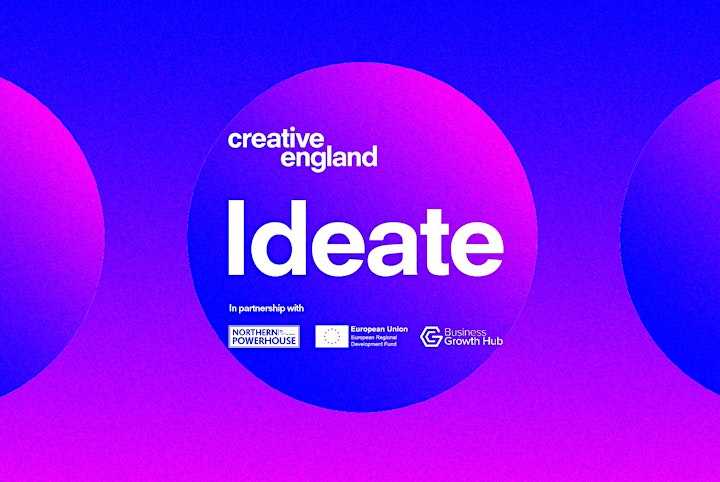 Organiser of Intro to Immersive Storytelling - How to Plan & Pitch Creative XR Content
England's thriving creative industries are amongst the most successful in the world and it's our job at Creative England to cultivate the TV, film, games and digital industries so they continue to flourish.
We fund, connect, mentor, advocate, and collaborate at all levels of the industry – from small independents to large internationals – creating the right conditions for more success. More than anything, we unite; connecting creatives, innovators, investors and experts so that we can forge ahead together.