Intro to Nia Somatic Education for Trainers and Coaches

Sunday, 5 July 2015 from 08:30 to 16:00 (BST)
Event Details
This event is for Coaches and Trainers who have become curious and aware of the impact that the body, breathing, posture and mindfulness have on themselves and their clients.
This training is not for you should you expect wisdom on a silver plate, as it is highly experiential and requires participants to tune into their body's wisdom.
It is designed to give you a comprehensive introduction to key embodied concepts drawn from The Nia Technique Somatic Education that will help you in your practice.
What is Somatics?
Nia and embodied leadership - A roadmap to wellbeing and personal development through the Body.
The Big Picture:
Over the day, you will explore the  a r t  o f  s e n s a t i o n  or proprioception through core competency areas including movement, anatomy and neuroscience. This joyful journey into the self, is instrumental in helping you develop body knowing by learning to listen, interpret and consciously respond to the i n f o r m a t i o n your b o d y communicates to you via sensation.
Somatic education positively shapes the way you feel, look, think and live.
Your facilitators: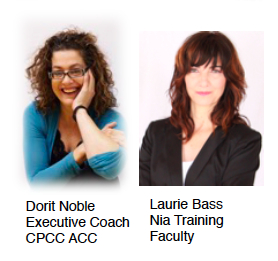 Dorit Noble and Laurie Bass are long standing members of the Nia Training Faculty.
Dorit Noble's experience as an executive coach, their combined years of experience in facilitating groups and the needs and wishes they hear from coaches and trainers in their network have informed this training.
While Dorit lives and practices in London, it is a special pleasure to have Laurie Bass over from Portland Oregon the geographical origin and headquarters of The Nia Technique. 
Their facilitation style is alive, challenging in a good way and offers a safe space to create profound embodied learning.
Key Concepts of the training day:
Nia is a fusion fitness form taught for over 30 years. It is following the principal "Through movement we find health" and enables you to become body aware.  
The Body's Way
Cultivate a physical connection to Joy in your life. Why are we instantly repulsed or attracted to people.
Listening and Intuition
Tuning into silence and sound. Enhance your listening. 
Embodied Leadership
Making the invisible physical conversations, visible.
When & Where

LA Fitness Muswell Hill
Hillfield Park
N10 3PJ London
United Kingdom


Sunday, 5 July 2015 from 08:30 to 16:00 (BST)
Add to my calendar
Organiser
Dorit Noble and Laurie Bass
Join Nia Black Belts and trainers Laurie Bass (Portland, USA) and Dorit Noble (London, UK) for a lasting somatic education.

Experience the mastery and chemistry of two inspirational movers, community builders, mentors and life coaches who love empowering all bodies.
We believe that the impact you can have as facilitators, trainers, coaches in companies and in this world will grow exponentially with you body awareness and skill.
Intro to Nia Somatic Education for Trainers and Coaches