Description
Struggling to spec up your print? Puzzled by printing processes? Mystified by material choices? Disoriented by Digital printing methods?
Let Webmart's print gurus take the stress out of your next print buying experience by arming you with all the insider knowledge you'll need to breeze through the print ordering process like a pro!
During this Intro to Print workshop, you'll learn the fundamentals of the print industry, including all the essential lingo and some helpful hints on how to cut costs while maintaining the highest quality standards.
You'll also get the chance to tour the Yellow Shed of Wonderment, Webmart's cutting-edge office space including our famous aeroplane and medieval themed meeting rooms!
Please note: Spaces are extremely limited - max. 3 per company. If you'd like to attend a Webmart Workshop with more than 3 team members, speak to us about a bespoke brand clinic training session! Call us on 01869 321321.
This event is free but as we have to provide notice for our caterers and external presenters, you must provide 48 hours notice if you can not attend the event. If you don't let us know prior to this, there shall be a £50 charge.
Agenda: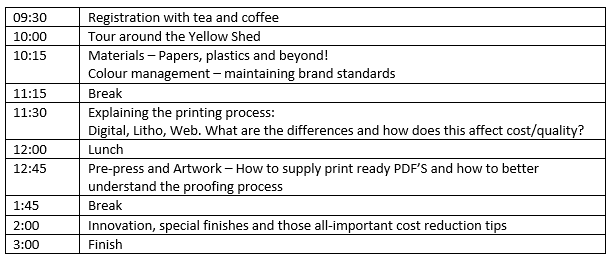 *Agenda subject to change