About this Event
Discover how the fundamentals of SEO - keyword research - will help your business find opportunities and understand your customers better!
Many businesses start out with a great idea, but without keyword research may be missing opportunities or are using the wrong phrases, and not talking their customers language.
This process is the key to any SEO strategy, but I'll show you how it benefits your business in many more aspects than just getting more organic traffic.
I've written this to be easy to understand no matter your knowledge of SEO. You will be equipped with SEO knowledge in a relaxed and collaborative environment.
Who is it for?
Freelancers
Small Businesses
Entrepreneurs
Those looking to start a new project or business
No matter your background or where you are in your business journey, you will leave with a solid understanding of SEO and how to form a robust business & SEO strategy.
The workshop will breakdown SEO into simple, every day language and give you the tools to find opportunity and success.
If you're starting a new business, confused by the phrase "SEO" or are unsure where to start with it all - this introductory course is for you.
What will I leave with?
A way to identify valuable and realistic SEO goals
An understanding of how SEO can help your business grow
A process of how to perform keyword research
A list of phrases and keywords that you can start optimising your website & generating content for
A set of free tools & strategy to use in your own time
Confidence and understanding of what SEO is and why it's so important.
What should I expect?
This 3 hour workshop will give you an in depth understanding of:
What SEO is & why it can change your business
Why keyword research is so important - how it helps you understand your customers
What it really is and involves
How it benefits all parts of your business and marketing, beyond just SEO
Free & Paid tools to use and how to use them
Step by Step guide of how to identify niches and low competition opportunities
Spying on competitors - what keywords do they rank best for?
How to use this research to write new content for your website and find new audiences
Ultimately, at the end of the session you will leave with knowledge of:How to use keyword research to make more money.
I'll be stripping back SEO to the very basics and building a strategy for your business in simple, no nonsense language.
All the tools I use & recommend are free.
After a brief discussion about SEO, I'll walk you through step by step how to successfully identify phrases and keywords that you can actually rank for and gain valuable traffic.Once I've gone through this process, it's over to you. You will start researching keywords for your business or idea and get the process going for yourself.I'll provide 1:1 support and answer questions during this process.Ultimately, you will you leave the room confident and able to replicate my knowledge on your own & share with your team.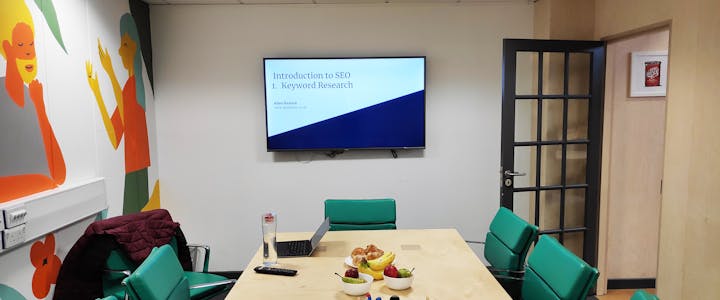 What have others said?
"A fab workshop and really learnt a lot. Thanks for explaining everything so simply! "
"As someone who has a very limited knowledge of SEO receiving personalised SEO advice was a real blessing! I found Adam to be really easy to talk to and good at explaining things without all of the jargon that often comes with this topic." - Sofaya
"Adam really knows his stuff and explains without your usual SEO jargon! I came away from our meeting with a much better understanding of what SEO can do and how I can utilize it within my niche." - Emma
Extra InfoLocated in a spacious, private office upstairs at Platf9rm in Hove Town Hall.
Refreshments provided.
This will include coffee, tea & enough snacks to get you through late morning hunger (and avoid hanger!).
About MeI've used this process to generate thousands in profit from my own blog, and even helped one company pivot their business to focus on an untapped market and become the leader.I've worked in house with small businesses for 8 years and understand their challenges and frustrations.When speaking to many business owners locally, the most common solution to their SEO marketing problems has been keyword research, but they don't know where to start. Here is the solution!