Learn key concepts, ask the right questions & join the tech boom!
About this event
If you want to join the tech boom as an angel investor, but don't have a technology background, this one is for you. Angel investing is risky, but it's Russian roulette if you can't even tell whether what you're being pitched can be built in the first place, or how much it will cost.
That's when you might end up like Henry Kissinger investing in Theranos.
To make smart investments, you need to know the basics of tech, how digital businesses differ from traditional ones and why no code tools matter.
That's exactly what we will cover in this workshop. You will learn:
1) The core concepts of tech:
The key difference between traditional businesses and tech businesses
User experience
What developers do
Product analysis: link business metrics to product metrics
2) Product team hiring:
The costs
Outsource vs In-house
3) The importance of No Code tools in early-stage products
Intro to No Code tools
Case studies of how early stage founders used them for success
4) Key mistakes angel investors make & how to avoid them
Hidden product costs
What happens in stealth mode
When getting your friends involved as investors is a good idea, and when it isn't
This workshop requires no prior knowledge of technology. It is open to 5 people maximum.
This workshop is taught by Sophia Matveeva, tech entrepreneur & Chicago Booth MBA. She has raised money from investors, worked in private equity, and advised funds and individuals on their start-up investment strategies. Her work has been featured in the Financial Times, The Guardian & Forbes.
She has taught her courses at London Business School, the Blackstone x Techstars accelerator, the University of Texas and more.
This workshop is great for:
New angel investors, who want to invest in tech startups
Current angel investors who want to better understand their portfolio
Advisors to start-ups & accelerators
Student feedback
"I find Sophia's insights and advice very useful, as well as time-saving, helping filter the relevant aspects." - Ali Jetha, Angel Investor & Chicago Booth MBA
"I consider myself lucky that I have discovered 'Tech for Non-Techies' platform created by Sophia Matveeva (recommended by my friend).
She helped me see some of the mistakes that could have been avoided on my personal journey to creating a tech product.
Sophia has a talent for explaining complicated tech concepts with simple words. Her own experience gives non-digital native people like me some hope that we can also play roles in the new Digital Era" - Irina Klokova, Management Consultant
From your instructor:
Hi! I'm Sophia. I am a non-technical founder, and I have co-created apps and algorithms that have been used by thousands, won App of the Day by Mashable, and were featured by Inc, the BBC and more.
I've set up the Tech For Non-Techies education community to help other non-technical professionals succeed in the innovation economy.
I've contributed to the Financial Times, The Guardian and Forbes on entrepreneurship and technology. I have also guest lectured at Chicago Booth, London Business School and the London College of Fashion to name a few.
I've advised the Blackstone x Techstars accelerator at the University of Texas, Chicago Booth's New Venture Challenge and the Microsoft x London College of Fashion incubator, as well as many ventures and investors.
I hold an MBA from Chicago Booth, and a BSc (Hons) in Politics from Bristol.
I also speak Russian and French. I split my time between London and the South of France, where I play tennis and sail with huge enthusiasm and very little skill.
Getting there:
The closest tube is Highgate on the Northern Line (2 mins away). The full address will be released to those who have purchased tickets. If you're freaking out about this, just know that your payment will be processed by Paypal, and if anything goes wrong, Paypal will refund you.
To attend, please send a photo of your vaccination card to info@techfornontechies.co.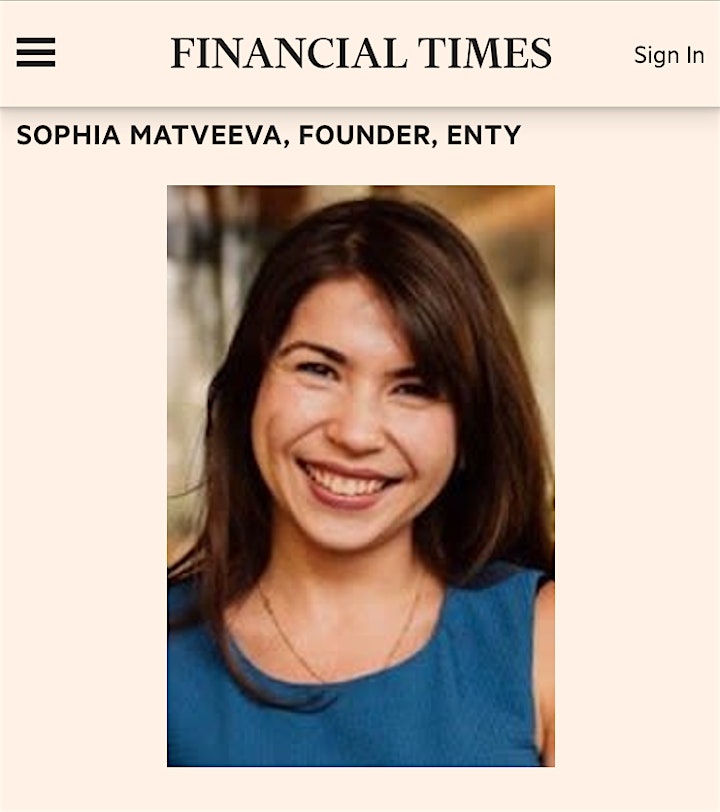 Organiser of Intro to Tech for Angel Investors (Workshop)
Tech for Non-Techies is your guide in the jargon filled world of tech. Learn via online courses, weekly expert masterclasses and join our unique professional community.
TFNT courses have been taught at London Business School, presented at Chicago Booth and featured in Forbes.
This is not a group for software developers, but for smart people who want to learn about technology to set up their own ventures, progress in their careers, and understand how the websites and apps they use actually work. Our aim is to demystify the world of tech.
Get our free guide on how to go from idea to live app.
Check out the Tech for Non-Techies podcast on Apple and on Spotify.