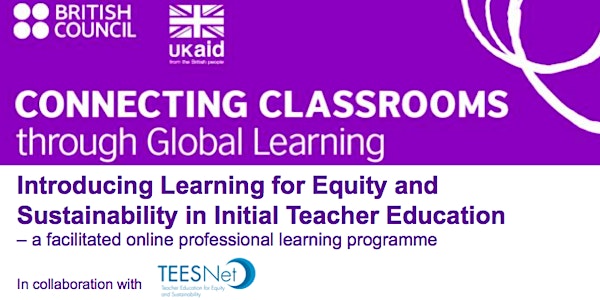 Introducing Learning for Equity and Sustainability in ITE
Introducing Learning For Equity And Sustainability In Initial Teacher Education – a facilitated online professional learning programme
About this event
Who is this course for?
Are you a UK based teacher educator,
working in a teacher education institution such as a university, or as a school-based teacher educator and mentor?
at the start of your journey in embedding Learning for Equity and Sustainability within your ITE practice?
familiar with some of the LfES associated themes and approaches, but have little experience of implementing them in your workplace and teaching?
If your answer is 'yes' to these questions then this course is for you!
As the UK moves towards hosting the United Nations Climate Change Conference (COP 26), there are growing calls for educational responses to global challenges . These calls range from young people's concerns about lack of preparation and support for themselves and new teachers, to recently published QAA/Advance HE guidance that Learning for Equity and Sustainability (LfES) is best achieved when central to staff and student experience.
Developed through collaboration between teacher educators across the UK, this professional learning is designed to inspire and support you to develop, plan for and implement LfES in your ITE practice with future teachers. It builds on a successful series of courses delivered throughout 2021 and offers the opportunity to learn with teacher educators across all UK regions, supporting coherency in the UK government's response to the United Nations Sustainable Development Goals (SDGs) https://sdgs.un.org/goals.
Engagement in this fully funded course will:
Support your understanding of the concepts and pedagogical approaches in LfES
Inspire you to transform your practice with student teachers
Significantly enhance your students' educational experience
Give access to a national network of like-minded teacher educators
What will be involved?
The course involves participation in online discussions and activities in three course modules, at a time that is convenient for you over a six week period.
You will be supported by skilled facilitators with a background in Learning for Equity and Sustainability and online learning and do not need any advanced technical expertise to take part.
What will be asked of you?
During the course you are asked to
Commit to at least 2 hours per fortnight of participation
Contribute to online discussion forums
Plan the future development of an aspect of LfES practice in your setting
Share your reflections on your learning with the group through online discussions
Complete a British Council online pre and post course survey.
The module themes and dates are outlined below: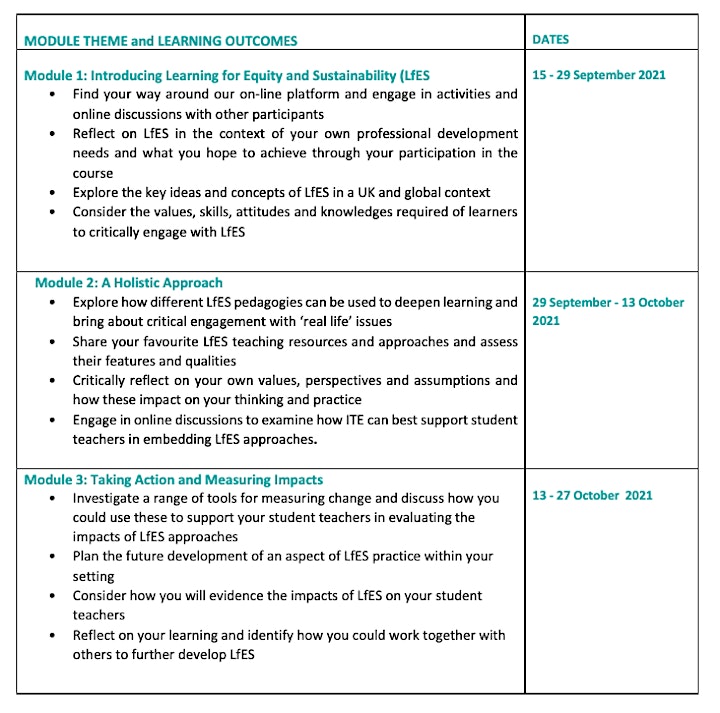 Programme Learning Outcomes
Develop collaborative practice and engage in peer learning in relation to LfES
Reflect critically on the values, dispositions, skills and knowledges required to address LfES
Critically consider key concepts and pedagogical approaches for LfES in local, national and global contexts
Reflect on the impact of approaches to LfES on yourself, your students and your wider institution
Click on Register to reserve your place here on Eventbrite. Or for more information please contact Andrea Bullivant, TEESNet at Liverpool World Centre, bulliva@hope.ac.uk
Please note that this course is currently for UK based teacher educators only. If you are interested in similar courses for wider professionals please contact us.
Data Protection
We are collecting your personal information on behalf of the British Council to arrange training and to provide you with mentoring and support for the duration of training courses. The legal basis for collecting your personal information is agreement with the Terms and Conditions of the CCGL programme (contract). You will be asked to complete surveys which are used to monitor and evaluate the quality of training and its impact on teaching practice. The British Council will do this in its legitimate interest. The British Council would like to send you updates about other opportunities available through the CCGL programme and we will ask if you would like to receive updates about other opportunities available through the CCGL programme. You may opt out at any time by contacting the British Council at Schools@britishcouncil.org. We will process your personal information based on your consent.
Data Protection - British Council
The British Council complies with data protection law in the UK and laws in other countries that meet internationally accepted standards. You have the right to ask for a copy of the information we hold on you, and the right to ask us to correct any inaccuracies in that information. If you have concerns about how we have used your personal information, you also have the right to complain to a privacy regulator. For detailed information, please refer to the privacy section of our website, www.britishcouncil.org/privacy or contact your local British Council office. We will keep your information for a period of 7 years from date of your last activity in the CCGL programme.
Data Protection - Learning for Sustainability Scotland
https://learningforsustainabilityscotland.org/privacy-policy/
Data Protection - Liverpool World Centre, on behalf of TEESNet
Liverpool World Centre manages TEESNet in collaboration with Liverpool Hope University. Information about Liverpool World Centre's data protection policy can be found here http://liverpoolworldcentre.org/index.php/about-us/privacy-policy/.
As indicated above, we are collecting and holding your personal information to support your participation in this CCGL programme and would like to send you updates about this and other opportunities available. This will include information collected through evaluation surveys. Please indicate your consent/no consent for this and other options for data use in the boxes provided in the registration process. You can opt out at any time by contacting info@liverpoolworldcentre.org