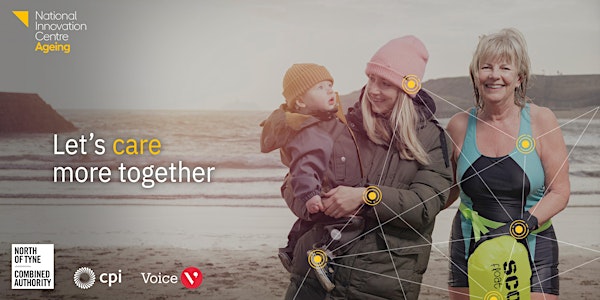 Introducing The North of Tyne Combined Authority- Internet of Caring Things
Location
The Catalyst
3 Science Square
Newcastle Helix
Newcastle upon Tyne
NE4 5TG
United Kingdom
Let's care more together. Join us for an introduction to our flagship Internet of Caring Things programme.
About this event
The North of Tyne Combined Authority – Internet of Caring Things
We're bringing the local business community back together with high-profile speakers and a practical, innovative workshop. Delegates will have the opportunity to network, meet the programme partners and to learn more about what the programme can offer your business, and our region.
This programme is designed to support businesses across the North of Tyne region to grow into this new market through access to experts within the UK's National Innovation Centre for Ageing, VOICE®, CPI and our networks and in doing so support regional economic and social development. The launch will bring inspirational insight and opportunities to learn, connect and collaborate.
***
RUNNING ORDER
8:30am: Networking breakfast
9am: 'Welcome and introduction to programme and CPI' - Nic Palmarini (NICA) and Arun Harish (CPI)
9:30am: 'Introduction to VOICE®' - Lynne Corner (NICA/VOICE®)
9:50am: Break
10:10am: 'The importance of innovation for social impact: why it matters to banks' - Stu Fearn (Newcastle Building Society)
10:25am: 'Innovation in ageing is for any business: from bread to IoT' - Andy Haddon (Big River Bakery)
10:40am: 'Agetech, Gerontech and Caring Things' - Laurie Orlov (Aging & Health Technology Watch)
10:55am: Panel discussion
11:10am: Break
11:30am: Workshops: 'Smart, Soft, Responsive: sewing sensors in everyday textiles', CPI demonstration, Learn more about VOICE®
12:00pm: Networking lunch
13:00pm: Close
***
COVID-19 guidelines
The Catalyst provides a safe environment for staff and guests, and continues to assess the risk of COVID-19 alongside the latest guidance from government.
Please do not attend this event if you feel unwell, or are exhibiting any symptoms of cold, flu, or COVID-19, or if you have recently been in contact with someone who has tested positive for COVID-19.