Location
Sika Hong Kong Limited
Rm. 1507, 15/F, Block A, New Trade Plaza
6 On Ping Street
Shatin, NT
Hong Kong
Workshop for the demonstration of different products for concrete repair and construction sealant. Both Dates are the same content.
About this event
Repair and renovation of concrete buildings and infrastructure is an important process – it helps us to provide a sustainable approach to building – prolonging the life of a structure and preventing demolition and reconstruction.
It is at the joints where a building is weakest to leakage. Only correctly specified and professionally applied high quality joint sealants will manage to keep your building or structure sustainably tight during its entire lifespan.
A Tutorial session for the introduction of repair mortars, corrosion protection of reinforcement and joint sealants then followed by an interactive workshop to demonstrate the application of repair mortars and joint sealants. Attendees can also try the application of the materials by themselves to gain the practical experience in applying the products.
*This is a Face-to-Face event.
*Due to limited capacity, the spot is on first-come first-serve basis.
*Both dates are the same content
Language
Cantonese supplemented by English terminologies
Speaker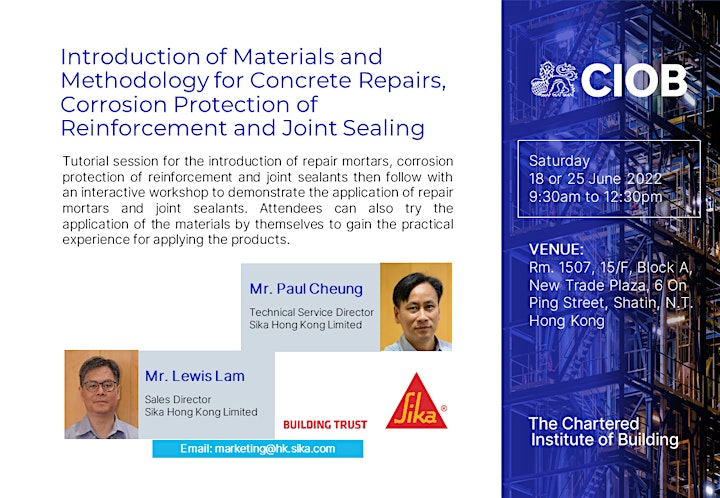 About the Company
Sika is a well-established Swiss specialty chemicals company with a leading position in eight major target markets – concrete, sealing & bonding, building finishing, roofing, flooring, waterproofing, refurbishment and industry.
Whether you are creating the structure of tomorrow or extending the lifecycle of the existing one, Sika provides you with technologically advanced, tailor-made solutions to suit your most challenging project requirements. For more than a century, our products always comply with the latest industry standards and regulations, giving you the complete peace of mind and the reassurance of working with a reliable manufacturer.
https://www.facebook.com/sikahongkong.hk
Contact
Huey Chan
Member Services & Events Co-ordinator
huey@ciob.org.hk