Event Information
Location
Richmond Business School
Parkshot
Richmond
TW9 2RE
United Kingdom
Description
Level 2 - Introduction to NLP and Coaching
Dates to be Confirmed!
Level 3 - Introduction to NLP and Coaching / therapy
Dates to be Confirmed!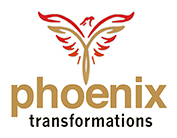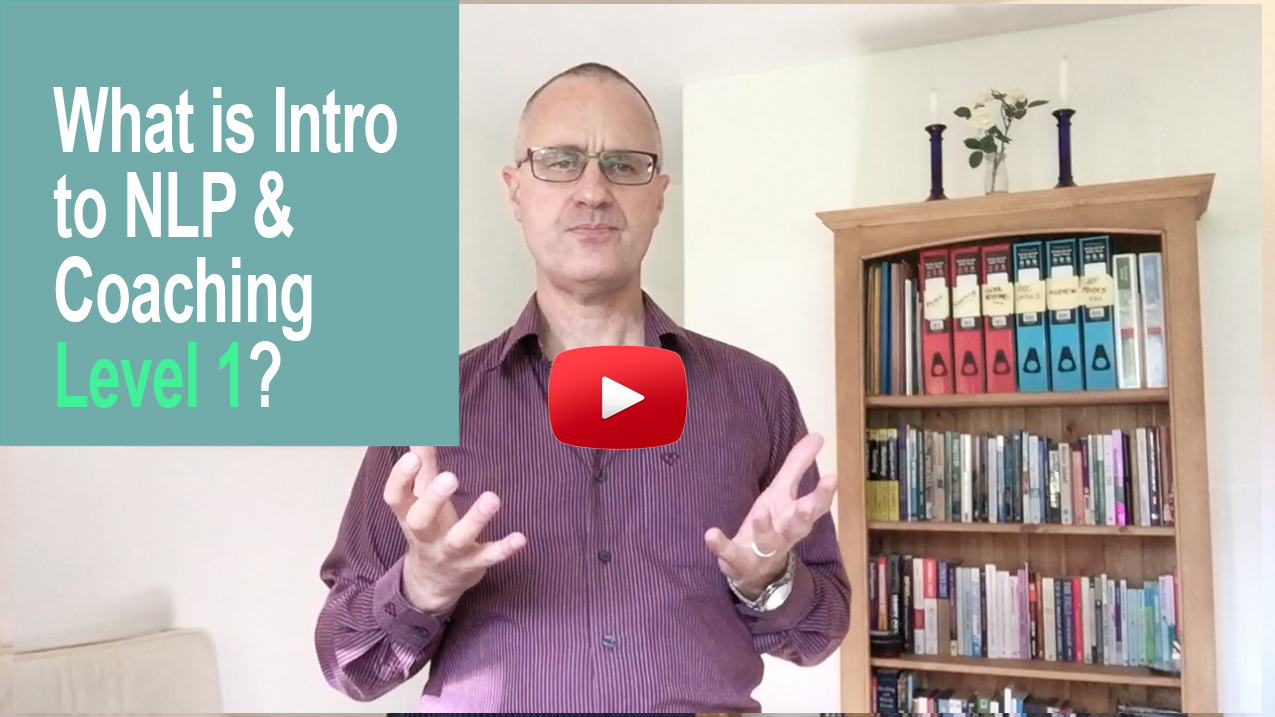 Introduction to NLP and Coaching ~ Level 1
Sat 21st Nov & Sat 28th Nov 2015
10.30am - 4.30pm
Richmond Business School
Richmond TW9 2RE.
(Literally 5 minutes walk from Richmond Station)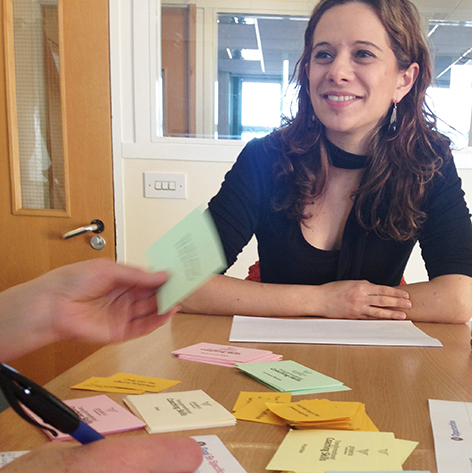 "Mark's coaching courses are about learning how to coach through practicing. I attended all three levels, I have learnt so much about how coaching can help me to both move myself and my own clients forward. I highly recommend this training especially for its focus on sitting down, practicing, being observed and learning through being given constructive feedback."
Marilza da Silva (MBPsS) Psychotherapist.
"While enrolled on Mark's NLP & coaching course I received individual feedback from Mark specific to my needs, which was time well invested. I'm excited, I now have several fresh news tools to go away with and apply with my coaching clients."
Richard Mosley ~ Sports Professional / Coach
Would you like to learn some new tools and techniques to add to your existing toolbox that will improve the results you're achieving with the people around you? Are you already a coach, counsellor, psychotherapist or in a caring, advisory or managerial position? Or maybe you're just curious about coaching and interested in self-development and helping yourself and others reach more of their potential?
My series of two-day courses will introduce you to the theory and practice of coaching and NLP. Learning in a small group means that as you practice you are observed directly by me and are given direct feedback so you can implement what you are learning straight away building your confidence quickly as a coach.
You will invest seventy percent of your time in my training room PRACTICING the tools and techniques of coaching and NLP. By practicing, learning and applying coaching and NLP techniques, you will go away with new tools and new ways of doing things that are simple to apply and will bring you effective results.
For more specific information about the content for the two days training 'Introduction to NLP and Coaching ~ Level 1' and how the training can benefit you, please see below (If you need more information about the course please contact Mark Phoenix on 079 8443 2919):
Level 1
Introduction to NLP and Coaching
2 Day Programme
Content ~ Day 1 (Sat 21st Nov 2015)
· Short History of NLP. What is coaching?
· NLP Model of Communication - How we create/change our 'reality
· Eliciting Values
· Creating Strong Rapport - Building positive rapport is the foundation to all successful coaching and change work
· Introduction to the coaching model & coaching questions - Asking questions to gather information
· In groups of three practice coaching and use the Coaching Cards Resources Pack – Coaching Cards, Prompt Cards and Coaching Worksheet.
· One of the coaching session will be videoed for us to explore and learn from for the following week
· Feedback, critical anaylsis, questions and answers
Content ~ Day 2 (Sat 28th Nov 2015)
· Short review of previous week, questions and answers: Opportunity to get clarity on any questions, challenges you have so far
· NLP Representational Systems (VAK), Eye Patterns and building strong rapport
· Eighty perecent of day two will be about you practicing coaching in groups of three. One person coaching, second person being coached and the third person being observer.
· One of the coaching session will be videoed for us to explore and learn from for the following week
· Review of the day (Multiple choice test), feedback, questions and answers. Handout Certificates.
· What's next? Certicates awarded.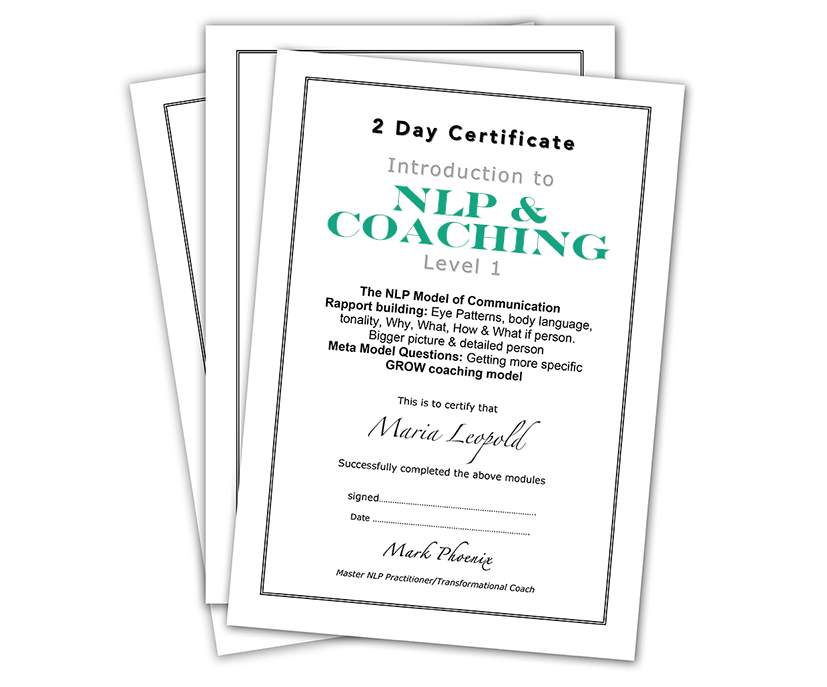 You will be awarded a certificate on the successful completion
of all the units for each of the 3 levels you attend.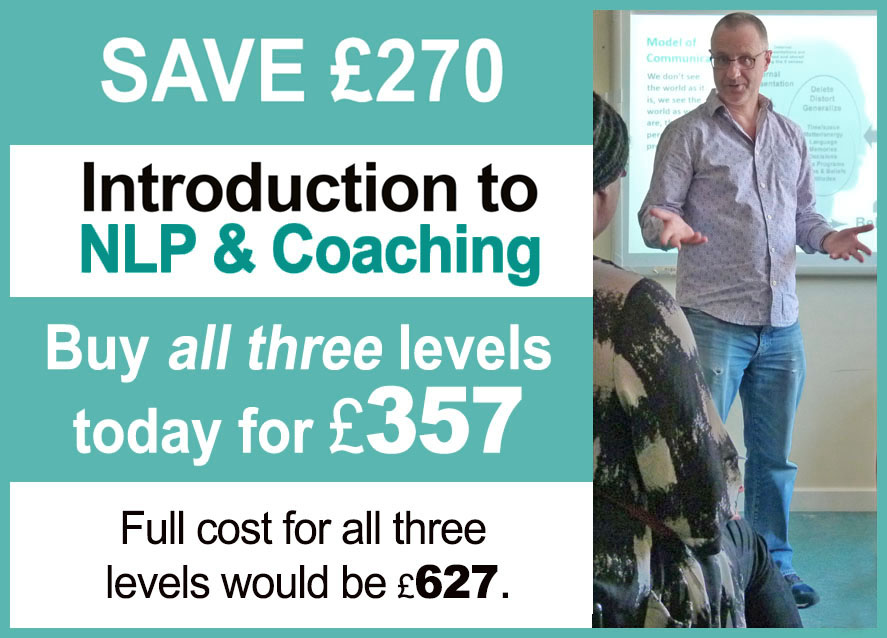 Go to Ticket Type at the top of the page and choose
'AdvancedBookingForAllThreeLevels'
On this two day course you will learn simple coaching skills quickly, working in a group of no more than eight, receiving facilitation, observation and feedback direct from myself, enabling you to feel confident quickly and start coaching others after the two day course!
Learning to coach can be difficult. In the beginning there are a lot of things that you need to concentrate on at the same time and to get right in order for you to get the results you and your client are looking for.
Some beginner coaches give up learning in the early stages of being a coach as they slowly loose confidence realizing that coaching involves more skill and practice than they had originally thought.
As a coach there's so much information out there, so many things to learn, so many things to get right, it's easy to get bewildered and confused not knowing where to focus and what to do to get the great results you're looking for as a coach.
Being a great coach involves thinking on your feet, knowing when to ask a question, knowing when to be quiet, knowing when to have a direct approach and knowing when to offer support and knowing where best to focus the client to help them to get the results they are looking for. And to be perfectly honest as a beginner all of this can be quite challenging and stressful.
The Coaching Cards Resource Pack
The Coaching Cards Resource Pack will help you to make your early stages as a coach much easier and relatively stress free, giving you a proven structure to follow that when followed will accelerate your learning and leave you free to focus more on the needs of the actual client rather than being overwhelmed with everything that you have to do as a coach!
"Effective coaching meets the person where they are, assists them to find out where they want to go and gets them to bridge that gap." Mark Phoenix, Master NLP Practioner / Coach
What you get from this two day course:
Learn practical coaching tools along with additional NLP techniques in a small group of no more than 8 people.
Practice using my personally designed

Coaching Cards Resource Pack

so initially you focus more on learning the strategies and tactics of becoming a brilliant coach.
Learn effective coaching in a 'no frills' way. In two days I will 'download' to you the tools that work to make you feel confident as a coach!
Learn & apply The 7 Essential Laws of effective coaching.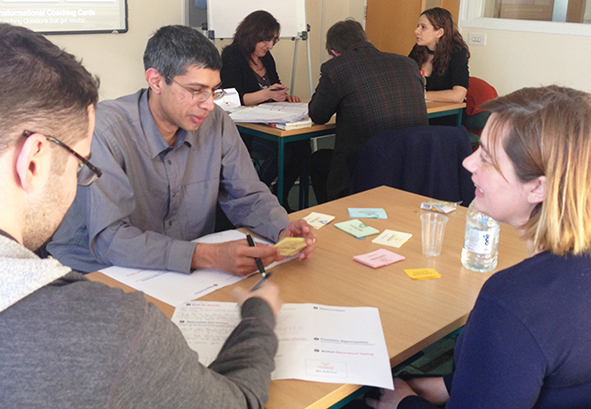 Students practicing in small groups using the Coaching Cards Resource Pack
"I believe that anybody can learn to be a great coach, over this two day programme I will 'download' to you the essential coaching skills I learnt over 10 years, so you too can build your skills and confidence to become an effective coach!
Mark Phoenix Master NLP Practitioner / Coach
Is Level 1 for me?
Level 1 Introduction to NLP and Coaching is a 2 day programme for people who are new to coaching. Level 1 is also suitable for those who have some experience of coaching and/or NLP but through lack of recent practice need to refresh and update their experience and skills. (For other coaching Levels see What's Next below.)
What can I expect from Level 1?
What you can expect whilst on this 2 day programme is to learn and 'drill', through practice, a solid set of systematic coaching skills and principles that will enable you to build a solid & secure foundation as a coach to enable you to start coaching others. You will also learn an Introductory module 'NLP for coaches' giving you additional cutting edge NLP* coaching skills to ensure your efficency and success as a coach. You will receive a Certificate on successful completion of this course.
*Neuro Lingusitic Programming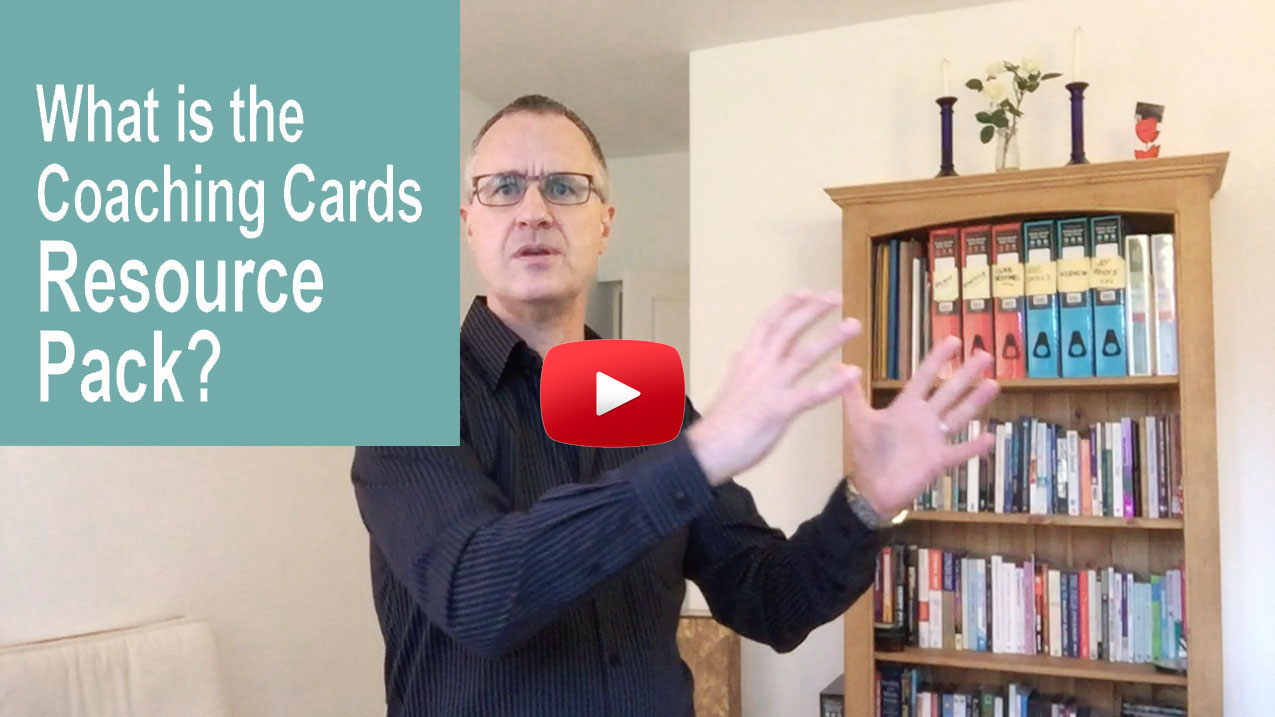 What is The Coaching Cards Resource Pack?
The Coaching Cards Resource Pack has been designed specially with beginners in mind, designed to take you step by step through the stages of becoming a successful coach. The pack includes 6 sets of coaching cards, one set of prompt cards, a coaching worksheet and a step by step booklet guiding you smoothly through the stages of how to coach. The Coaching Pack is ideal for learning to coach in groups, coaching clients one to one and also designed for self coaching!
The Coaching Cards Resource Pack Coaching Cards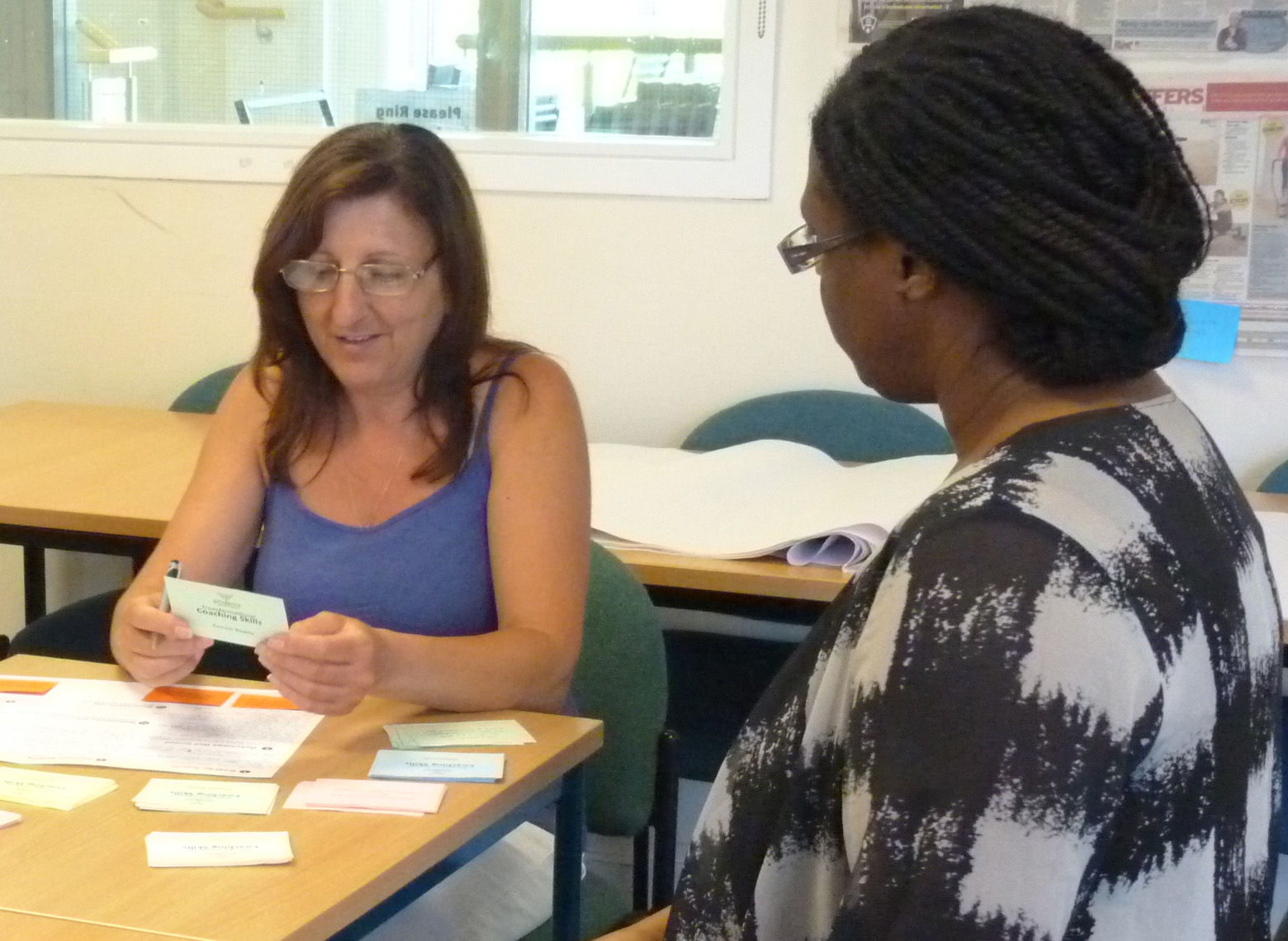 Student coaches using the Coaching Cards Resource Pack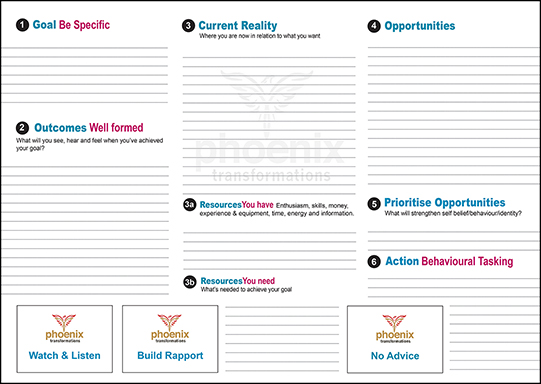 The Coaching Cards Resource Pack Worksheet.
What's next?
When you have completed and passed Level 1 you can then go on to do Level 2 which is an Intermediate Level and suitable for those who have completed Level 1 or for those who have more experience of NLP and coaching and want to refresh and build on their existing skills as a coach or NLP practitioner. Level 3 is for more experienced coaches and for coaching students who have achieved Level 1 and 2, explring more into the world of NLP therapy.
Level 2 - Introduction to NLP and coaching
Dates to be confirmed
Level 3 - Introduction to NLP and coaching / therapy
Dates to be confirmed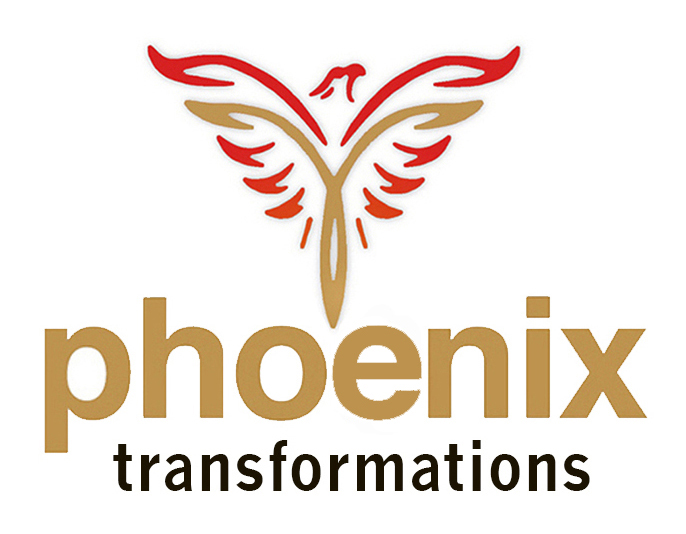 For more details contact Mark Phoenix: 079 8443 2919
info@phoenix-transformations.com
Date and time
Location
Richmond Business School
Parkshot
Richmond
TW9 2RE
United Kingdom