Description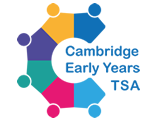 Aimed at apprentices and practitioners new to Early Years.
Early Years leaders and managers want to be sure that their apprentices and new staff fully understand the Early Years ethos and the value of play. The aim of this series of twilight sessions is to support staff in gaining a deeper knowledge of the requirements of working in Early Years. The sessions aim to complement the course work for CACHE Level 2 Certificate and Level 3 Diploma for Children and Young People's Workforce but can also used a bespoke CPD programme that you can pick and chose from in order to support individual members of your team – whether new or needing additional support. This series of workshops will scaffold your staff members understanding.
Target audience: Apprentices, students or staff new to early years (0-4).
Mentor and organisor: Rikke Waldau, Headteacher, The Fields Children's Centre. For enquiries call: 01223 518 333
Date Topic
2/10/17 Key children and the key person role
9/10/17 Working with parents
16/10/17 Supporting children's emotional development
30/10/17 Behaviour and strategies
6/11/17 Identifying Special Educational Needs
13/11/17 Language development
20/11/17 Using stories and storytelling to develop language
27/11/17 Supporting EAL
4/12/17 Physical development
11/12/17 Assessment and planning
18/12/17 Planning for the whole child